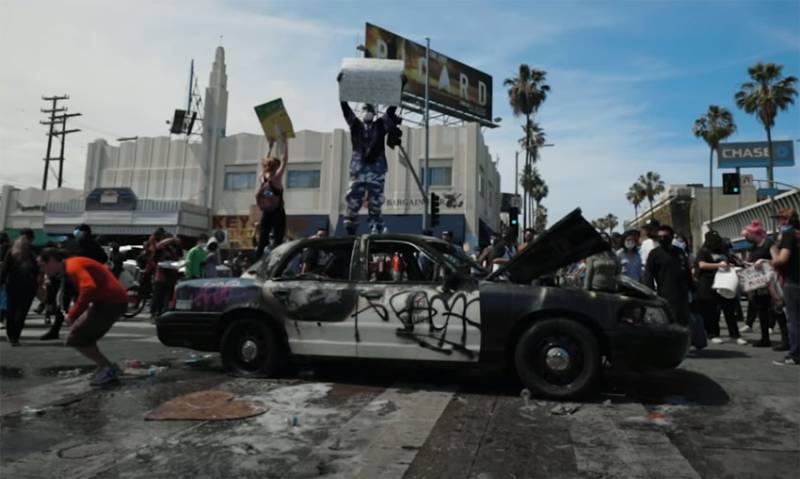 One of the centers of protest against racial discrimination in the United States is Los Angeles. According to recent reports, it was in this large city in the western United States that the police carried out the largest number of detentions of those who took to the streets to rally. Rallies, protests and crowds in the streets, ready to ruin everything in their path, are connected with the murder of black US citizen George Floyd in Minneapolis.
Local residents decided to arrange a destructive flash mob. They surround police cars, write the name Floyd on them, after which they destroy automobile equipment or set it on fire.
When the police try to use water cannons against the crowd, which occupies the central streets of the city (and not only Los Angeles), people go into the so-called sedentary protest.
They sit on the asphalt and hold each other so as not to be washed away by a strong stream of water. It is noteworthy that earlier in a number of foreign countries, US intelligence agencies through numerous NGOs tried to implement this option of protest. It came back to what's called, and at home ...
Police officers are sent to negotiate with raging crowds. However, the conversation is far from always and not everywhere. I managed to talk on one of the streets of Los Angeles (AFP video), as previously an officer on Twitter made a note that the actions of a policeman in Minneapolis were illegal.
Los Angeles Police Department Chief Michael Moore, honestly:
We hear you, we want to listen to you
To ensure order on the streets of Los Angeles, the National Guard was introduced. Armored vehicles put up on the main streets of the city.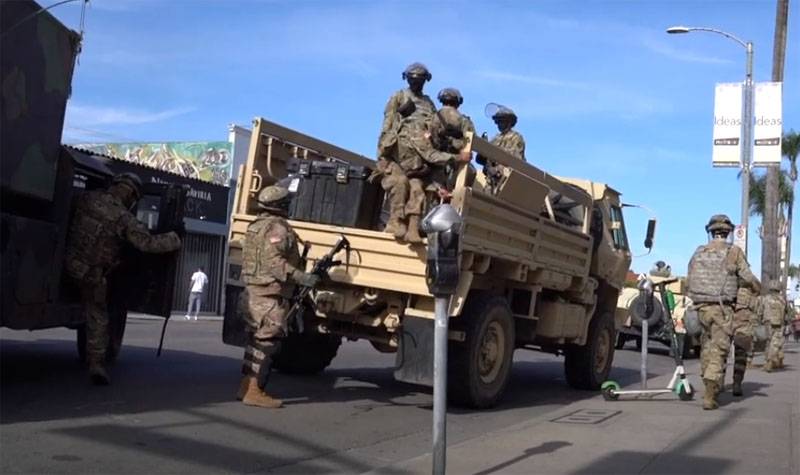 The approaches and entrances to the buildings of state organizations were blocked, and armed patrols were built. Los Angeles residents in an interview with American media say that they have never seen so many military and police in the streets of the city. SMS was sent to people stating that a curfew was in effect, the violation was fraught with consequences.