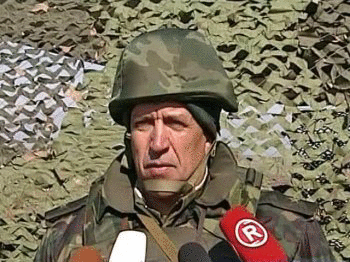 The chief of staff and first deputy commander of the troops of the Southern Military District became the defendant in the criminal case. Lieutenant-General Nikolai Pereslegin is suspected of exceeding his official authority: presumably, he forged a testimonial on one of his subordinates in order to fire him.
"He is suspected of committing a crime under the ch. 1, Art. 285 of the Criminal Code of the Russian Federation (abuse of office)," the press service of the Main Military Investigative Department of the RF IC said.
The grounds for initiating a criminal case was the complaint of a participant in the hostilities of reserve colonel Alexander Verigin, the former deputy commander of the North Caucasian Military District (now - the Southern Military District). According to the officer, in March 2010, he passed the certification with a positive assessment. His immediate superior, Lieutenant-General Alexander Bespalov, commander of the North Caucasus Military District, gave a description: "we are fit for the position", after taking into account many years of service experience as the chief of communications and deputy chief of staff Verigin and having state awards. However, Bespalov soon resigned, and Major General Pereslegin was appointed acting chairman.
"For the purpose of appointing another person to the post of Chief of Communications - Deputy Chief of Staff of the North Caucasian Military District, ignoring the results of the previous attestation, abusing official authority, he personally produced a new certification sheet, in which he indicated negative and untrue information about the job training As a conclusion, he proposed to dismiss the latter from military service, "military investigators say.
For Colonel Verigin, the decision of the Central Attestation Commission of the Ministry of Defense about his dismissal from the Armed Forces came as a complete surprise. In this regard, he appealed to the Investigation Committee.
All the circumstances of the case are being investigated. The case is conducted by the Military Investigation Department of the RF IC for the Strategic Missile Forces.