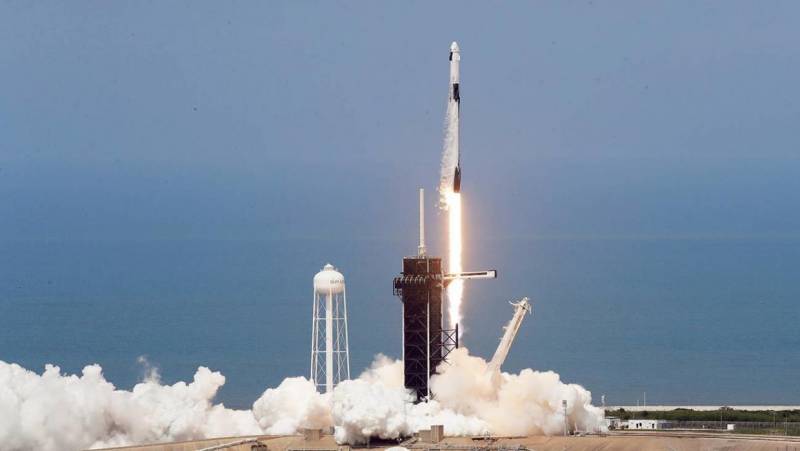 So, we can confidently state the fact that a new era has begun. The era of the US return to first roles in space.
Actually, the Americans with their number of launched spacecraft, flights to other planets and celestial bodies had only a cherry on the cake with the inscription "space": this is the resumption of spacecraft flights with the crew on board.
The language does not turn to call it a manned flight, everything is 100% automatic, everything is needed only in the most critical case when it comes to its safety. And so - yes, computers rule in the truest sense of the word.
And so - that's all, the private Falcon 9 with the Crew Dragon manned ship not only successfully launched, but also flew to the ISS and docked to the station.
A new era has begun.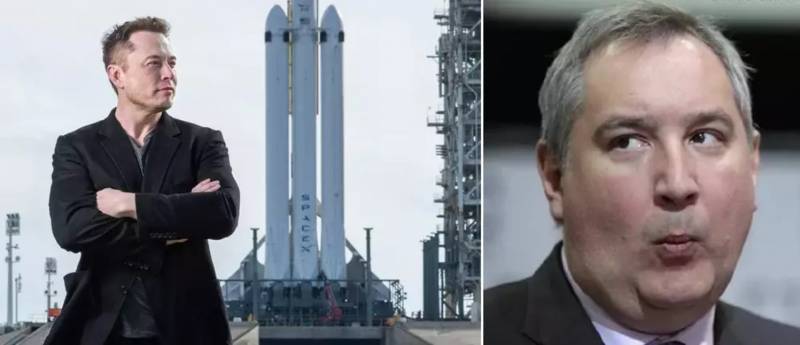 Now many of our patriots will begin to accuse me of rejoicing for the Americans. Yes, I'm really happy. I am glad that the country was able to take this step forward and still master the new ship. This is called "progress."
And the "Progress" that we have is a regression. These are ships of 50 years ago, which are slightly modernized. Analog computers were replaced by digital computers and so on. Yes, these were excellent ships and missiles that were invented by Korolev, Glushko, Chertok, Mishin, Isaev and others.
Sixty years ago.
With the collapse of the USSR, the entire space industry of a mighty country fell apart and completely degraded. To call it Russian means to sin against the truth. There is nothing Russian there and simply cannot be.
Okay, the Angara is Russian. Only the launch costs twice as much, when compared with the "Proton-M", and so - cheers, of course.
In general, despite the shaft of promises and optimistic statements made by Mr. Rogozin, who only knows how to do this - promise and tell tales, nothing substantial was invented in Russia.
Flights of automatic stations to other planets - no.
Flights of automatic stations to celestial bodies (comets, asteroids) - no.
Manned flights beyond the limits of the earth's orbit - no.
Own orbital station - no.
By the way, the ISS will soon exhaust its resource. I wonder what will Rogozin say on this subject?
But the main thing that interests me the most, even more than the successes of Mask, is that now Mr. Rogozin will compose for us in connection with the loss of such an oily feeder, such as orbiting?
I hope all normal people understand that since the Americans have their own ship, which, moreover, takes not 3, but 6 people on board, Roscosmos will no longer receive a cent for transportation.
Yes, "in the future, Russian cosmonauts may begin to fly to the ISS on the American ships Crew Dragon and Starliner. "Everything is discussed in plans for further cooperation," RIA said.
News
"The head of the press service of" Roskosmos "Vladimir Ustimenko."
You know, it's necessary for Mask to confirm this. You can say anything with us, but how much the Americans ask for it is a question.
Of course, Roscosmos is silent about money, but NASA does not make a secret at all.
According to NASA, which was presented to Life magazine by a representative of the organization, Daniel Huot, since 2006, the United States has acquired 72 spaces from Soyuz spacecraft in Russia for more than $ 4 billion to deliver American, European, Canadian, and Japanese astronauts to and from the station. to the ground.
During this time, the cost of flight for them increased from 20 to 90 million dollars. The only question is what figure Musk will announce for Russian cosmonauts who want to fly on an American ship.
I think so, he will voice it from the heart, and he will be right.
But this is lyrics.
The main question: where were these 4 billion dollars spent. This is, excuse me, a huge amount.
Considering that apart from space transport, we haven't dealt with anything for the last 20 years, all the talk that "we can repeat tomorrow" is, excuse me, not even populism. This is just a deception of the layman. Insolent and unceremonious. Just because we won't be able to repeat anything.
There is nothing and no one.
I recall that just two years ago I wrote more than one critical article on how things are going in our space industry. None of the facts set forth in the articles contained lawsuits or demands of refutations, nothing. Only at the enterprises in question were they diligently looking for "informers".
Please note, for two years I am silent. Is everything so good at our VMZ and KBHA, which have now become the "Rocket Engine Center" overnight?
No. My six informants no longer work there. Gone and continue to work where and where. The power engineer found a place in the largest shopping and entertainment center in the region, an electrical engineer works for a company serving elevators, and two hydraulic engineers work at a large agricultural machinery manufacturing enterprise. All in business. With a salary twice as high as the payoff in the same place of work. And most importantly: no liability.
Agree, 20-23 thousand rubles and a lot of responsibility and 40+ - and you are only responsible for yourself to the employer. There is a difference, I understand them all. And I justify it.
Today, those Russians who are interested in space, need to understand one thing: we have no one to design and build. Poverty salaries and huge responsibility took so many highly qualified personnel out of the space branch that we can never dream of any interplanetary stations.
More precisely, we can dream. One can believe in vain that they will be made and fly. But the level of fulfillment is about the same as that of prayer. That is doubtful.
Today, we simply do not have staff at the level of the Queen and his team. And they have nowhere to come from. They are not and will not be, you just need to come to terms with this.
What happens next with the "space exploration" in Rogozin, I can not judge. Most likely, we will simply be thrown to the side of the cosmic road.
We are no longer needed as cabmen.
And somehow I do not observe other applications. Oh yes, space toilets are good. Unparalleled in the world. And our products are excellent.
Not the most necessary set, in principle. Except, perhaps, toilets.
Okay, this is not the most important thing. The main thing is how and where are we now without American money? Well, what's there, some 400 million dollars a year ...
You know, if these 400 million were simply stolen, and I don't even see the results of using this money with binoculars, then it was already good. So, rubles allocated from the budget could be used for a good cause.
Now, as expected, there are no dollars - we are sawing rubles. On dubious moon exploration projects without a rocket and a spaceship capable of flying there, and so on.
It's sad to realize all this, it's sad to write about it. Because you really understand, Rogozin wanted to spit on all these space explorations. And Putin wanted to spit on the fact that Rogozin can do nothing but compose fairy tales.
Well, or cool sayings about the trampoline.
Here the American trampoline worked. And where will Russia throw it now? Which side of the cosmic road?
Who will need the Unions now, if the Dragons will be their own and cheaper? "Own" is for Canadians, Japanese and Europeans, all who, except Americans, used Russian ships?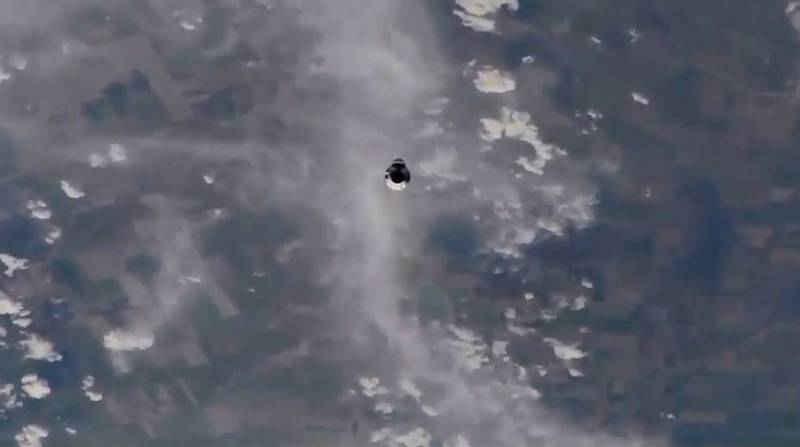 Yes, once we allowed (we are the USSR) to enter the space family to the representatives of Czechoslovakia, Poland, East Germany, Bulgaria, Romania, Hungary, Vietnam, Cuba, Mongolia, France, India, Syria, Japan, Afghanistan, Great Britain, Austria, Slovakia, Brazil, South Africa, Republic of Korea, Malaysia ...
I am sure that the line for a re-flight for $ 90 million will not be built.
Moreover, I'm sure that there will be no queue at all. The era of Russian space shuttles is over.
Today
historical
day. I sincerely hope that Roskosmos will think about the loss of $ 400 million a year and still begin to work, rather than devour the Soviet legacy and the income from transportation.
Or we have a very ugly future for space rogues who are no longer needed with their ancient technology, unable to fly somewhere other than orbit in their ancient "Unions".
But they boast that "we were the first" and therefore demand respect and reverence. And respect, excuse me, it is necessary not for the Soviet past, but for the Russian present.
I will be glad if Mr. Mask nevertheless makes Mr. Rogozin think.
The time of words is over. It is time for action. I would very much like the words and actions to be equally on both sides of the cosmic front. And not as it is now - we have words, but Mask - deeds.
Today, the Internet generates hundreds of memes and sayings on this topic.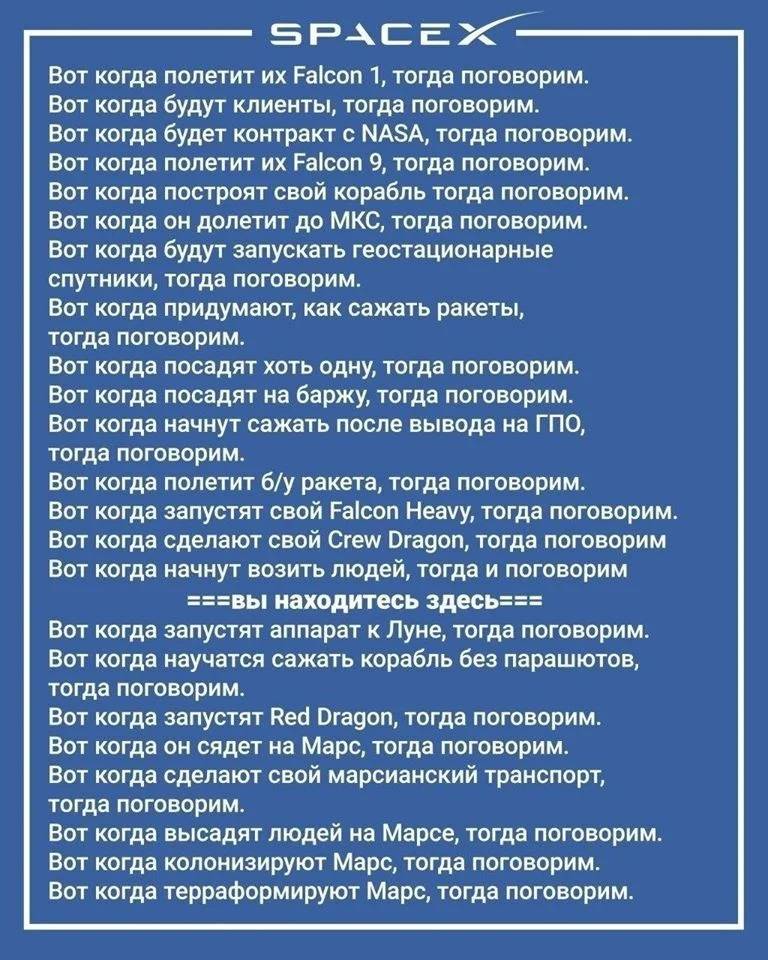 It's offensive. But this is a real understanding of the fact that some, unfortunately, in the United States have things to do, while others - unfortunately, in Russia, have words with a lot of fanfare.
And it's time to end with verbiage and promises about "we can repeat." It's time to repeat. At least repeat what Korolev did more than half a century ago.
However, I am afraid that this is also impossible.