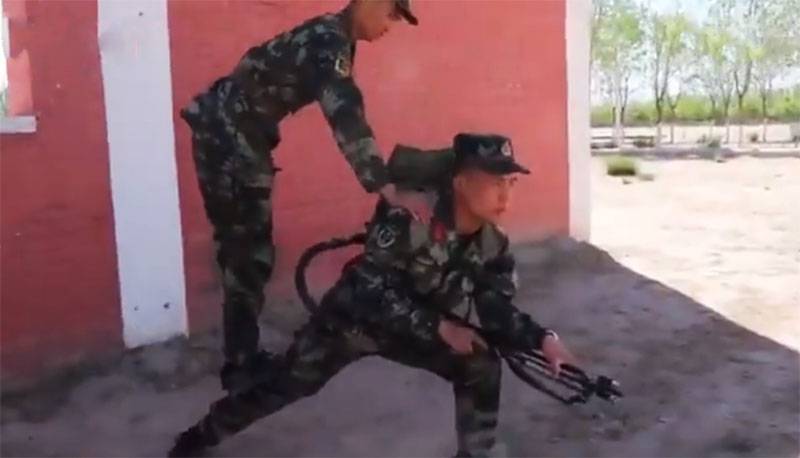 A video was published on the network with the training of military personnel of the People's Liberation Army of China (PLA), which draw special attention to themselves. The PLA demonstrated how the training of flamethrower fighters is carried out.
The frames show that while a fighter is made to fire at a conditional enemy, the most varied options for influencing him and his
weapon
have colleagues.
For example, in the initial shots, a soldier kicks the flamethrower from above. The following shows how, clutching the barrel, the fighter moves the weapon along with the one who holds it back and forth. It is also shown how a soldier climbs on his leg to a fellow soldier who was made to shoot while standing.
Another area of ​​training is that the two soldiers who are ready to fire are raised by two soldiers about a meter above the ground. One holds the man by the legs, the other grabbed the barrel of the weapon, directing him thereby towards himself.
Next, the video demonstrates single shooting at the firing range, as well as shooting as part of the squad of flamethrowers.
It is noted that this kind of training is aimed, inter alia, at developing confidence in the use of flamethrowers, so that the fighter holds his weapon tightly in his hands, including cases of intense fighting.
Chinese flamethrower training pic.twitter.com/3RD6clGDP1

- Volodin-Topwar (@VolodinTopwar) May 30, 2020