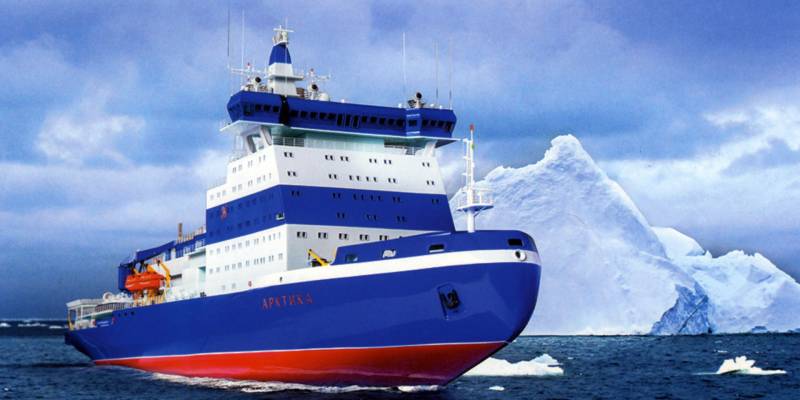 On May 26, at the Baltiysky Zavod in St. Petersburg, the next universal icebreaker of Project 22220, Yakutia, was laid down. This is the fourth ship of this project and the third in it, with serial status. However, the expected replenishment of the icebreaker
fleet
Russia alone is not limited to nuclear powered ships.
Project 22220 is the brainchild of the domestic corporation Rosatom. The customer of the ships belonging to it (there should be five of them in all), is the Atomflot FSUE that is part of this state structure. The first of them, the Arctic, was laid at the Baltic Plant in 2013, launched in 2016.
Now it is undergoing sea trials and should be commissioned very soon. The first serial ship of the project, Siberia, laid down in 2014, was launched in 2017, the second, the Urals, after being laid in 2016, was launched last year. Now this family will be supplemented by Yakutia.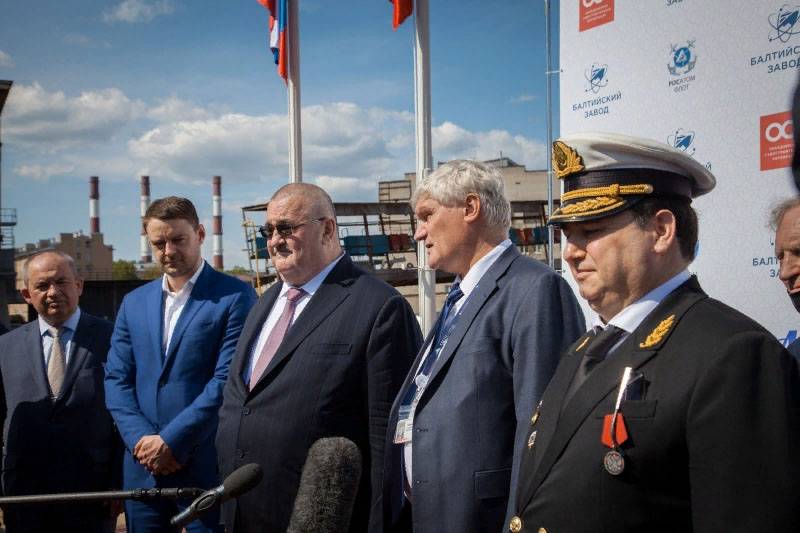 Photo: Rosatomflot
Universal icebreakers of this project are ships that have no analogues in the world. This phrase filled my edge, but in this case, everything is just as applicable, perhaps, to the entire icebreaking fleet. In any case, according to domestic shipbuilders, not a single state can boast of anything like this. More than impressive parameters (displacement of 33 and a half thousand tons, length of more than 173 m and width of 34 meters, two powerful nuclear reactors "Rhythm" of 175 MW each) will allow the latest nuclear-powered vessels to overcome ice up to 3 meters thick, thereby providing navigation along the North sea ​​route even in the harshest time of the year. In fact, the possession of such an icebreaking group will put Russia out of competition in these latitudes.
Non-nuclear link
Of course, one cannot fail to mention the non-nuclear icebreaking ships that are being built and have already begun to enter the Russian fleet. First of all, it is the project 23550 diesel-electric universal patrol ships. The first of them, "Ivan Papanin", launched in 2017, was launched last year and should be handed over to military sailors in 2023. A year later, they plan to get a second ship of the same class, Nikolai Zubov, which was laid in 2019. These ships, of course, do not have such impressive parameters as nuclear-powered ships, but each of them will carry Caliber launchers that are guaranteed to deal with any potential enemy.
Also, the project 21180 diesel-electric icebreakers will become reliable assistants to the guards of our northern borders. They do not have any formidable missiles, but they have a helipad, a universal boat and equipment necessary for search and rescue and emergency recovery operations, and supply of Red Banner Northern Fleet warships Russia, by the order of which they are designed and created. The first such ship. "Ilya Muromets", has already been serving since 2017, the second, "Evpatiy Kolovrat", has been under construction since 2018.
In conclusion, I would like to add that the project 10510 - "Leader" is next in turn for domestic designers and shipbuilders. This is another line of nuclear powered ships for the Northern Sea Route, even more impressive than those being built today. The length of more than 200 meters and a width of 47 meters, two nuclear reactors of 315 MW each - these characteristics will really make them the undisputed leaders in the Arctic waters. According to reports, to date, a contract for the construction of the first such icebreaker between the shipyard Zvezda and Atomflot has already been signed. We are waiting for a message about the bookmark.