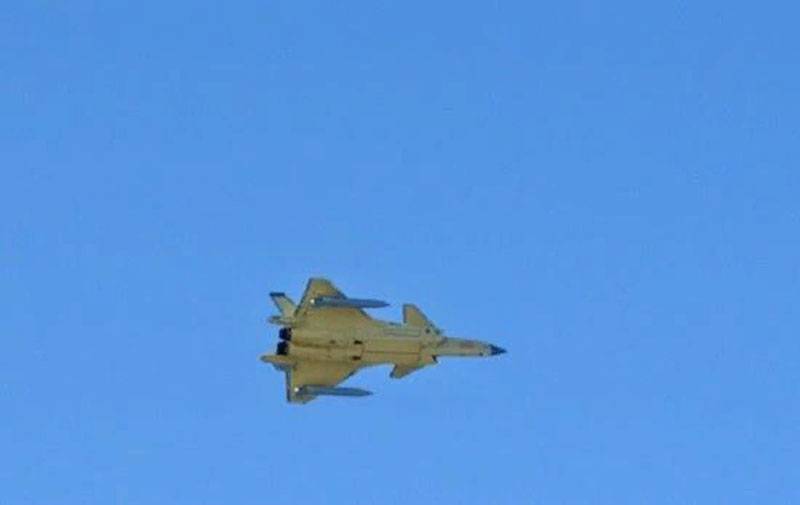 The Chinese Air Force conducted new tests of a new generation J-20 fighter with external-mounted fuel tanks. The main purpose of these tests was to find out the maneuverability parameters of the combat vehicle in the presence of additional fuel tanks, to identify the percentage of increase in the radius of use, and also to evaluate the characteristics of "stealth" under such flight conditions.
It is noted that the test of the J-20 with additional fuel tanks was carried out for the first time after putting such a fighter into service with the PLA Air Force. Previously, tests were carried out with prototypes of a combat vehicle. Moreover, 4 additional tanks were installed immediately on the external suspension.
During the flight, it was revealed that "the invisibility of a fighter under these conditions ceases to be its main quality." Translated into the public language, this means that the additional fuel tanks nullify all those J-20 stealth characteristics that are often flaunted in China.
At the same time, the PLA Air Force notes that it is not planned to fly with additional fuel tanks in a situation that provides for the possibility of a battle. It is stated that such a flight may be in demand for fighters if they are transferred from one air base to another - remote. If so, then the test narrative sounds strange. Why, in this case, was initially reported to study the parameters of "stealth" when using tanks on an external sling.
In a statement from the Chinese department, it was reported that when using additional tanks, the J-20 fighter "nevertheless showed high maneuverability and excellent dynamics, including when changing selected flight modes". And again, a strange statement. If the Chinese Air Force considers equipping a fighter with additional tanks solely for a flight from one of its airbases to another, then what kind of flight is this, during which the pilot will need to use super-maneuverability and lay turns? ..