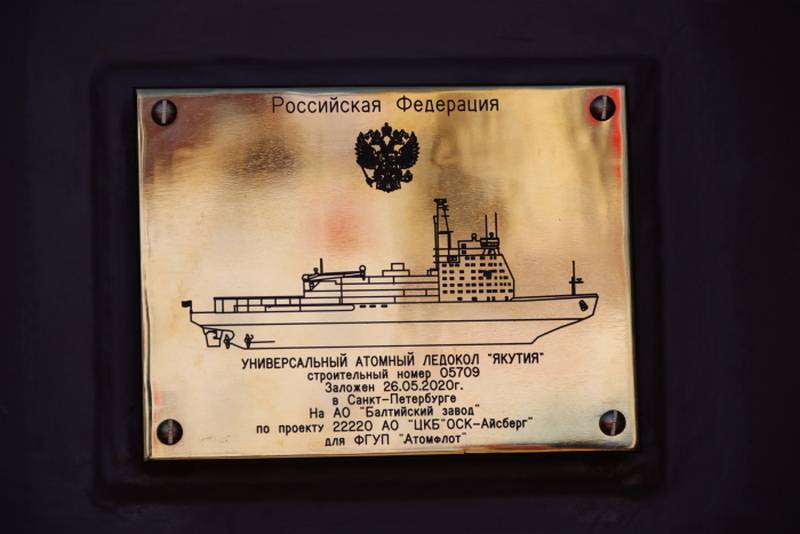 In St. Petersburg, the third serial nuclear-powered icebreaker of project 22220 of the Arctic type was laid. The ceremony was held at the Baltic Shipyard, the shipyard's press service reports.
The Baltic shipyard, as promised earlier, on May 26, laid the foundation of the next nuclear icebreaker of project 22220, the fourth in a series and the third in series. The bookmark was timed to the day of the 164th anniversary of the plant. The ship will be built taking into account new technical solutions tested during the tests on the Arctic series icebreaker.
Atomflot FSUE continued to be the construction customer. The bookmark date of the fifth icebreaker of the series has not yet been determined. It is planned that Yakutia will be commissioned to the customer in 2024, and the fifth icebreaker of the series - in 2027.
Currently, the leading icebreaker of the Arctic series is undergoing sea trials, its transfer was scheduled for this month, but, apparently, will be shifted. The first serial icebreaker Siberia was laid in 2015, the second - Ural - in 2016. At present, both icebreakers are being completed afloat, the deadline for commissioning Siberia is 2021, and the Urals 2022.
A feature of the 22220 project icebreakers is the use of variable draft using ballast tanks. Double-deck ships can operate both in deep water and in shallow water in river beds, overcoming ice up to 3-meters thick without losing speed. According to project data, new icebreakers will become the largest and most powerful in the world.