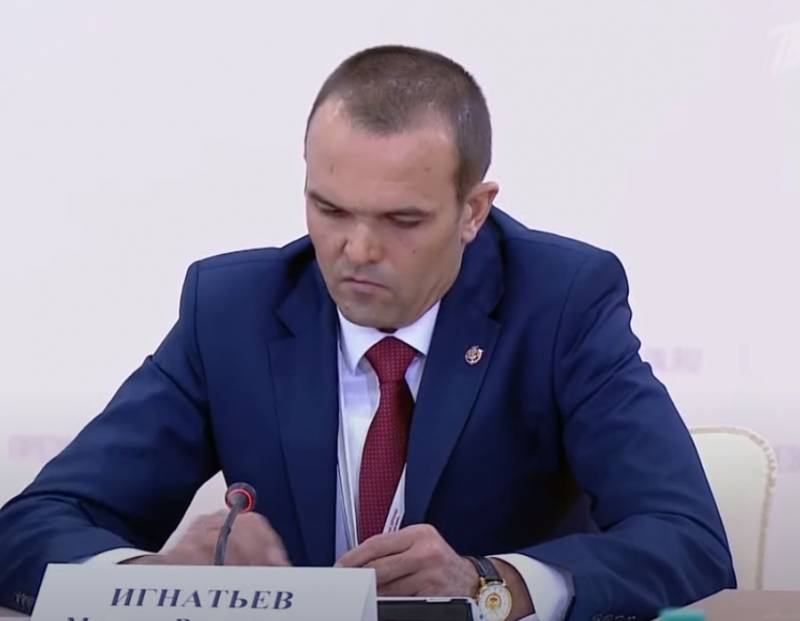 The network is discussing the "demarche" of the former head of the Republic of Chuvash Mikhail Ignatiev. The official, as you know, was fired from the governorship in January of this year. At that time, the wording was: "In connection with the loss of confidence." This wording was made by the President of Russia.
The reason for the dismissal of the head of Chuvashia was his actions, shots with which circled the whole country. The last straw, as reported, was that Ignatiev forced the Ministry of Emergency Situations to bounce around for the keys. This caused a wide public outcry.
And so, several months have passed since then, and Mikhail Ignatiev decided to "go against the system," of which he had been more than 8 years old. He sent claims to the Supreme Court. The defendant in the lawsuit of the ex-head of the region was supposed to be President Vladimir Putin, who, according to Ignatiev, allowed the signing of an illegal decree on his removal from office.
According to Ignatiev, the president should have taken into account the fact of "partial disability during the performance by him (Mikhail Ignatiev) of his duties as a republican leader." The ex-official demanded in his lawsuit from Putin the establishment of the right to social guarantees in connection with the removal from office, which, recall, considers it illegal.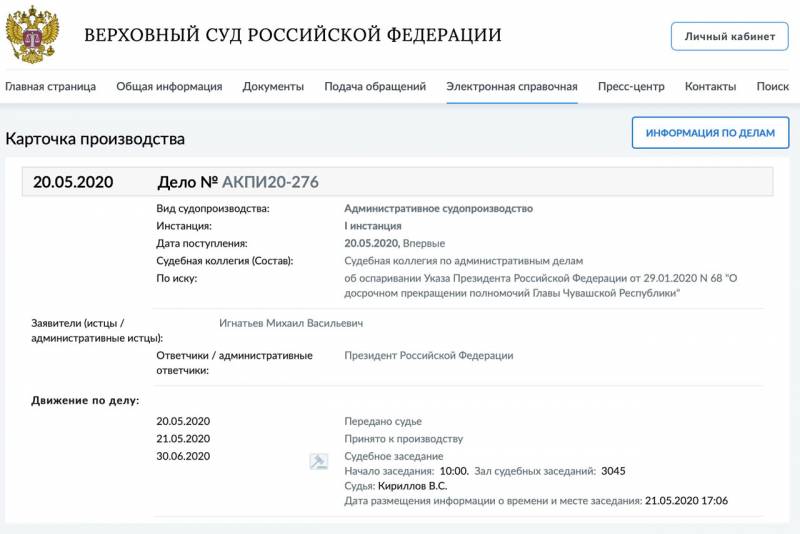 The Supreme Court adopted a lawsuit from the ex-head of Chuvashia regarding challenging the presidential decree on dismissal from office. At the same time, the lawsuit in that part, which refers to social guarantees, was returned to Mikhail Ignatiev. Such a return to the Supreme Court explained that the consideration of social guarantees in the framework of office work is not the responsibility of the Armed Forces.
Now the case of the ex-governor against the president according to the decision made by the head of state will be considered by the Supreme Court of Russia on June 30.
The case to challenge the dismissal of the head of the region is already being considered as a precedent.
In the meantime, Ignatiev's disease is also being discussed, which expects the regional leader to return to his chair. The press reports that he has been diagnosed with bilateral pneumonia. At the moment, Ignatiev is in the clinic.
The ultra-liberal blogosphere declared Ignatieff almost a "fighter against the regime." The fact that Mr. Ignatyev had no questions about the "regime" while the head of the republic was in the chair, the ultra-liberal bloggers are not particularly worried.