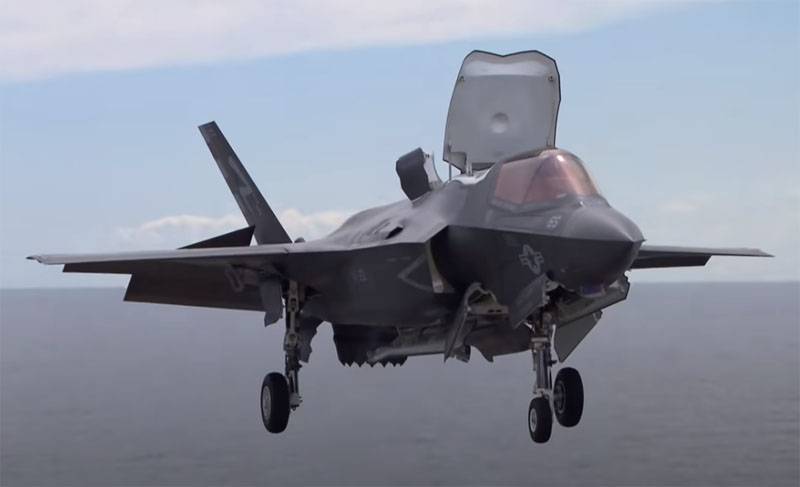 The network discusses an interview published recently with Defense News with an American military pilot, William (Billy) Flynn. The main topic of the interview was issues related to previously identified problems during the testing of 5th generation fighters.
Billy Flynn is a test pilot. It was he who once tested the F-35B and F-35C fighters. After performing test flights in Maryland, it turned out that the fighter damaged the stealth coating on the tail. We are talking about the tests of 9 years ago. Then the following was included in the report (data on the reasons):
During the test, the stealth coating F-35B showed "bubbling" in the area of ​​vertical and horizontal tail. This "bubbling" has a mechanical-thermal nature, which is associated with a relatively long flight at supersonic speeds.
William Flynn told the American press that he was tasked with achieving maximum speed during test flights. The maximum speed, which was originally recorded in those flights in 2011, was Mach 1,3 and 1,4 for F-35B and F-35C fighters, respectively. In subsequent tests, the speed was increased to 1,6 M.
Flynn:
Tests at speeds of 1,6 M were conducted frequently. At that speed, I launched missiles.
According to the American test pilot, then the aircraft were operated at extreme flight conditions.
American military pilot:
I flew for hours on the verge of the highest possible speed.
According to Flynn, this affected the stealth coverage of fighters. At the same time, the American pilot notes that the practical use of long-term extreme flight modes in a real combat situation does not make much sense.
The question is also discussed, is it possible to "bubble" the stealth coating of F-35 family fighters in a format that may not be visually detected?
Billy Flynn says that to identify bloating or other damage caused by the action of temperatures, special engineering equipment is needed in the form of testers of thickness and uniformity of the coating.
In 2019, a report was released at the Pentagon stating that the problem of "bubbling" of the stealth coating at supersonic speeds was closed. According to some reports, this is due to the fact that the new prescription spoke about the need to limit flight time at maximum supersonic speeds. In the American press it was noted that, for example, for missile launches at speeds of more than Mach 1,3, the time for using this mode is not more than 50 seconds.
At the same time, in the USA they add that a long supersonic flight is not the basis for the tactics of using fifth-generation F-35 fighters:
During a long flight at maximum supersonic mode, fuel is burned especially intensely. This not only affects the stealth coverage, but also by itself reduces the parameters of stealth aircraft. The plane simply loses the EPR indicators (effective dispersion area - approx. "Military Review") that were provided for it.