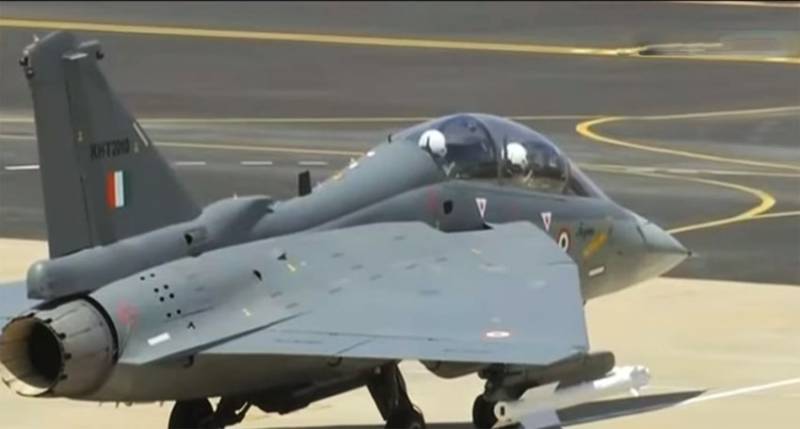 In India, decided on the second squadron, which will be equipped with Indian-made fighters Tejas. On May 27, a ceremony is scheduled for introducing a squadron with the latest combat aircraft into the Indian Air Force. This ceremony will be opened by the Commander-in-Chief of the Air Force of India, Marshal Rakesh Bhadauria.
We are talking about the squadron under the loud name "Flying bullets." She got the 18th number in the structure of the Indian Air Force. The location of the 18th Air Force squadron will be Sulur (Tamil Nadu) in the south of the country. The 45th Squadron of the Indian Air Force is also located there. It is notable for the fact that it became the first in the military
aviation
, which began to receive fighters HAL Tejas. The name of this aviation formation is Flying Daggers.
It is reported that the Commander-in-Chief of Bhadauria will assign the Flying Bullets Squadron to the name of the Indian pilot Nirmal Singh Sehon, who showed himself during the repulsion of the Pakistani Air Force attack on Srinagar airfield in 1971. The Pakistani Air Force attacked an airfield on US-made F-86 Saber aircraft. Nirmal Sehon took off on a British-made Folland Gnat light fighter. Entering the battle with six Pakistani Air Force F-86 Saber planes, the 28-year-old pilot died. In India, he is honored as a national hero.
The first Flying Bullet Squadron in India was formed in 1965.
For reference: HAL Tejas - an easy single-seat multipurpose Indian fighter. In the Indian Air Force, such aircraft began to arrive in 2015. To date, the cost of a unit with updated software, but without weapons, is less than $ 30 million. Maximum takeoff weight is 15,5 tons. The engines used are from General Electric. Maximum speed - 1,8 M. Practical ceiling - 16 km. Range - up to 2 thousand km. Suspension points - 8.
Tejas in addition to the regular version has a deck version LCA (N). While fighters of this modification are being tested.