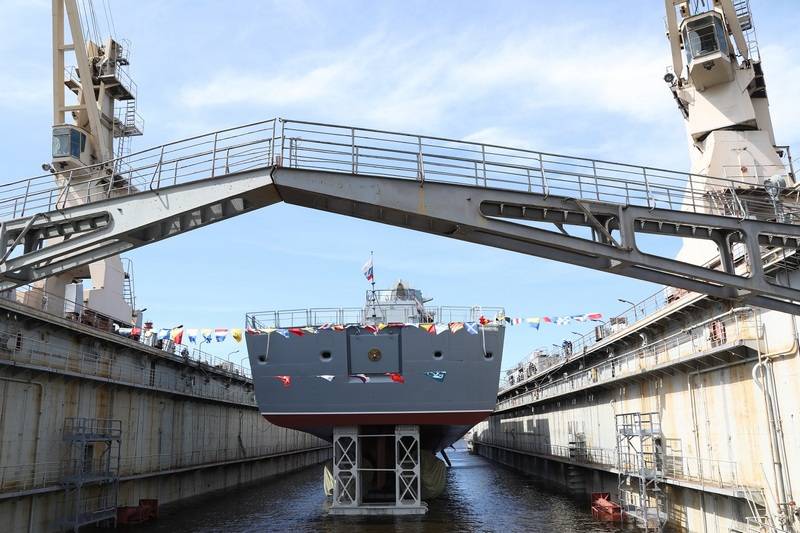 The third frigate of project 22350 Admiral Golovko launched. The ceremony was held at the Severnaya Verf shipyard in St. Petersburg. This was reported by the press service of the enterprise.
After launching on the frigate, completion work will be carried out, including on the ship's hull and electrical installation, installation of ship systems, power plant systems, and mechanical equipment. The installation of the main equipment on the ship should be completed by the end of 2020.
According to the plans of shipbuilders, mooring trials of the frigate will begin in June 2021, the introduction of the crew is scheduled for late August-early September, sea trials will begin in early 2022. The transfer of the ship to the Navy is planned in the fall of 2022.
"Admiral Golovko" is the third ship in the series of frigates of project 22350 and the second serial. Laid down on February 1, 2012. It is the first frigate of this project with a fully Russian power plant. The leading and first production frigates of Project 22350 — Admiral Gorshkov and Admiral Kasatonov — are equipped with diesel engines of Russian production, but gas turbine units (GTU) manufactured by the Ukrainian Zorya-Mashproekt company are used as afterburners. At the "Admiral Golovko" installed domestic analogue of the Ukrainian gas turbine. According to open information, the main power plant of frigates of project 22350 is a gas turbine engine with a total capacity of 65 thousand liters. with. and diesel generators with a total capacity of 4 thousand kW.
The frigate is named in honor of Arseniy Golovorovich Golovko (1906 - 1962), the sailor - the surface commander, commander of the North
fleet
during the Great Patriotic War. Under his leadership, the ships of the Northern Fleet participated in the defense of the Soviet Arctic, in navigating the northern sea convoys of the Allies and internal convoys, in military operations to disrupt the sea transport of German troops near Northern Norway and Finland.