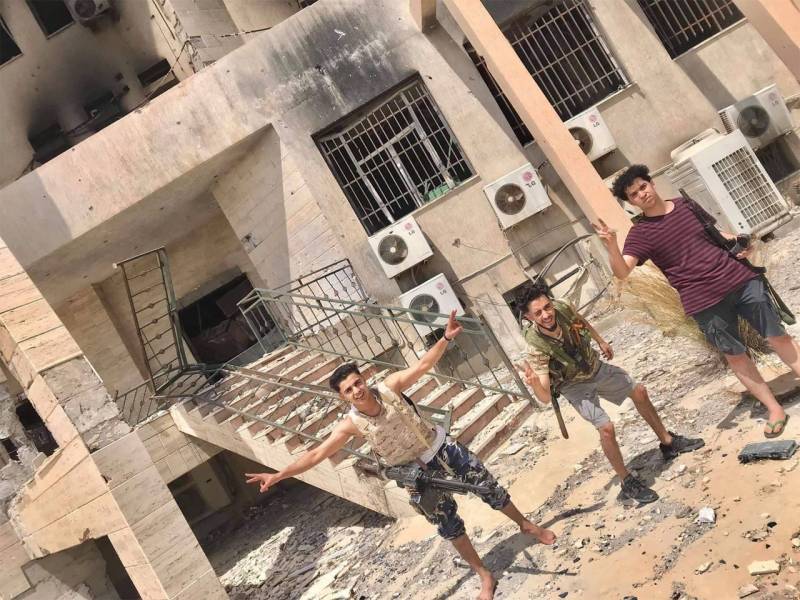 Photos published on the network by representatives of the so-called Libyan National Accord government forces are ridiculed by military experts and ordinary users. In the photographs next to the dilapidated infrastructure destroyed by the Libyan national army equipment, young people are posing in the best (from a combat point of view) case with a small arms
weapons
in hand. At the same time, captions for photos on social networks of the PNS are distinguished by special bravado.
A few examples:
It was they who defeated the forces of the renegade Haftar.
Young Libyan guys skillfully resist a powerful force that has foreign weapons and equipment, including military
Aviation
.
In one of the photos there are three "heroes" of the PNS. Of these, two are in shoes, and one of them has rubber slippers on its feet, which are often called "flip flops" in Russia.
The most brutal is the one on the left. Hanging a Soviet-made machine gun around his neck, he offers to believe that he "destroyed the enemy barefoot" a few seconds ago. And he ran around the territory of the scorched object, studded with fragments of concrete and metal fragments. Moreover, none of the "heroes" even has a scratch, not to mention traces of more serious injuries.
Even Turkish users are ironic over this photo, most of which, as you know, PNS supports. A few comments in the Turkish segment of social networks:
Barefoot, but with a machine gun
As I understand it, these are Tripoli's most combat-ready forces. Production photo
Meanwhile, there are reports of the use of Khalifa Haftar Air Force aircraft against the accumulation of PNS equipment. South of Tripoli, near Al-Karabuli, an air convoy destroyed a convoy of vehicles with weapons.
#Libya
Güney Trablus hatti; Karabolli (Al-Qura Bulli) cephe hattında #LNA s #GNA güçleri arasında şiddetli çatışmalar var. LNA güçleri, GNA'nın aracına hava saldırısı düzenledi. pic.twitter.com/H43GcXaOws

- İvan Stepanovich Konev (@ivankoneev) May 2, 2017