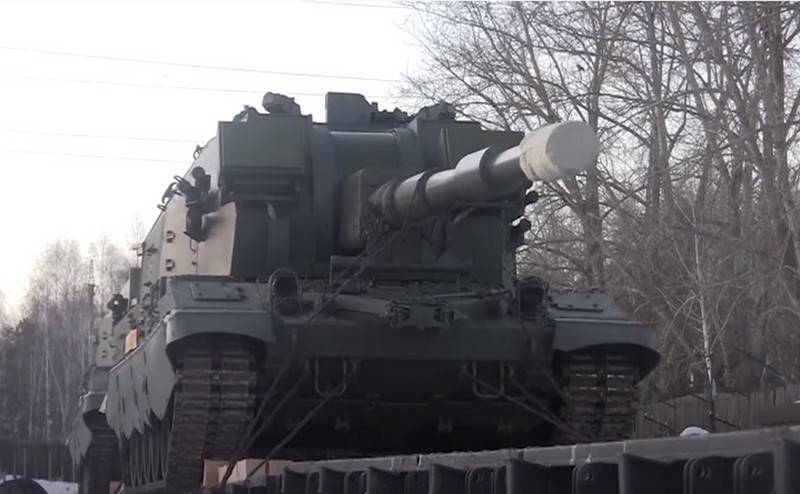 The party of the latest self-propelled howitzers "Coalition-SV" entered service with the Russian Army. This was reported by the press service of the Ministry of Defense.
According to the report, a batch of 152 mm self-propelled artillery guns "Coalition-SV" entered service with the Ground Forces as part of a state defense order. The quantity of equipment delivered and other delivery details are not given. Most likely, an experimental batch of the latest self-propelled artillery units was delivered to the troops, the manufacture of which and readiness for delivery at the end of last year were reported by the UVZ press service.
Recall that the 152-mm howitzer 2С35 "Coalition-SV" was first officially presented in Moscow at the Victory Day parade on May 9, 2015.
Earlier it was reported that the state tests of self-propelled guns "Coalition-SV" should end in 2022, and the timing of serial deliveries to the troops has not yet been determined, the Ministry of Defense will deal with this issue in the future based on the results of the tests.
The 152 mm 2C35 Coalition-SV self-propelled howitzer is designed to destroy command posts, communications centers, artillery and mortar batteries, and armored vehicles, including
tanks
, anti-tank weapons, air defense and missile defense systems, as well as manpower of a potential enemy. The shooting of the latest SAO is more automated and computerized, the howitzer can operate in the "Flurry of Fire" mode, in which several shells fired from the gun from different angles simultaneously reach the target.
The basis of firepower is a 2 mm 88A152 gun with a firing speed of more than 10 rounds per minute, which is higher than the firing speed of other artillery systems.
It is expected that separate artillery brigades will be equipped with the Coalition-SV.