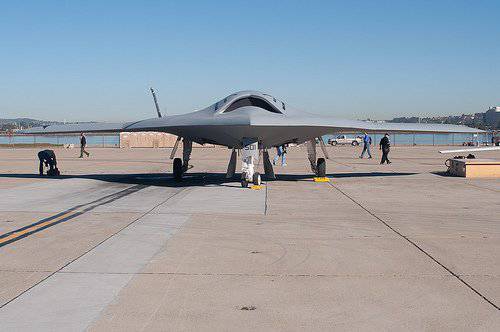 Command
aviation
On July 29, the US Navy announced the beginning of flight tests at Patuxent River airbase of the X-47B strike UAV demonstrator developed as part of the UCAS-D (Unmanned Combat Air System Carrier Demonstration) program.
Built according to the tailless pattern, the UAV flew to 11: 00 local time and during the 35-minute flight over the Chesapeake Bay reached an altitude of 7500 feet and developed 180 nodes speed.
According to the developers, the first flight of X-47B in Patuxent River is the beginning of an important intermediate stage, the purpose of which is to demonstrate the compatibility of the UAV with the flight support system, as well as equipment for the take-off and landing of the aircraft carrier. The unique shipboard equipment deployed at the base allows the US Navy to test the vehicle on the ground before its deployment on board the aircraft carrier, which is scheduled for next year.
X-47B arrived at Patuxent River from Edwards airbase (California) in June. Testing apparatus will continue over the coming months. The test program provides for checking the accuracy of the approach to the deck of the aircraft carrier, landing with the aero-finisher and taking off with the use of a catapult on a ground installation.
The aircraft carrier's simulated environment will allow the test team to verify that the X-47B is ready for the offshore tests planned for the 2013 year.
The 7-10 in July, a team of specialists from the US Navy Aviation Systems Command conducted extensive software testing aboard the aircraft carrier Harry S. Truman (CVN-75) to confirm the concept of autonomous UAV operations aboard the aircraft carrier and prepare for the arrival of the X-47B. The tests were carried out using the King Air plane as an imitator.
The X-47B is an autonomous unmanned aerial vehicle that, at the command of the operator, performs take-off, flies along a preprogrammed route and returns to the base independently. The operator controls the actions of the X-47B using a simple display system, but does not remotely control it, like a number of existing unmanned systems.
A six-year contract worth 635,8 million to build the X-47B UAV, the US Navy signed with Northrop Grumman 1 August 2007 of the year as a result of a tender. The system UCAS-D will include two subtle UAVs, two control points and a support point.
The goal of the X-47B development program, which will not be put into service, is to demonstrate the possibility of using a low-profile jet drone based on board the US Navy aircraft carrier to perform information gathering, observation, reconnaissance, and strike operations. The program must prove the ability of the device to autonomously perform takeoff and landing on the deck of an aircraft carrier.