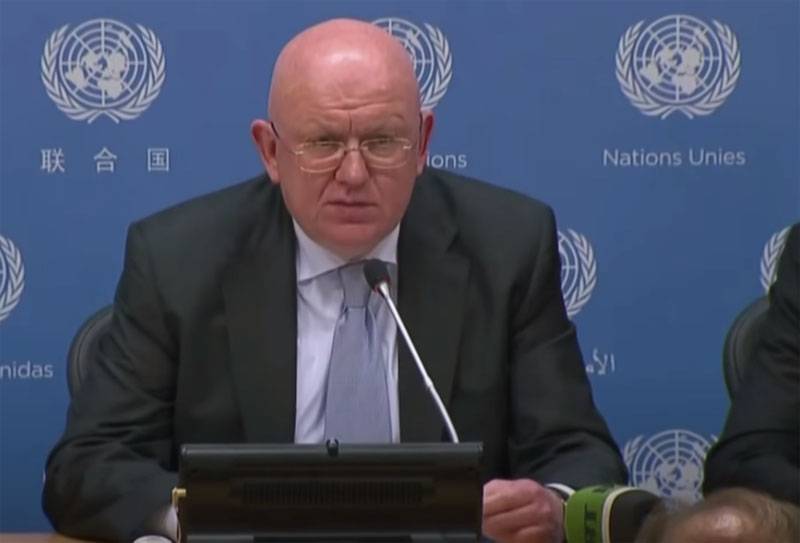 Russian Permanent Representative to the UN Vasily Nebenzya commented on another attack against Russia on the issue of reunification with Crimea. It all started with the fact that during the meeting of the UN Security Council "with the participation of representatives of civil society", the permanent representatives of several European countries declared the non-recognition of Crimea as part of the Russian Federation. These permanent representatives are diplomats from France, Germany, the Czech Republic, as well as a diplomat from the European Union.
Responding to the attack from the series "we do not recognize the entry of the Crimean peninsula into Russia and believe that its accession by Russia is a violation of international standards," Vasily Nebenzya reminded the interlocutors of how it all began.
The Permanent Representative of the Russian Federation made a reference to the beginning of 2014 and noted that Ukraine itself had opened the way for Crimeans to a referendum on the issue of self-determination.
Vasily Nebenzya:
Ukrainians have no one to blame but themselves.
The Russian diplomat also reminded the French and German colleagues that it was the representatives of the Foreign Ministries of these countries, along with the Polish Foreign Ministry, who in February 2014 acted as guarantors of the agreement between the President of Ukraine Viktor Yanukovych and the opposition.
Vasily Nebenzya:
But the opposition violated these guarantees the very next day.
As is known, no measures were taken by the guarantors then. Both Germany, and France, and Poland have eliminated themselves.
Nebenzya recalled that the opposition carried out an armed seizure of power in the country, forcing Yanukovych to save his life.
Permanent Representative of the Russian Federation to the UN:
If then none of this had happened, then today Crimea would have remained where it was until 2014.
After that, Vasily Nebenzya urged the participants in the meeting not to build judgments without having listened to those who live in Crimea now.