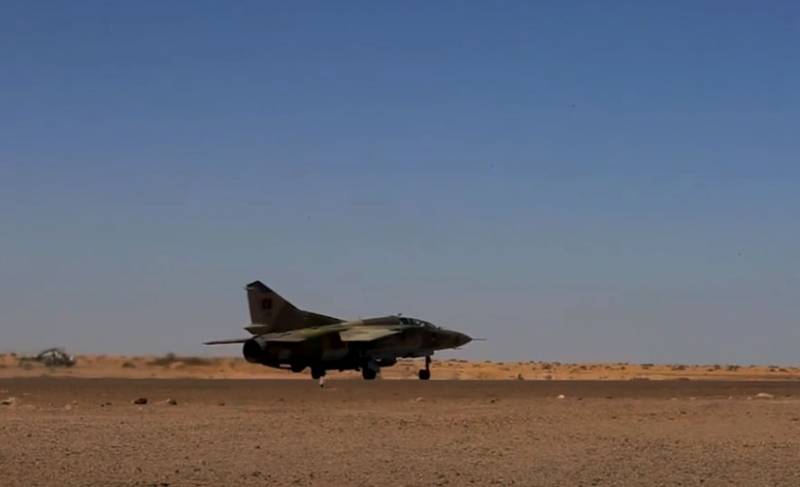 Libyan reports indicate that
aviation
Marshal Khalifa Haftar begins an air operation against the forces of the so-called Government of National Accord Fayez Saraj and his allies. The military allies of the PNS are militants who were previously deployed to northern Africa from Syrian Idlib, as well as Turkey. Recall that it was the Turkish Bayraktar drones that were actively used in the attack on the Al-Vatiya air base south of Tripoli.
On shots from Libya appeared the preparation of aircraft for striking at positions, facilities and infrastructure of the PNS and the forces supporting this structure. In particular, we are talking about the equipment of several combat aircraft, including MiG-23MLD fighters. It is reported that these aircraft began to fly from Al Joufra airfield to strike mercenary positions in the Garyan area.
# BREAKING: #Libya National Air Force just started the airstrikes against #Turkey backed militias of #GNA... According to a source from #LNA, this MiG-23MLD is one of several fighter jets which have left Al-Jufra to bomb #GNA's militias & #Syrian mercenaries in #Garyan tonight. pic.twitter.com/ybZoihB9kn

- Babak Taghvaee - Μπάπακ Τακβαίε - بابک تقوایی (@BabakTaghvaee) May 22, 2020
In the meantime, the headquarters of the Libyan National Army call false information about the alleged transfer of MiG-29 fighters and Su-24 bombers from the Khmeimim air base in Syria. Recall that on the eve of such data was presented by the American news agency Bloomberg, citing a representative of the PNS. The headquarters of the LNA note that this lie was created with the help of Turkish structures. In particular, the Turkish Foreign Ministry is mentioned. It is added that the aircraft in question have nothing to do with the Russian Air Force (VKS) and have never been in the Air Force of the Russian Federation.
It should be noted that previously the forces of Marshal Haftar successfully used the MiG-23 against the forces of Saraj, causing significant damage in different parts of Libya. However, this time the situation may be complicated for Haftar, if information on the supply of air defense systems from Turkey by air defense systems is confirmed. According to some reports, we can talk about the supply of missile defense.