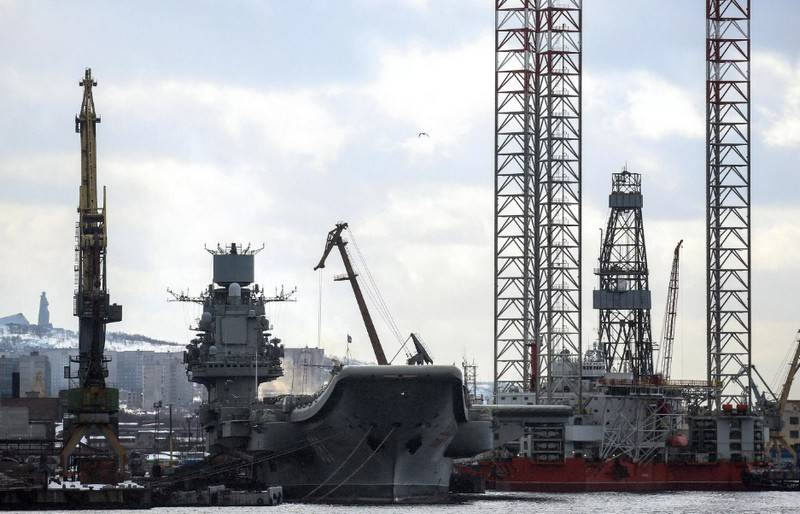 The contract for the construction of a dry dock at the 35th shipyard in Murmansk with the company JSC Investments. Engineering. Construction (I. I. S.) is terminated. This was stated by the head of the USC, Alexei Rakhmanov.
According to Rakhmanov, USC terminated the contract with JSC I.I.S. contract for the construction of the dry dock necessary for the docking of the Admiral Kuznetsov Tavkr. The reason for termination is the unsatisfactory pace of construction. As previously reported, the work is being delayed, the commissioning of the dock was postponed from 2020 to 2021.
However, the head of the USC emphasized that this will not affect the deadlines for the completion of Admiral Kuznetsov, since in the near future the work will continue with another contractor. At the same time, the previous contractor will have to report for all 900 million advance payments received from USC under the contract.
Agreement with JSC I.I.S. was terminated on the eve. We are now discussing the choice of a new contractor. There is a choice of three large Russian companies owned by responsible Russian businessmen. With each of these potential contractors, the need to start docking the ship was agreed - the summer of 2021 in order to be able to deliver it to the customer in time in 2022
- said Rakhmanov.
Recall that the contract for the modernization of the dry dock at the 35th shipyard for docking Admiral Kuznetsov was signed in July 2019 after the flooding of the floating dock PD-50. The modernization itself consists in the reconstruction of two adjacent dry docks of the plant (one 187 m long and 28 m wide at the top, and another 236 m long and 30,8 m at the top, both docks have a bottom width of 22 m) into one large dock by demolishing the partitions between them. As a result of modernization, the largest dry dock in Russia will be created for the reception of large vessels and ships, which will have a length of 335 m and a width of 60 m on the bottom and 70 m on top.
It was planned to complete the full modernization of the dry dock with the upgrade of all hydraulic structures — walls, slipways, dock equipment and other things — during 2020.