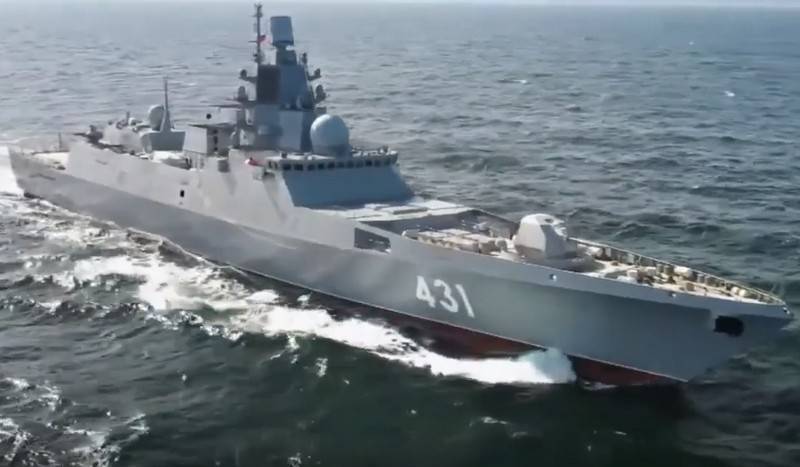 The first serial frigate of project 22350 Admiral
fleet
Kasatonov "left Baltiysk to continue passing the final stage of state tests. This was reported by the press service of the Western Military District.
In the marine ranges of the Baltic Fleet, the ship's crew together with industry representatives will check the operability of the ship's weapons at sea. At sea, the frigate's crew will carry out a number of anti-submarine missions in collaboration with the Baltic Fleet project 20380 "Stable" and "Stereguschiy" corvettes
- said in a statement.
It is stated that at sea ranges of the Baltic Fleet, ships will practice combat operations by a tactical group against a conditional enemy submarine using anti-submarine
weapons
and anti-torpedo protection.
In early April, the Severnaya Verf shipyard press service reported that Admiral Kasatonov had begun the final stage of state testing. The ship will conduct final tests in the Baltic Sea, after which it will return to the Severnaya Verf Shipyard to conduct an audit and prepare for transfer to the Russian Navy. The press service explained that, taking into account the state tests, the transfer of the frigate could take place in late May - early June. The customer is not informed about the postponement of the delivery of the ship.
The frigate Admiral Kasatonov is the second ship of the 22350 project and the first serial after the lead frigate Admiral Gorshkov. Displacement of 5 thousand tons with a length of 135 m and a width of 16 m. The frigate is able to travel 4500 miles, while developing a speed of up to 29 knots. Autonomy of navigation is 30 days. The crew is from 170 people.
Main power plant: gas turbine engine with a total capacity of 65 thousand liters. pp., diesel generators with a total capacity of 4 thousand kW.
The frigate is armed with: 130-mm A-192 artillery mount, Poliment-Redoubt anti-aircraft missile system, launchers for 16 anti-ship missiles Onyx or Caliber, anti-submarine complex Package, anti-submarine helicopter Ka-27.