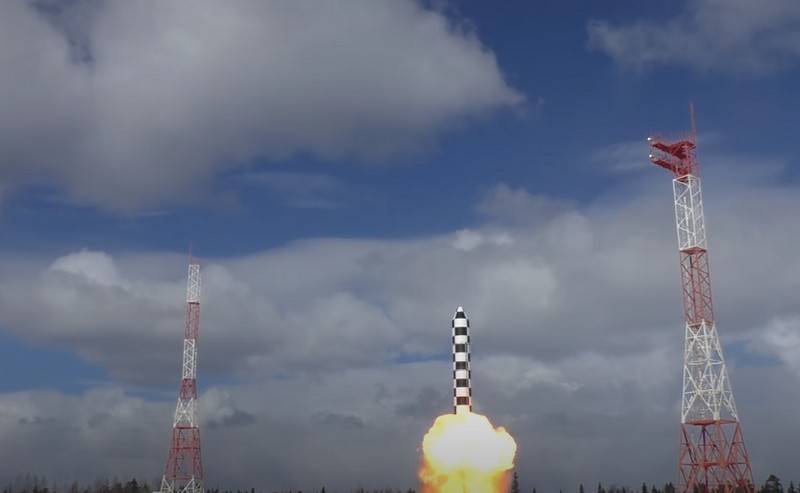 The work on the new Sarmat heavy intercontinental ballistic missile was not interrupted due to the coronavirus pandemic; preparations for flight tests of ICBMs are on schedule. About this in an interview with RIA
News
said Deputy Prime Minister Yuri Borisov.
According to the Deputy Prime Minister, all tests will be held within the deadlines set by the developers of the rocket and the Ministry of Defense.
Work is being carried out as planned. At the enterprises involved in the creation of the complex, production processes did not stop. The necessary sanitary and epidemiological measures were taken there, including testing of employees
- said Borisov.
In March of this year, Defense Minister Sergei Shoigu announced that Russia was ready for serial production of the latest Sarmat intercontinental ballistic missiles, having carried out an appropriate modernization of enterprises.
At the end of last year, it was reported that the year 2021 was set by the end of flight design tests of the Sarmat ICBMs. In the same 2021, industry will have to master serial production of a new
weapons
and related systems. In addition, in 2021, the first rocket regiment armed with the Sarmatians will take up combat duty. This will be one of the regiments of the 62 th missile of the Uzhur Red Banner Division of the Strategic Missile Forces. Next, the ICBM will go into service with the Dombarovsk division of the Strategic Missile Forces.
ICBM RS-28 "Sarmat" is being prepared to replace the world's most powerful ICBM of the mine base RS-20В "Voevoda" (NATO - SS-18 "Satan"). It is possible that the rocket will become the carrier of hypersonic Avangard blocks.
Recall that according to the data released during the Army 2019 exhibition, the firing range of the Sarmat ICBMs is 18 thousand kilometers, the starting weight is more than 200 tons, of which 178 tons are fuel. The total length of the rocket is 35,5 m, the diameter is 3 meters. The head part is divided with 10 blocks of individual guidance.