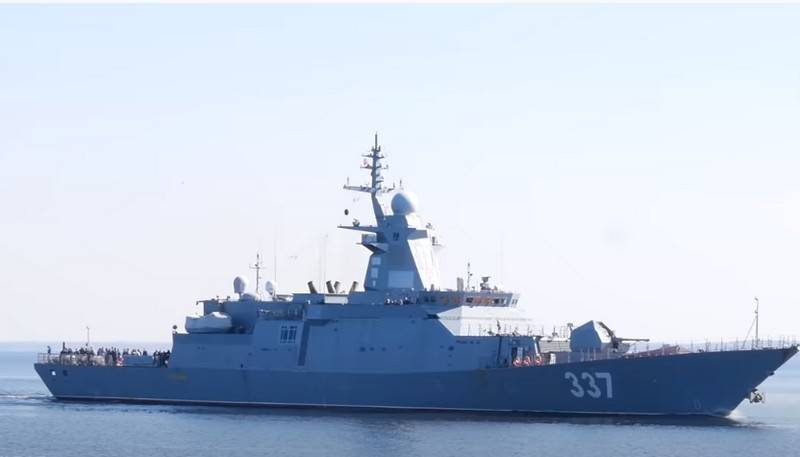 The head corvette of the project 20385 "Thundering" went to pass the final tests. At the next stage, the crews of the Baltic helicopters
fleet
will work out boarding the ship. This was reported by the press service of the Ministry of Defense.
The final test of the corvette takes place in the Baltic Sea, where he returned in early March, completing the inter-naval transition from the Northern Fleet, where the bulk of sea trials and verification of the main armament of the ship were carried out. At this stage, marine helicopters
aviation
BF will fly around the corvette and land on it in various weather conditions in the dark and daytime. It is reported that helicopter pilots will conduct more than 10 landings on the deck of the corvette in various conditions: on the go, in drift, at anchor. Nothing is reported on the deadlines for testing.
Earlier, the press service of the Severnaya Verf, which built the ship, said that the corvette would be transferred to the Russian Navy in the first half of 2020. After the transfer, the ship will make an inter-naval transition to the Pacific Fleet, where it will continue to serve.
The 20385 Project "Thundering" is the lead ship of the series. Laid down in February 2012, launched in June 2017. Construction was delayed due to the non-delivery of German MTU power plants. The corvette was completed with Russian diesel engines 1DDA-12000 of the Kolomensky plant. The unit consists of two 16D49 engines with 6000 horsepower.
It is a further development of the 20380 project. Designed to detect and destroy surface enemy ships or submarines, organize landing, guard the coastal zone, escort other ships.
Corvette displacement - 2200 tons, length - 104 m, width - 13 m, speed - up to 27 knots, cruising range - 3500 miles, autonomy - 15 days crew - 99 people.
The armament includes the universal naval rifle complex (UKSK) for the Caliber, Onyx and possibly Zircon, Redut air defense systems, the 100-mm A-190-01 artillery system, two AK-30-mm anti-aircraft artillery systems 630M, as well as anti-submarine complex "Package".