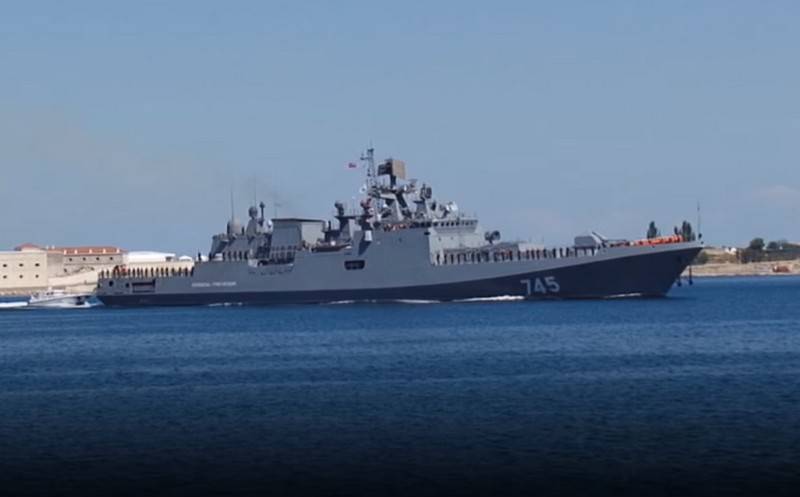 The Russian frigate of project 11356 Admiral Grigorovich completed the tasks as part of a permanent grouping of the Russian Navy in the Mediterranean Sea and headed for the Indian Ocean. This was reported by the press service of the Black Sea
fleet
.
It is reported that the frigate Admiral Grigorovich, escorted by the rescue tugboat "Professor Nikolai Muru", left the Mediterranean Sea and began passing the Suez Canal. The group will pass the Red Sea, the Bab el-Mandeb Strait and the Gulf of Aden, after which it will enter the Indian Ocean. The frigate's task is to demonstrate the Russian flag in the region.
The crews of a frigate and a rescue ship of the Black Sea Fleet make a transition to the Indian Ocean to demonstrate the flag of the Russian Federation
- said in a statement.
It is emphasized that "the technical capabilities of the frigate and the tugboat allow to perform tasks in the southern latitudes."
"Admiral Grigorovich" is the lead frigate of the sea zone in a series of three ships of the 11356 project, built for the Black Sea Fleet at the Baltic Shipbuilding Plant. Transferred to the Russian Navy 11 March 2016 of the year. It has a displacement of the order of 4 thousand tons, speed - 30 nodes, navigation autonomy - 30 days. The frigate is armed with Caliber-NK cruise missiles, the Shtil-1 self-defense missile system, the A-190 X-mmX caliber mm, the anti-aircraft artillery, the rocket bombing unit, torpedoes, can carry the Ka-100 helicopter (or X-ray Ka-27) or the X-ray Ka-NNXX or K-X-NNX. Crew - 31 people (including 180 officers).