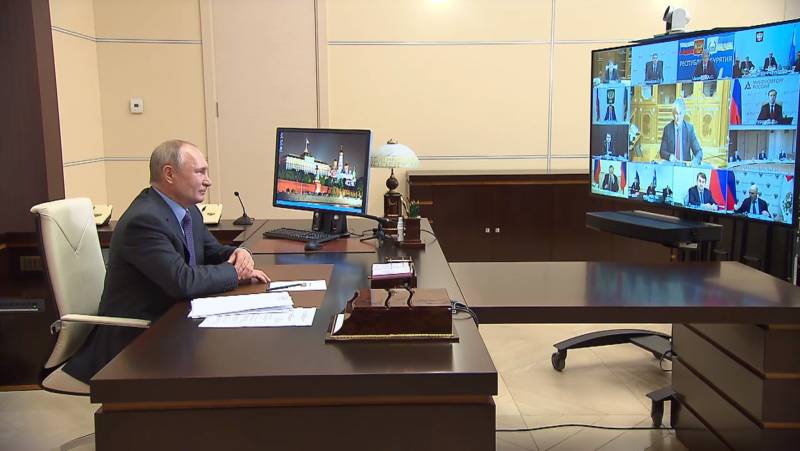 Follow the right course, comrades!
Today, none of those who have kept the remnants of common sense have any doubts that in Russia they hurried with the increase of the retirement age. In this case, hardly anyone will pay attention to such
news
: The Russian government has discussed the possibility of easing conditions for early retirement.
The thing is what was discussed at a time when each of us has only one thing in mind: how soon the quarantine restrictions will be lifted. It seems to have begun - the president gave the go-ahead as early as May 12th. And many seemed to have allowed to work, and the capital's mayor, the main supporter of harsh measures, even opens the JRC / MFC - this is the favorite brainchild of his beloved female deputy.
But the number of unemployed, by all indications, in Russia has already increased significantly. Statistics will be given later, when it will not be so scary. But it's not entirely clear why the unemployed should be born at all, keeping jobs for those who are ready to free them even today. And at the same time continue to feed, and feed a very satisfying, army of migrant workers. Not to mention the millions of guards, security officials and all sorts of different bodyguards.
Power, as you can see, is such a thing that not only makes you cling to yourself, but with all your strength to "save face." You lose it, you lose power too. Therefore, I really do not want to admit my own mistakes. But thanks already for taking the first tiny step in the right direction. This step was even written down in the plan for the restoration of the Russian economy, which the Ministry of Economic Development sent to the Cabinet.
Have you forgotten yet? Five years are added to the retirement age. Not immediately, but in stages, and therefore at this particular moment, men leave for a well-deserved rest at 60 and a half years, and women - at 55 and a half. Not so scary. The Economic Department proposes that by the end of this year, those who have three years left before can retire. Moreover, without reservations on the total length of service.
It is hard to say how much this will help maintain employment and the labor market, of which the authors of the document are so sure. It is not easy to believe that "initiatives themselves will help reduce social tension and will not require large budget expenditures." So I want to ask again: is there money?
In fact, the change proposed by a single ministry is not as significant as it might seem. Already today, under certain conditions, those who have lost their jobs two years before the retirement age may be allowed to retire. But they still need to prove that it was impossible to get a new job. How many pensioners managed to prove this, even omniscient statistics do not know.
On the other hand, one can imagine how many officials managed to be employed at labor exchanges so that they would help senior citizens "gather evidence". Even the new "Putin" unemployed today go through all the circles of hell to achieve a "decent allowance" of 19 and a half thousand rubles. Against the minimum size of unemployment benefits of 4500 rubles, this is a lot of money. But then the "lucky ones" wait a month and a half for the first payments, to which they still have to live.
Twenty five again
Currently, for early retirement, seniority should be 20 years for women and 25 for men. By canceling the requirements for experience, it would be nice to cancel the collection of evidence, since the inability to get a job today does not need evidence. A-priory. Even for young people, not like people under 60 and over 60.
The mitigation from the agency, headed by the person of Sobyanin, 40-year-old Maxim Reshetnikov, one of those to whom the president literally just gave a kind of carte blanche, will almost certainly be supported by our legislators. But they, the legislators, have, so far, at the regional level, for example, in St. Petersburg, managed to say their harsh "no" in response to the idea of ​​returning to their previous retirement age.
With such a proposal, deputies from the Growth Party, Oksana Dmitrieva and Sergey Trokhmanenko, entered the parliament of the northern capital. Now I would very much like to hope that the initiative of the St. Petersburg opposition will be picked up in other places, including Moscow. But it is very significant that the Russian Pension Fund categorically does not want to comment not only on the idea of ​​legislators from St. Petersburg, but also on the initiative of the Ministry of Economic Development.
Apparently, the FIU is waiting for "go-ahead" from the guarantor himself, although what his "go-ahead" is today, it became especially clear after May 12.
In fact, the "go-ahead" was done very on time, when many offices finally realized that they had broken a lot of firewood. Even by the very procedure for introducing non-working days, due to which established business chains within and between individual industries began to fall apart, and thousands of small and medium-sized companies simply stood up, although they gave jobs to millions of people who also had to pay a salary.
It should be noted that interest-free loans promised by the president cannot be knocked out for this "quarantine" salary even with the most powerful support "upstairs". My acquaintances, entrepreneurs have already tested for themselves. And unemployment in the country, of course, increased in a way that it actually should not have, although so far the authorities still do not want to admit it.
No one today, in fact, will believe that raising the retirement age will be canceled. Our powerful people do not like to admit their mistakes and to shy from side to side. Nevertheless, due to the extremely acute shortage of funds that have yet to be scattered according to "yours" (those who are on the anti-crisis lists), anything can be expected. And most importantly it will be beautifully packaged.
After all, now no one is demanding to cancel the pension reform as a whole. But to cancel the main negative point is a beautiful move. In skilled hands, this is such a trump card with which you can consolidate your precarious position for years to come. Moreover, there is still the opportunity to take the next intermediate step, which is no longer as tiny as the first.
Which one? Yes, do not cancel the reform, do not even cancel raising the retirement age, but simply suspend. At current marks, sorry for the replay: 60,5 and 55,5 years. Until better times. It will not only be beautiful, it will be elegant, I would even say elegantly. In support of this decision, one can cite a pandemic, which posed a threat primarily to the older generation, and the quarantine itself, which someone rightly called "fake".
Like, all this slowed down the positive process of growth of average life expectancy in the country that has emerged in recent years. I think you hear the president's voice. So, we must ... (And be sure to "we", as the doctors like to say, or the king-priest always addressed the people.) Should, and it's just that the circumstances have changed - let's not hurry like that anymore. Be patient, commoners.
I've been engaged in social and pension issues for at least three decades, and I can't add on my own - it's not by chance that they set the retirement age at 60. Yes, it was a long time ago, but it was done taking into account the health and life expectancy in the USSR. In today's Russia, not so much has changed for the better, and with a life span it is hardly worth deceiving ourselves. Even in order to "squeeze" the money earned by the same old people.
Russia can not be compared neither with Italy, nor with Spain, nor with Greece, nor with Europe in general. And especially not to compare with Japan. Nowhere, I repeat, nowhere, even in Iceland and Norway, there is such a harsh climate as ours, there are no such difficulties with a healthy diet, and the environment abroad is somehow better. And life expectancy there is much higher, but retirement age is also higher, but not by much.