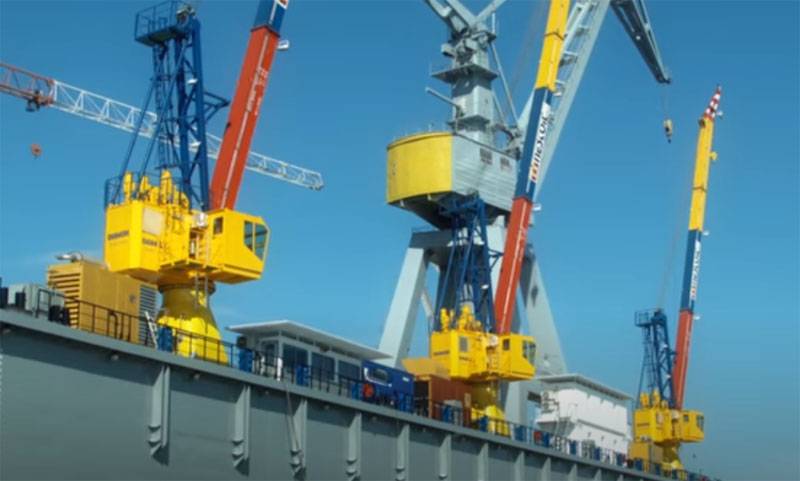 It became known that a large floating dock was put into construction at the Shanghai Jiangnan shipyard. This is the first floating dock in
stories
specified shipyard. It is noted that the length of the floating dock according to plan is 250 m with a width of 60 and a draft of 4,8 m.
Representatives of the state-owned Chinese company China State Shipbuilding note that the start of work on the construction of a large floating dock marks "overcoming many of the production problems associated with the pandemic."
The floating dock, which is being built at the Shanghai shipyard, will be capable of transporting goods (including ships and warships) weighing up to 32 thousand tons. According to other sources, the future floating dock will be able to provide work with facilities with a displacement of about 45 thousand tons.
At the same time, the Chinese company did not answer journalists' questions as to who specifically could eventually receive the built floating dock. Given this understatement, as well as varying (in terms of mass / displacement) data on the provision of floating dock cargo / ship operations, in China itself began to speculate that the construction under construction could ultimately be sent to a foreign buyer.
In this regard, the question arises, to whom exactly could China State Shipbuilding export its floating dock after completion, if we can really talk about its export potential?
Given the fact that in our country there are known problems after the incident with the flooding of the PD-50 floating dock, it is quite possible to talk about the possibility of buying a Shanghai floating dock. So far, all this is at the level of assumptions and versions. But given the fact that with the operation to raise the PD-50 with its further use in our country - silence, the version, as they say, has the right to life.
Recall that on the PD-50 during the incident, repairs were carried out on the aircraft carrier cruiser of the Russian Navy Admiral Kuznetsov.
True, even if we assume that the Chinese floating dock under construction would be ordered for the maintenance of an Admiral Kuznetsov-format aircraft carrier, we need to state: for such ships, the indicated dimensions of the floating dock from China State Shipbuilding are not enough. The length and width of the aircraft carrier "Admiral Kuznetsov" exceed the corresponding parameters of the floating structure being built in China. The longest length is about 306 m with a Chinese PD at 250 m. Yes, and the sunken PD-50, which was operated at 82 shipyard, it yields: 250 m versus 330 m. Payload 32 thousand tons against 80 thousand
But it's not a single aircraft carrier ...