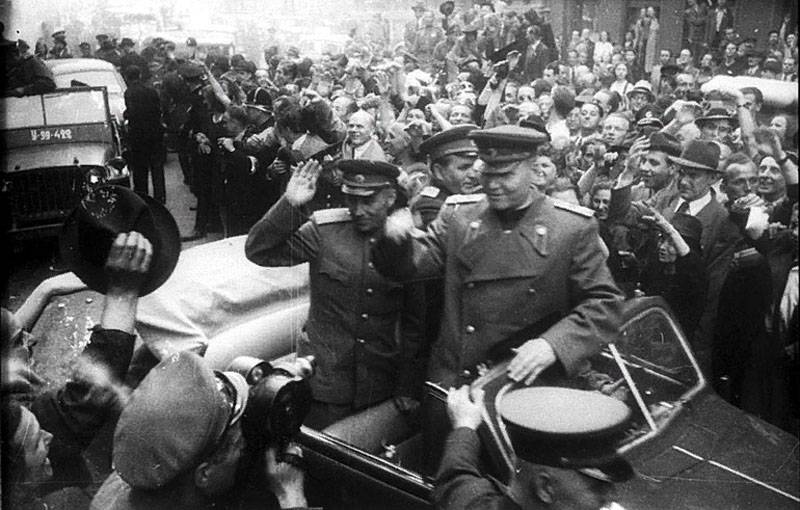 The Czech newspaper Aktualne distinguished itself by its noteworthy "
historical
"An opus. The material by Jan Gazdika talks about the "salvation" that the American troops carried out in Czechoslovakia in 1945.
The material contains a statement by Colonel Charles Hancock Reed, who commanded the 2nd Cavalry Group of the US Army. From the article:
US soldiers rescued 650 rare horses in the last days of World War II. They saved them, fearing that bad things could happen to these horses if they were in the hands of the Red Army.
The published material stated that the Americans "saved rare horses from Bohemia, because they were afraid that the Red Army would throw those into the cauldron."
The rest of the article tells how American troops, having landed in Normandy in 1944, marched through Europe and ended up in Germany and Czechoslovakia.
From the material:
Before American troops entered the territory of the Czech Republic, German veterinarians turned to soldiers of the US Army cavalry group with a request to save the horses. One of the veterans said that otherwise rare horses could end up in the cauldrons of field kitchens of the Red Army, as happened at a stud farm in Gradice near Torgau.
Apparently, in this place of the material the reader is invited to be touched by "the care of German veterinarians and American troops for animals." The fact that the same veterinarians regularly served in Nazi formations that sent people to the oven is, of course, not mentioned in the material. There is no mention of how the "caring American army" had so far razed the German Dresden to the ground, leaving tens of thousands of civilians under burning rubble. And then all of a sudden both of them decided that it was time to save the horses from the Red Army ...
The author cites the statement of American Colonel Reed, which he made after the war:
We were so tired of war, death and destruction then that we wanted to do something beautiful.
To "save" the horses, the colonel singled out five
tanks
and a convoy of trucks. This technique was used "to break through the Nazi defensive order."
Among the "saved" were 250 animals from the Vienna Riding School, as well as the stallions of the Yugoslav King Peter and the Nazi Foreign Minister Ribbentrop. The total cost of 650 horses was allegedly $ 3 million (at the then exchange rate).