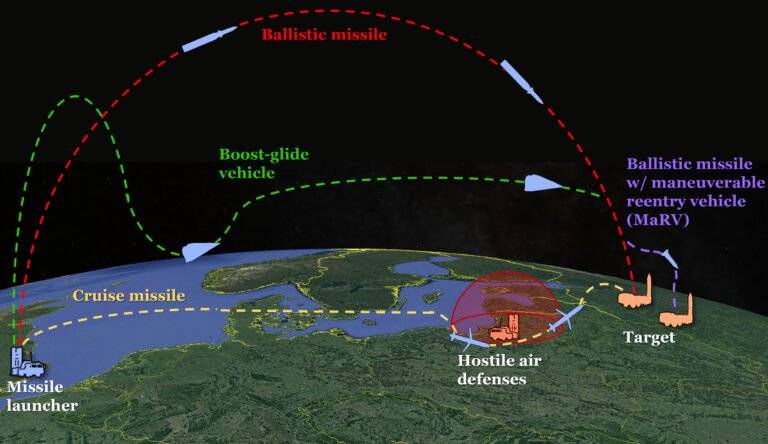 Comparison of shock systems of different classes. The trajectory of a hypersonic warhead is drawn in green. Graphics by Breakingdefense.com
US President Donald Trump once again made a loud statement. This time, he announced the existence of super-duper-missile - literally "super-super-super-missiles." D. Trump called its main characteristics and compared with foreign developments. However, it is not entirely clear what exactly he was talking about and what specific product became an occasion for pride.
Super Declaration
On May 15, the ceremony of presenting the flag of the Space Forces was held in the United States. During this event, D. Trump made a speech on various aspects of national security, a new type of troops, promising weapons, etc. Of all the theses of the president, the greatest public attention was drawn to one related to the hypersonic weapons development program.
According to D. Trump, now the United States is creating incredible weapons. He designated one of such models as "super-super-racket" - it is capable of flying 17 times faster than products in service. The president also pointed out that such developments in Russia and China are only five to six times faster than current missiles. At the same time, D. Trump did not specify what kind of sample in question.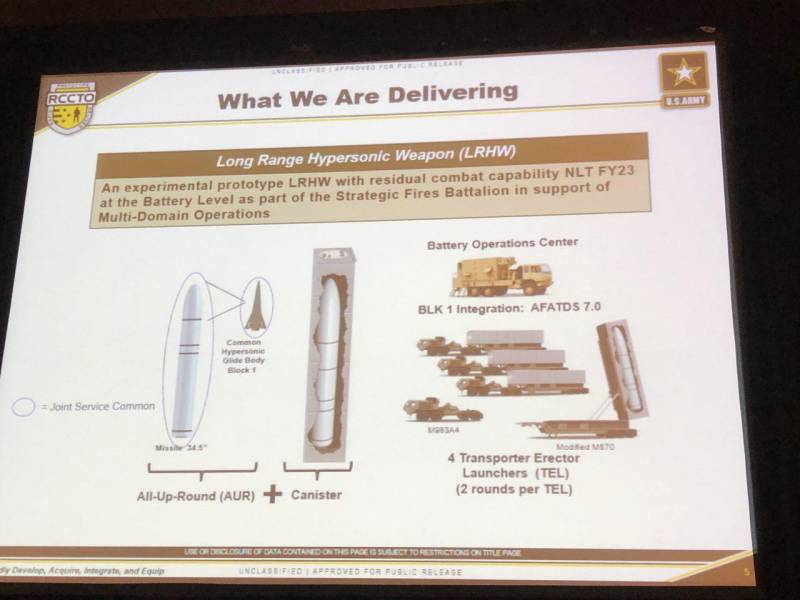 Pentagon presentation slide on the LRHW program. Photo Bmpd.livejournal.com
The president's statement provoked a corresponding reaction. At the same time, admiration and insults, surprise and irony were expressed in different circles. For example, the head of the Russian "Roskosmos" Dmitry Rogozin in a joking manner "scared" of an American rocket and offered to surrender.
Super riddle
It is easy to notice that the wave of humor was associated only with the wording used by D. Trump. If he used other expressions, the reaction could be different. However, in the current situation, not form, but content is important. The US President once again raised the topic of American hypersonic weapons, which are a serious cause for concern for third countries.
It is known that there are several research programs and development projects that have already yielded certain results. In the medium and long term, all this will allow the United States to put into service a fundamentally new strike systems with special combat capabilities.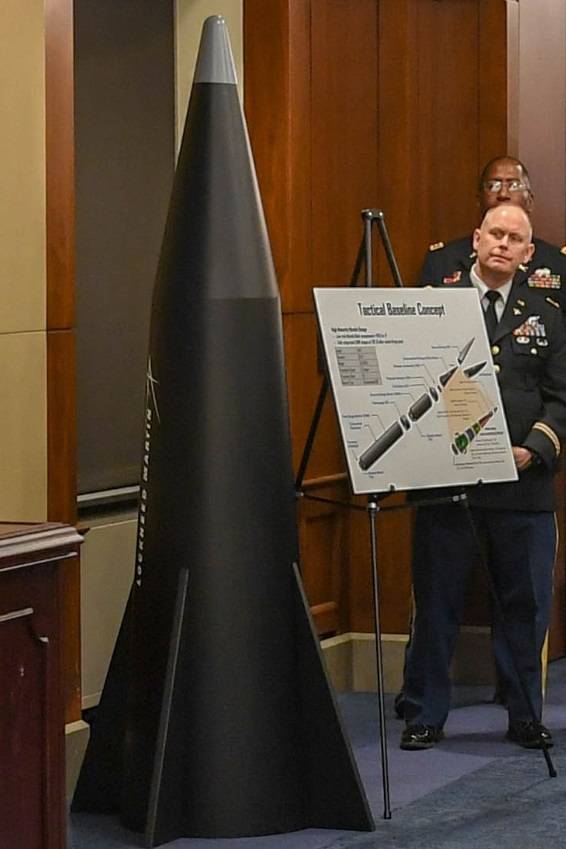 The layout of the warhead C-HGB. Photo Bmpd.livejournal.com
We will consider well-known projects and determine which one the American president could talk about. The Pentagon and industrial enterprises maintain the necessary level of secrecy, but regularly report on their work. Thanks to this, approximate development paths and current results of the hypersonic program are known.
Superversions
First of all, it is necessary to outline the circle of searches. According to D. Trump, a super-super missile flies 17 times faster than existing and in service. Given the characteristics of modern US Army missiles, this suggests a range of speeds from 15M to 20M or more. The range is very wide, but not all modern developments fall into it.
Apparently, searching for super-duper-missile will not take much time. The required characteristics were already shown by one of the earliest experimental samples. It was a prototype HTV-2 product created as part of the DARPA agency's FALCON program. The program itself was launched in 2003 and in the early stages was purely scientific in nature. By the beginning of the tenth years, it was brought to the stage of construction and testing of experimental equipment.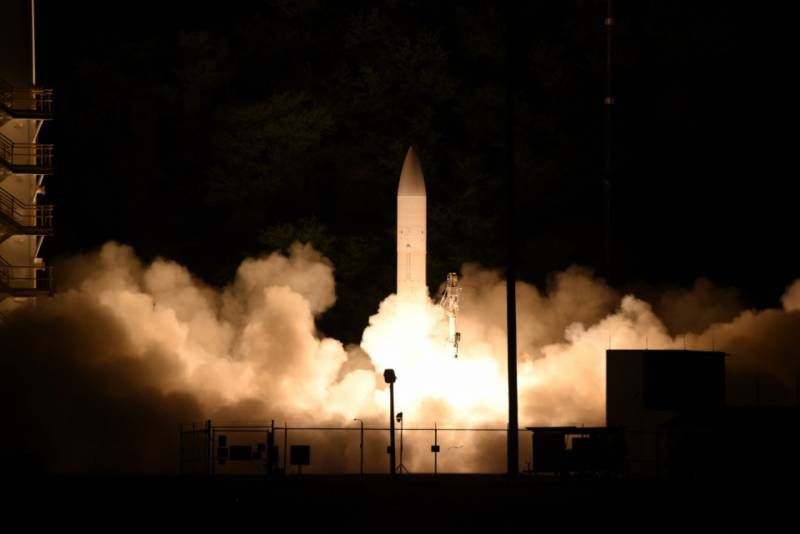 Second C-HGB test launch, March 19, 2020. Photo by US Navy
The first launch of the Hypersonic Technology Vehicle 2 (HTV-2) pilot planning hypersonic device took place on April 22, 2010 and ended in an accident. On August 11, 2011, the second start took place. The aircraft continued to fly over the Pacific Ocean for 9 minutes out of 30 planned, after which again a crash occurred. Before the fall, the product managed to develop a speed of about 20M. Despite the accident, the experiment was considered successful, and based on the developments on the FALCON topic, new projects were launched.
Already in November 2011, the first launch of the Advanced Hypersonic Weapon (AHW) hypersonic warhead was launched, which was created as part of the "practical" program Prompt Global Strike. Experienced aircraft in 30 minutes. I covered 3700 km, which corresponds to a speed of more than 6,5M. In the future, managed to reach a speed of 8M. This allows us to attribute AHW to hypersonic systems, but not to the "superfood" category proposed by D. Trump.
Currently, work is underway on the Long Range Hypersonic Weapon (LRHW) program, a key component of which is the Common-Hypersonic Glide Body (C-HGB) combat unit. Its result should be the emergence of several missile systems for different arms with a unified combat unit C-HGB. Full-fledged LRHW systems are not yet ready, but tests of combat equipment are already underway.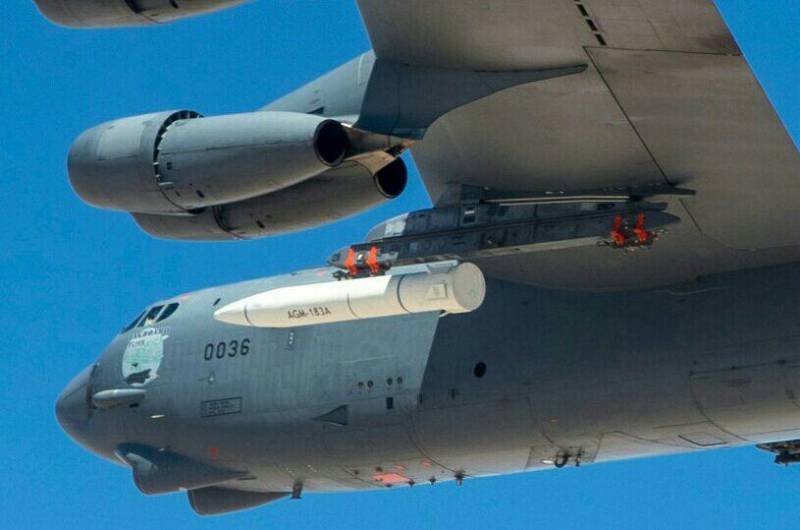 Model missile AGM-183A under the wing of a bomber B-52H. Photo US Air Force
On October 30, 2017, the first launch of the C-HGB took place over the Pacific Ocean, and on March 19, 2020, the second was launched. The tests are successful. It is alleged that products of a new type develop a speed of more than 5M. The upper limit of flight speeds is not called. However, the available data do not suggest that D. Trump had in mind the LRHW / C-HGB. This complex can really be a good one.
weapons
but not enough to call it super-duper.
Last year, the development of the promising aeroballistic missile AGM-183A ARRW (Air-launched Rapid Response Weapon) for strategic
aviation
. It is believed that its combat equipment will be the TBG (Tactical Boost Glide) hypersonic unit, tests of which, according to some reports, began in 2019. The exact characteristics of ARRW and TBG remain unknown, but the most daring estimates are expressed - up to 20M.
Thus, the calculated parameters of the AGM-183A and its warhead are unknown, and also not yet confirmed by tests. However, at the rumor level, this missile system is in full compliance with the requirements for a superfood. It is possible that D. Trump was talking specifically about the ARRW missile being developed. While it cannot be ruled out that it will be able to reach the indicated speed, and in addition, unlike the HTV-2, this missile is created as a full-fledged weapon.
Simple conclusions
Donald Trump is known for his love of high-profile statements that cause a violent reaction - from surprise to laughter. And in some circles, ridiculing presidential remarks even became a sign of good taste. However, all this applies only to forms, but not to content. The recent statements by the American president are based on real cases of great interest and no less danger.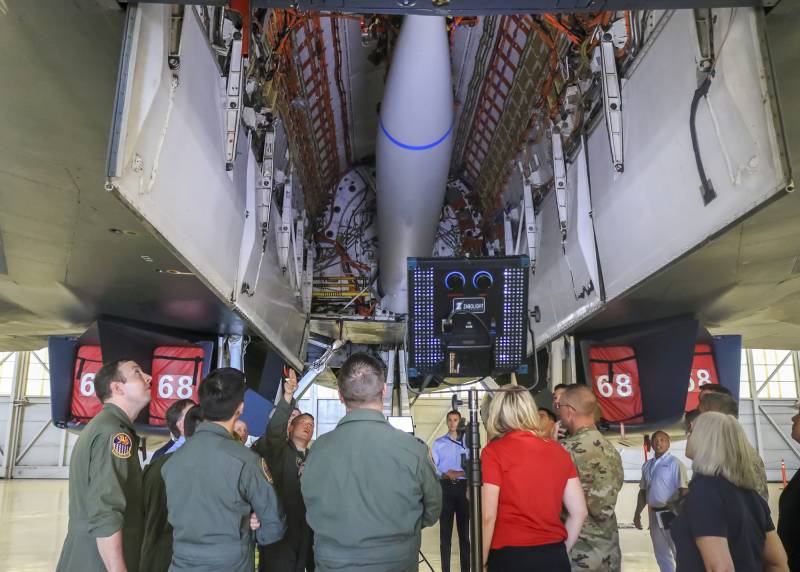 Model of a hypersonic missile of the ARRW type in the cargo compartment of a B-1B bomber. Photo US Air Force
Over the years, the United States has been working on the creation of hypersonic weapons and achieved certain results. Several research programs have been carried out, thanks to which new projects have been launched with an eye on real use in the army. The first samples are planned to be put on duty over the next several years, and after that the number of hypersonic systems will constantly grow. Sooner or later, missiles flying "17 times faster" than the existing ones will come into service.
All types of hypersonic missile systems have obvious advantages and high combat potential. Moreover, they are purely shock weapons. Receiving and putting on duty serial systems with a hypersonic warhead can be a serious threat to third countries. So, American arms naturally bother Russia and China.
It makes no difference what speed the combat unit shows - 5M or 20M. In any case, its interception is an extremely difficult task, which requires special solutions. Whether any countries have such technologies is not yet clear. For this reason, the amusing wording of "super-super-racket" does not look so funny anymore.
It is obvious that the United States is not going to abandon its hypersonic program and is ready to invest any necessary funds in it. Consequently, over the next few years, in service with the American army, fundamentally new strike complexes will indeed appear. Therefore, other countries should focus on both defense systems and retaliation. However, a healthy laugh will not hurt, unless it interferes with an objective assessment of threats.