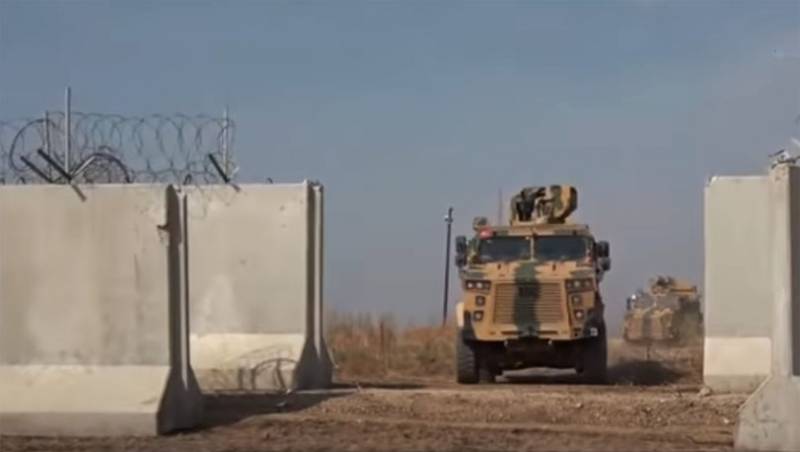 From the north of Syria there are reports of Turkish activity. According to reports, dozens of Turkish trucks with construction materials arrived in Hasek province.
It is noted that in addition to building materials, trucks delivered ready-made concrete structures to the region of the Syrian city of Ras al-Ain, as well as construction machinery and equipment.
Syrian sources say that Turkey is going to use all this for the construction of a concrete wall in northeast Syria. We are talking about the beginning of work in the Syrian territories, which in Ankara is called the "security zone". These territories are inhabited mainly by ethnic Kurds.
The Syrian news agency SANA writes that the Turkish authorities and the military did not notify the SAR authorities about the start of the construction of the wall in the country. For this reason, in Damascus, construction carried out "under the supervision" of the Turkish military is called illegal. The Syrian authorities consider illegal the stay in the SAR of the Turkish military contingent.
Earlier it was reported that the Turks had already erected a concrete fence in the north of Aleppo province. Turkey plans to create a buffer territory in the north of the SAR. Ankara wants to see this territory under its full control.
In the meantime, Kurdish armed groups are actively opposing Turkish actions. Today it became known about the next clash between the Turkish military and the forces of the YPG. The battle ensued in the area of ​​the village of Harbel (Aleppo governorate - approx. "Military Review"). Reported on the use of Turkish troops barrel artillery and mortars. Losses on both sides have not yet been reported.