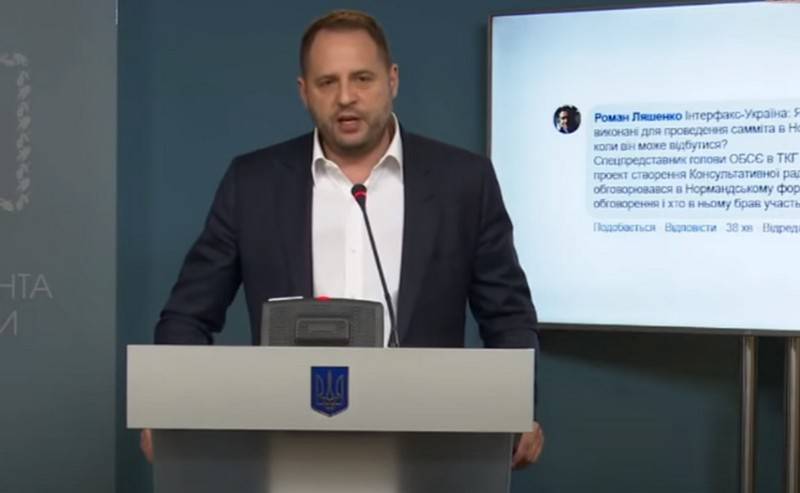 Ukraine no longer intends to discuss the Minsk agreements with representatives of the Lugansk and Donetsk people's republics, Kiev will bring its representatives to the next meeting of the contact group on the Donbass. This was stated by the head of the office of the President of Ukraine Andriy Yermak.
According to Ermak, Kiev will no longer discuss the situation with the representatives of LDNR, and as representatives of the uncontrolled territories of Donbass, they intend to attract Ukrainian citizens from among the displaced persons (immigrants) who will represent the ORLDO (LDNR) to the next meeting of the contact group in Kiev. The Ukrainian authorities are ready to discuss the Minsk agreements with "citizens of Ukraine" who are not related to "illegal military groups."
Ukraine will represent a group of representatives of certain regions of Donetsk and Lugansk regions, in particular from among Ukrainian citizens - internally displaced persons who may represent Donetsk and Lugansk regions and put an end to the monopoly on the representation of these territories by unrecognized quasi-state entities
- said a representative of the Zelensky office.
The idea of ​​Kiev to replace the representatives of LDNR with a group of residents of Ukraine became known at the beginning of May this year. The deputy head of the Ukrainian delegation in the tripartite contact group, Aleksey Reznikov, was tasked with selecting 10 Ukrainian citizens from among the internally displaced persons to represent the ORDLO (LDNR).
There is an idea to form this group of representatives of Donbass from lawyers, journalists, businessmen, priests and so on
- stated in Zelensky's office.
In turn, Moscow and the republics of Donbass warned Kiev against such a step, saying that if this proposal is implemented, Ukraine will negotiate with itself, and not with LDNR.