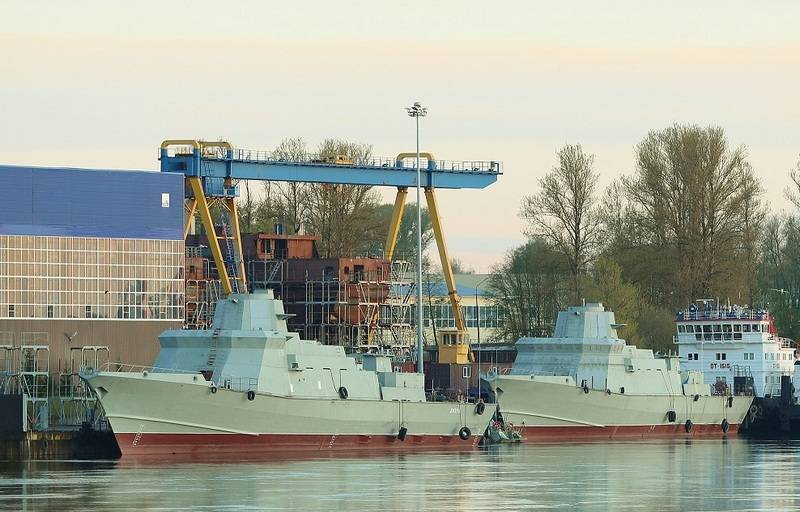 Small missile ships of project 22800 (code "Karakurt") "Okhotsk" and "Whirlwind" arrived at the Pella shipyard for completion. This was reported by the press service of the enterprise.
According to the report, both RTOs were delivered by inland waterways using tugboats, the launch of the ships on the water was carried out last fall at the More shipyard in Feodosia (Crimea).
Earlier it was reported that at the More shipyard in Feodosia, under the contract with Pella for the construction of seven ships, three RTOs are under construction: Storm (renamed Kozelsk), Okhotsk and Whirlwind. The head Kozelsk MRC was launched on October 9, 2019, and on October 17 it was towed from Feodosia via inland waterways to the Pella head plant (Otradnoye, Leningrad Region) for completion and testing.
The second RTO Okhotsk was laid down on March 17, 2017 and launched on October 29, 2019. The third RTO Whirlwind was laid down on December 19, 2017 and launched on November 13, 2019 without wide publicity. However, in connection with the termination of navigation on the Volga-Baltic Canal from November 15, 2019, these ships were towed along the Don River to Aksai (Rostov Region), where they were put on wintering until the opening of navigation in 2020.
RTOs of this project have a length of 67 meters, a width of 11 meters and a draft of 4 meters. Displacement - about 800 tons, cruising range - up to 2500 miles, autonomy - 15 days. The main armament is one UKKSK (universal ship complex) 3X14 missile launcher on the 8 KR Caliber, one 76-mm AK-176MA gun mount, ZRAK Panzir-M, two 14.5-mm or 12,7-mm machine-gun mounts MTTPU.
The ships of project 22800 Karakurt are actually replacing in the construction for the Russian Navy the MRK of project 21631 (code "Buyan-M"), of which only 12 were ordered. According to the plans of the Russian Navy
fleet
must enter at least 18 RTOs of project 22800.