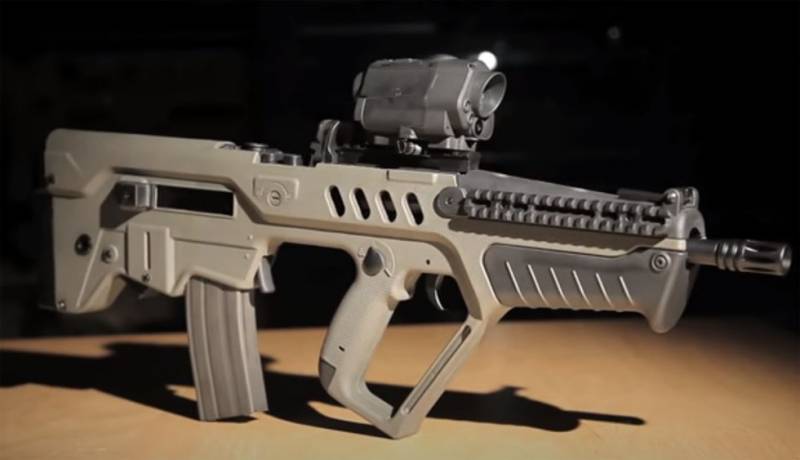 In Nigeria, they decided to put the Israeli assault rifle Tavor-21 (TAR-21) into service with army units. Until recently, these small arms samples
weapons
chambered for 5,56x45 mm caliber in Nigeria were armed exclusively with state security structures.
Now the decision has been made that the Israeli-made machine guns will be armed with one of the regiments of the Nigerian air force.
The command of the Air Force notes that the military "managed to evaluate the layout of the bullpups of these rifles."
According to recent reports, the Air Force unit, which will be the first army to receive TAR-21 assault rifles, will be equipped with ammunition of the aforementioned caliber - 5,56x45mm NATO (.223 Remington). It is noted that such bullets have "sufficient destructive ability when conducting combat both at close and medium distances." It is these distances that are allocated to units that are part of the structure of the air forces of Nigeria.
The Nigerian Air Force Command explains the reason why TAR-21 was preferred:
This is a compact firearm with a high rate of fire and giving a high impulse to the bullet with a short barrel.
Also, the Nigerian Air Force draws attention to the so-called bilaterality - the possibility of both right- and left-side use.
To date, Tavor assault rifles of various modifications are in service mainly with special forces of several countries of the world. For example, they are armed with special forces in Georgia, Vietnam, Portugal, Brazil. TAR-21 is widely distributed in law enforcement agencies (not including Israel itself, of course) of Thailand and Colombia. These machines can also be seen in the hands of representatives of the Ukrainian National Bats.