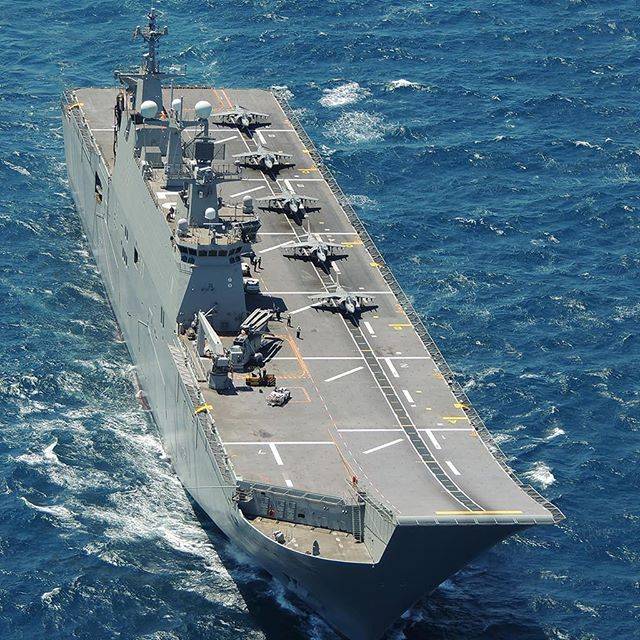 "Juan Carlos" with us, many consider an example to follow, but this is a bad example
As the last war, in which fleets were used with high intensity, recedes farther and farther into the past, more and more frankly strange solutions enter into the practice of the navies of various countries.
One such solution is the strange idea that universal landing ships are capable of replacing normal aircraft carriers in one form or another. Alas, for the authors of this idea, even an inferior light aircraft carrier surpasses UDC in the role of an attack carrier
aviation
as much as a normal aircraft carrier surpasses a light one. We will deal with this in more detail.
Non-aircraft carriers
Immediately start "from the end". The universal landing ship is not an aircraft carrier. This is a landing ship. Yes, it has a through flight deck, it has the ability to fly airplanes with short or vertical take-off and vertical landing, but as an aircraft carrier, that is, a ship designed primarily to deploy aircraft and ensure their combat use, it is flawed.
There are many reasons, we will analyze the main ones.
The first is the speed factor. Aircraft carrier is an instrument of the struggle for supremacy at sea and in the air. His planes, depending on their performance characteristics, are capable of shooting down enemy planes or attacking his ships. Having achieved freedom of action, an aircraft carrier can ensure the use of an air group against targets on the shore. The latter, incidentally, is not as good for carrier-based aviation as for basic aircraft, but, firstly, there may be no choice, and secondly, they will not fight for long against the coast - exactly until the landing has captured normal airfields , and there it will be possible to pour the enemy to the fullest ...
But war is, as the Americans say, a two-way street. An adversary in war always has the right to vote, and it is impossible to exclude the possibility that an aircraft carrier will be attacked. The specifics of deck-based aviation battles against the base one is that it is impossible to lift an entire air group from an aircraft carrier at one time, so it can only be that a small group of aircraft from the decks will join the patrols in the air, then, after they have worked on the strike group and left the battle, the turn of the missile ships would come, and only at the exit from the attack would it be possible to trigger the enemy with the new aircraft raised from the deck — not to disrupt the attack, but to lose it in the aircraft and equipment. You can get away from this predestination only in advance by receiving information that the enemy is raising his aircraft to strike right now. It is possible, but very difficult, and therefore rare.
So, in such operations speed is of fundamental importance. In all
fleets
aircraft carriers in the world are either one of the fastest ships, or simply the fastest, and it's not just that. Preparing to repulse the blow described above, almost any American commander will try to "hide" an aircraft carrier - for example, using the well-known "windows" in the flights of enemy satellites to take the group under the cloud front, and then "expose" a supply tanker, hung with corner reflectors, a reflected signal similar to an aircraft carrier, both on satellites and on the radar of a reconnaissance aircraft allegedly "accidentally" passed to the order. The aircraft carrier itself, at maximum speed, leaves where the enemy will be looking for it with the least probability.
When the enemy breaks through, losing dozens of vehicles to the line of launching missiles at the main target, he can find out that this is a tanker, but it will be too late - the interceptor-decks and missiles from the guarding ships that arrived from nowhere will knowably chop him down.
Another similar situation is when it is necessary to withdraw the entire aircraft carrier group from under the attack, in its entirety. For example, enemy air reconnaissance was able to obtain information about where the aircraft carrier group is located. At the same time, about 500 km to airfields from which the enemy can raise large aviation forces to strike. It is logical to assume that the enemy needs time to:
- passing information on command chains, at headquarters at various levels, issuing an air strike order to an air force;
- preparation of the entire compound for the combat mission;
- rise, gathering in the air and flight to the goal.
How much does all this take? In various cases, when the "designation of strikes" against American carrier groups was actually carried out, this could take up to a day. Although in some magical ideal world where everything works like a clock and everyone is ready for everything, one could try to keep within 5-6 hours. But even five hours at a speed of 29 knots (any normal aircraft carrier could and can go this way with enough serious excitement) means moving away from the point where the ships were discovered at a distance of almost 270 kilometers, which is a lot, and even if the enemy is competent and conducts a complete follow-up reconnaissance of the target, all the same, the ships have a chance to leave. And in the real world, where 5-6 hours is more likely a fantasy, and even more so.
But you need speed. And a single aircraft carrier, performing its own way out of the airstrike, leaving in place a junction of rocket ships around which its interceptors will fight, and the ship group whose commander wants to escape from the raid with all the ships needs SPEED.
And here our UDC-instead of-aircraft carriers suddenly find themselves "so-so." Take, for example, the most "fashionable" modern UDC - Juan Carlos. The maximum speed is 21 knots. Over a five-hour time span, he will be able to travel 74 kilometers less than a ship sailing at a speed of 29 knots, and 89 km less than a ship sailing in a 30-knot course. And on a 6-hour time span, respectively, 83 and 100 km. For a day the difference will be 356 and 400 km.
This is already a large enough order of numbers to consider it the difference between life and death. And this is an unsolvable problem. The American UDC Uosp and America have almost the same speed limits - about 22 knots.
UDC must carry a landing. And the landing party needs cockpits, a supply of food and water, decks for military equipment, ammunition for at least two to three days of combat, operating rooms for seriously wounded evacuated by helicopters. The stern needs a docking chamber, it should have landing and landing equipment, hovercraft or some other. All this requires volumes inside the hull and superstructure.
And volumes require contours - they should be fuller than can be done for a high-speed combat ship. And this is an additional hydrodynamic resistance and lower speed. Moreover, as a rule, in the UDC there is no place even for a sufficiently powerful main power plant, at least in the world there are no examples of UDCs that have a power plant comparable to a power plant of the same size as an aircraft carrier, and which would have an excess of free volumes inside.
On aviation flights, all this also affects - you can evaluate, for example, the size of the "island" on "Wosp" and ask yourself the question: why is it so big?
UDC "Uosp" as a light aircraft carrier, 2017 on the deck the maximum number of its air group, but he is more than 40 000 tons!
But this is only the first problem generated by the need for volumes for the landing and everything that is connected with them. The second problem is that due to the same volumes it is impossible to place a large air group on the UDC. This may surprise someone, but nonetheless it is.
Let's take such an extreme example as UDC like "America". The displacement of this ship is more than 43000 tons, it is a large ship, the largest landing ship in the world. How many F-35B type aircraft is its hangar designed for? For 7 cars. Surprise, huh?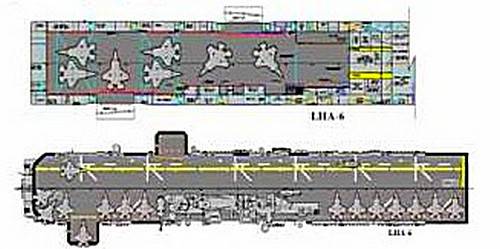 The placement of aircraft on UDC type "America", from the "Marine Corps Aviation Plan", already failed
When this ship was conceived, it was assumed that it could carry 22 aircraft. Tests of the head showed that no, it can not. That is, they are placed on it - 7 in the hangar and 15 on the deck. But to place special forces evacuating downed pilots, their Osprey convertiplanes (at least 4 units), search and rescue helicopters for lifting pilots ejected above the water (2 units) are nowhere to be found. Does not work. Space for rearrangement of aircraft is also not enough.
So, there is only one way out - to cut the composition of the air group, to reduce it. And according to the Marines reform plan (see article
"Step into the unknown, or the future of the American Marines"
) and it will be done - by 2030 the typical F-35B squadron will be reduced to 10 vehicles.
At Wosp, the picture is even worse; there, due to the presence of an airborne deck for equipment, all the other rooms had to be compacted and the hangar was even smaller. And most importantly, there is less space for maintenance and repair of units removed from aircraft, which sharply limits the number of days during which the air group can be used with high intensity.
For interest, we compare the "America" hangar and the "most terrible hangar in the world" as some Britons put it — the Invincible hangar, which has TWO less displacement.
On the Harrier scheme. The F-35B has a wingspan of 2 meters higher and the same length. Much of a muchness
As you can see, the lack of the need to allocate volumes for the landing makes it possible on a small but aircraft carrier to have comparable capabilities for storing aircraft as a large, but UDC.
What does this lead to? But to what.
Since September 2018, the 211st Marine Corps fighter-assault squadron has performed combat missions
and struck from the board of UDC Essex
the Taliban (banned in Russia) in Afghanistan, and the militants of the ISIS terrorist group (banned in Russia) in Syria and Iraq. Used aircraft F-35B. Of interest is the statistics of strokes.
The aircraft performed more than 100 sorties, spent more than 1200 hours in the air, and all this for 50 days. That is 2 sorties per day. Taking into account the indicated hours - two on average six-hour departures.
For comparison: during the failed Kuznetsov's campaign to the Syrian coast, he performed 7,7 sorties per day from the deck. And this was regarded in Russia as a failure and a political catastrophe.
Or another example: the French Charles de Gaulle, with a displacement even slightly less than that of America, calmly made stable 12 sorties per day during the war in Libya. And his air group has a much larger number than any UDC, includes as many as two AWACS aircraft. And for him 12 sorties is far from the limit.
Do not consider the Americans stupid - they created their UDC in the first, second, third and whatever you like as landing ships. And as such they have been used almost always. And I must admit - these are really good landing ships. And even the six AV-8B or F-35B, which usually serves to support amphibious operations, is quite out of place there. Let's call a spade a spade: this is the personal strike aircraft of the commander of a battalion group marching in the landing.
Any battalion commander may well appreciate the situation when he has six attached attack planes. The Americans, adjusted for their states and command chains, have roughly the same situation. And they only try to use their landing ships as ersatz aircraft carriers, and only for experimental purposes, and only in simple conditions. And since they have them, why not try it?
But for serious tasks, they have the Nimitse, with a 29-knot move, an air group larger than our air group in Syria, with six-meter-thick anti-torpedo protection for each side, with 3000 tons of the maximum mass of aircraft weapons on board. And it is they who will solve these serious problems.
For Americans, UDC will be included in the game either when dominance at sea and in the air is already won, or when it has not yet been disputed. America can afford it, it has enough ships and money. But countries that imitate it by stupidity, relying on the use of UDCs with short take-off and vertical landing aircraft instead of aircraft carriers, are doing stupidity, which in the course of a real war will be fatal.
An amphibious operation, if this is not planned by the Americans for extremely dangerous and high-speed attacks of the "littoral regiments of the Marine Corps" (which is still unknown what will end), requires the achievement of supremacy at sea and in the air.
History
He knows successful examples of operations that were carried out without them - for example, the capture of Narvik by the Germans. It's just that these operations passed, as they say, on the verge, they would have been a little unlucky, and instead of a victory there would have been a loud defeat. Basically, both in our country and in the West, military science requires establishing dominance at sea and in the air before conducting an amphibious operation.
And then to land.
Countries that plan to use UDC instead of an aircraft carrier, in fact, plan to use an instrument to establish dominance at sea and in the air, which should be applied AFTER dominance at sea and in the air is achieved. Naturally, in a real war this will not end in anything good.
Using UDC as an aircraft carrier is a heresy. Unfortunately, there are many supporters among the "war-torn" journalists. And they create a dense informational background, pushing this disastrous idea into the minds of the population, and with it into the minds of politicians, and even some military men too.
But stupidity, repeated as many times as you like, is still just stupid.
However, the use of a landing ship as an aircraft carrier is not the only strange idea that is slowly becoming a common place in world naval affairs (for the time being). Recent decades have given another no less surprising idea - the construction of relatively rather large aircraft carriers, but with an inferior air group, consisting of vertical helicopters and helicopters.
And it is also worth a detailed analysis.
Big, expensive and worthless
Today in the world there is one "clean" example of this type of ship - CVF carriers of the Queen Elizabeth Royal Navy type. The ships turned out to be strange: on the one hand, a modern design, advanced self-defense systems, a convenient hangar, more or less worthy of the basic measurements (waterline dimensions), which make the ship quite universal ... and the cut-down capabilities of the air group.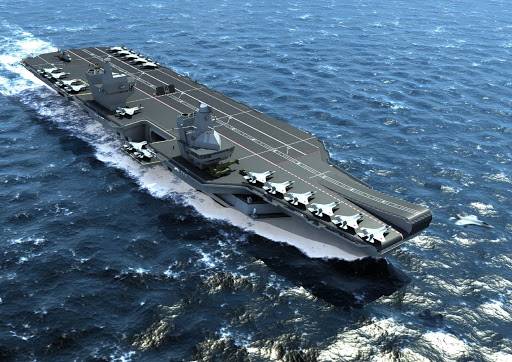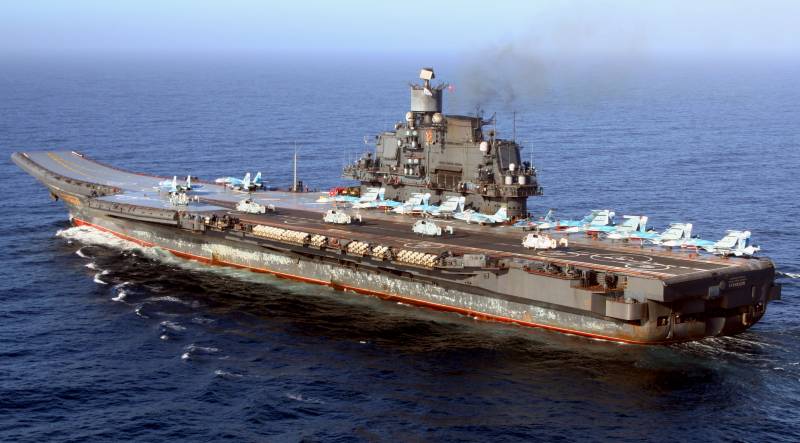 ... "Admiral Kuznetsov." Both are approximately the same class, the length is similar, the hangar is almost the same and both are springboard. But there is a difference
Compare "Queen Elizabeth" with a pair of its closest mass-size counterparts. There are two of these in the world today.
The first is the long-written-down old man Midway. And the second one is, surprisingly, our "Kuznetsov" and his Soviet-Chinese "brother" "Varyag-Liaoning", or, well, the fully Chinese representative of this family - "Shandong".
No need to be surprised. The ships have a very close length, almost the same hangar, except for the Midway, they are all springboard. The British ship, with almost the same length and basic dimensions, has much wider sponsons carrying a deck and a two-tower "island". The deck is also made very wide, for the sake of convenient location of aircraft on it.
I had to pay for everything already at this stage. Due to the need to carry a wide deck, the ship was given a significantly wider waterline (39 meters versus 34,44 for Midway and 33,41 for Kuznetsov). This slightly increased the hydrodynamic drag. Well, then the British saved on the GEM, and now the maximum speed that this ship can develop is 25 knots. It's not UDC anymore, but in a real war with the enemy of at least the level of Algeria, such high-speed qualities may have a rather big price.
Nevertheless, we are interested in the principle itself: did the British do the right thing when they built the "vertical frame" carrier in such a building?
It is worth remembering immediately that such a ship architecture was not predetermined at first, the CVF version with an angular flight deck, catapults and finishers was fully discussed.
What could it be and what would be the power of this ship?
For an analogy, first take the Kuznetsov. If the British did like us, that is, a springboard carrier with a finisher, then like us, they would have the same aircraft capacity (hangars are about the same), and just like us, they could not use AWACS and would have to use by helicopters.
Then the differences begin. The third launch position at Kuznetsovo allows you to launch aircraft with a thrust ratio of 0,84 and even lower, according to some reports, up to 0,76 (thrust ratio of the Su-33 at maximum take-off weight). The latter value is very close to the thrust-weight ratio of the F-35C - an aircraft for horizontal take-off from the deck, and with normal take-off weight, that is, at least with full refueling and busy internal suspension components
weapons
, without underload.
And without a catapult.
And this, among other things, is more than 25% more fuel in comparison with the F-35B with better weight return (no fan). And, which was quite expected, almost 300 kilometers greater combat radius. Here it is, the cost of saving. How much this will bring advantages in percussion problems, for example, you can just not say.
The F-35B has shorter compartments for the internal suspension of weapons by 14 inches (36 centimeters) and substantially narrower. This will limit the possibilities for developing offensive offensive weapons; in the future, creating a rocket or bomb for the F-35C will be easier, and at times.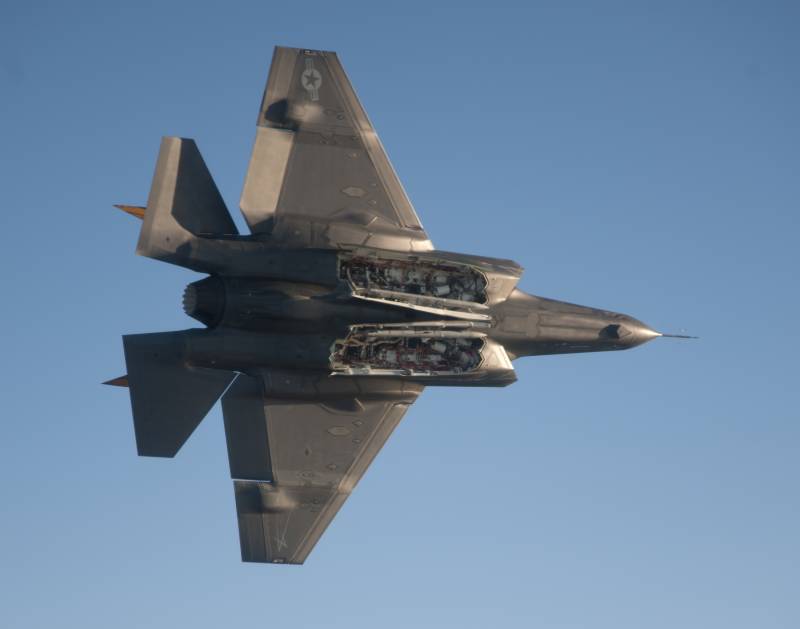 Weapon Compartments F-35C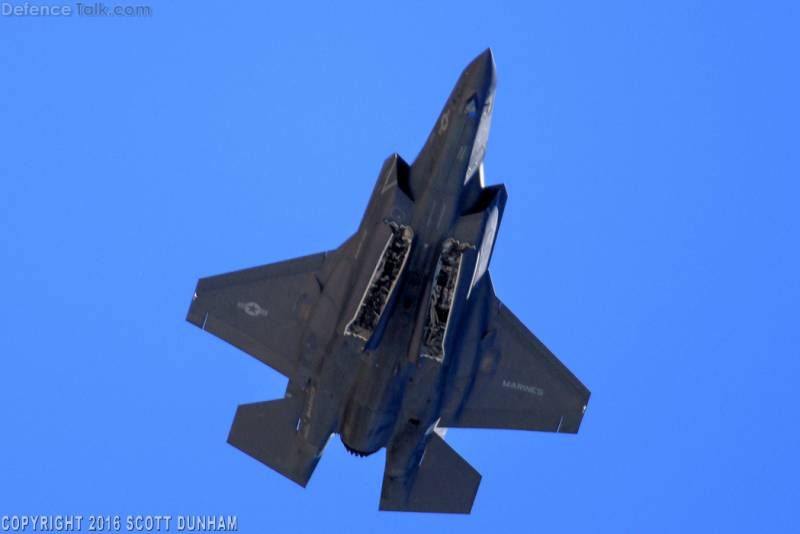 Weapon compartments F-35B.
In fact, with a more or less serious combat mission, the F-35B will have to hang weapons on the external sling, and this is goodbye, stealth.
But that's not all.
War always means losses, and, besides this, there are periods in the life of the country when it is necessary to maintain combat readiness, but there is not enough money.
If the British happened to be in a similar situation (and they were in it more than once), and an aircraft carrier with air finishers would allow them to block losses or build up forces due to F / A-18. You need to understand: F-35 in any case is a very expensive aircraft with a very long and complicated inter-flight service. Even the US does not plan to abandon the proven Hornets completely, the F-35C will replace only part of the carrier-based aircraft.
And the Hornet is quite capable of taking off from the springboard, the Americans did all the necessary calculations to assess the ability to fly from the Vikramaditya, and there is no reason to believe that the Hornet will fail.
But he will not be able to sit back without a finisher.
And Britain also amputated this opportunity together with the finishers. And it may well be that she will pay for it, such luck as Falkland may not be.
But all this pales against the background of what the Queen Elizabeth's capabilities would have been if the British had built it in a variant that they, in general, considered - in a variant of a catapult aircraft carrier.
The main strike force of an aircraft carrier is 36 F-35B aircraft. In fact, the ship, taking into account the possibility of storing aircraft on the deck, can lift up to 72 aircraft, of which, however, most will be helicopters.
Let's look at the Midway. This ship during the war in Vietnam carried up to 65 aircraft, and during the "Desert Storm" it turned out to be the champion in the number of sorties among all other aircraft carriers, bypassing even the nuclear Nimitse.
Can a British aircraft carrier do this? No. The F-35 has a huge duration of inter-flight service - up to 50 man-hours for every hour of flight. And if an airplane with horizontal take-off and landing, well-trained technicians sometimes could reduce this figure to 41 man-hours, then this number does not work with the vertical. To understand: a two-hour flight with such a laboriousness will require a hundred man-hours, which, when using the "average" size of personnel, for example, 4 people, means 25 hours of service. And the British can't supplement these extremely complex machines with some simple "workhorse" like the same "Hornet".
And if there were catapults? Firstly, the ship would be able to base AWACS aircraft, which increase the power of its air group by orders of magnitude even compared to AWACS helicopters. Secondly, it would be possible to use transport aircraft, as the Americans do. And do not think that this is something secondary, sometimes "delivery on board" can be critically important.
Which air group is stronger - for example, 24 F-35C and 3-4 E-2C Hokai or 36 F-35B with AWACS helicopters? This question does not require an answer from the word "in general".
But the answer to another question is very interesting: what can British aircraft carriers and their air groups do without American support? Repeat the Falklands? Yes, they can, but today not Daggers with old bombs are the most popular combat aircraft in the third world.
Well, and secondly, the use of simpler aircraft, and mass sorties of an air group, and flights with high intensity would be available to British naval pilots.
But the British decided otherwise.
How much did the British save on this strange decision? About 1,5 billion pounds for each ship, despite the fact that they spent 6,2 billion for each. Well, if they just decided to get along with a combination of a springboard and finishers, then, apparently, the cost of ships would be less than a billion for each. Having saved this money, they turned the aircraft carrier into a defective toy.
This is not the only example.
Japanese and Indians
As you know, Japan is slowly but surely leading the creeping remilitarization. Today, this process can no longer be hidden, although you can still find individuals who are unable to use their eyes for their intended purpose. One of the areas of such modernization is the Japanese plans to convert one of its Izumo helicopter carriers into a light aircraft carrier, carrier of F-35B aircraft. I must say that, although the dimensions of Izumo are not particularly impressive, as a vertical carrier, it is much better than any UDC, and incomparably better than the same Invincibles. Its size is almost catching up with the Uosp-type UDC, the pitching parameters are about the same, the speed, as it should be for a warship, is 30 knots. According to some estimates, the ship will be able to carry up to 20 F-35B, however, all will not fit in the hangar.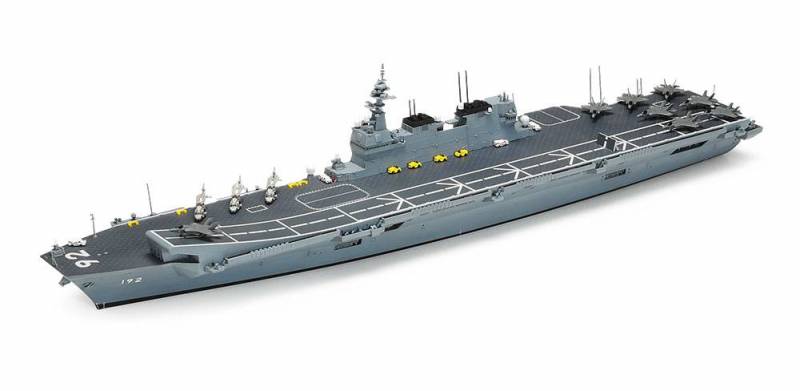 Image of a possible conversion of Izumo into an aircraft carrier
Here, however, an important reservation must be made. The Japanese, as former rivals of the Americans in the Pacific War, are well aware of the importance of an aircraft carrier. The modern concept of the AUG as a small connection with the "core" in the form of an aircraft carrier and high-speed cruisers and destroyers was first proposed by Minor Genda before the Second World War. They do not need to explain the value of normal airplanes, or everything necessary for their flights - catapults and finishers. They themselves can explain to anyone.
But Japan at the time of the start of work on the ships had a lot of political restrictions on military development. They now, in general, are. As a result, they not only made a compromise ship, but also received it in an extremely compromise way - by building as a helicopter carrier.
However, a bad example is contagious. Does it make sense for other countries not burdened with Japanese historical and political "baggage" to repeat "Izumo"?
Surprisingly, we have a great reference for comparison, which closes this question.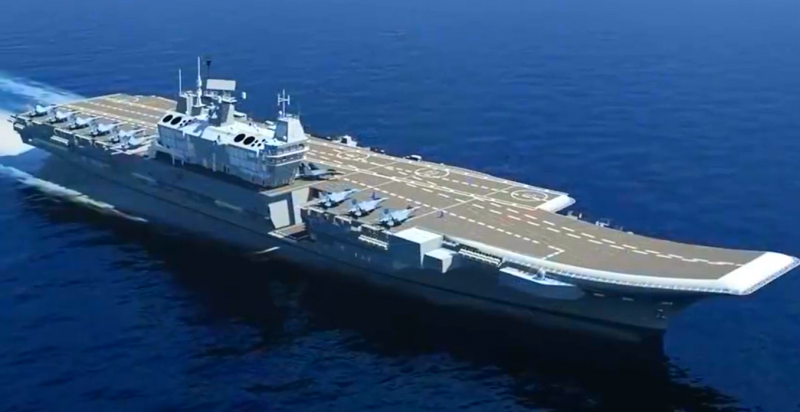 Wikrant is an example of what literate people can get from the same set of subsystems as Izumo, plus aerofinisher
At the moment, India is completing the construction of its first self-produced aircraft carrier, Wickrant. This in itself is extremely instructive: if India could, then Russia could, too, if there was a desire.
We are now, however, interested in something else.
Wikrant is interesting in that its "filling" is somewhat similar to Izumo. So, for example, these ships use the same turbines in the main power plant - a classic of the western fleets of General Electric LM2500. The GEMs in both projects are twin-shaft.
If we ignore non-production factors, then, in fact, Izumo and Wikrant are how the two countries solved the same problem (building an aircraft carrier ship) using the same resources (world market of components and subsystems) and similar technical solutions.
And if you compare them, the results are, frankly, uneven.
Both sides used almost identical GEMs (the difference is probably in gearboxes). Both sides had to buy all the necessary electronic equipment, including everything necessary for managing the flights of a large air group. Both sides bought aircraft. Both sides bought minimal air defense equipment.
Both sides spent comparable money on ship hulls. Built ships are not very different in basic dimensions.
What's the output?
One side has at least 26 combat aircraft with horizontal take-off and landing. Now it's the MiG-29K, but India, on whose market all the manufacturers of arms in the world sharpen their teeth except the Chinese, and which has more or less equal relations with most countries in the world, can choose. F / A-18 is guaranteed to be able to take off from the "Wikrant". Most likely, with an incomplete combat load will be able to F-35C. It's not a fact that it will turn out, but it cannot be ruled out that the Rafal will also be able to break away from the deck using a springboard
Should Russia happen to develop a new MiG-29K variant, for example, with a more advanced radar and reduced landing speed for a comfortable and "soft" landing on an aerofinisher, it will also "fit in" without problems. As well as a hypothetical non-existent ship-based Su-57K. And if India, to make up for losses in the form of friendly assistance, is once handed over to the Su-33, then they will be able to fly from this ship.
And what about the other side? And there is only F-35B. Moreover, due to the smaller body, in a smaller amount.
The same story as with the British: they built a ship for almost the same money that a relatively normal aircraft carrier would cost, and only one type of aircraft can be based with limited capabilities (at least against the backdrop of the F-35C).
But all that was needed was to slightly increase the hull and design aerofinisher and a wide deck. And also - to slightly increase the length of the ship, gaining an advantage in seaworthiness. Hindus did just that, however, losing 2 knots of speed. This, of course, is bad, but on the other hand, it is apparently possible to provide a higher speed for the Wikrant class ship due to the contours.
And if "Vikrant" received a catapult with work from a waste heat boiler? Then the Hokai could well one day appear on board, albeit at the cost of reducing the number of military vehicles. But sometimes it's worth it, especially if the air group on board is formed "for the task" and its composition is not a dogma.
We repeat: the Japanese understand everything perfectly, but there are political factors.
Let us briefly mention the last example - the Italian "Cavour". By and large, you can say about it about the same as about the Japanese Izumo: with this money and with these components you could get a much more interesting ship. But the Italians have the opportunity to carry on it
Tanks
and some infantry. True, tanks cannot be landed, but part of the infantry is possible. Why does an aircraft carrier need this? But that's how they got started.
Now the ship will receive its 15 F-35B (10 in the hangar) and will continue to serve with them. Not bad for 35000 tons of full displacement.
For all of this, it is important for us that no one in our country specifically guesses to take Juan Carlos, Izumo or Cavour as a model. With our finances and technological limitations, we need to go a completely different path.
To be continued ...