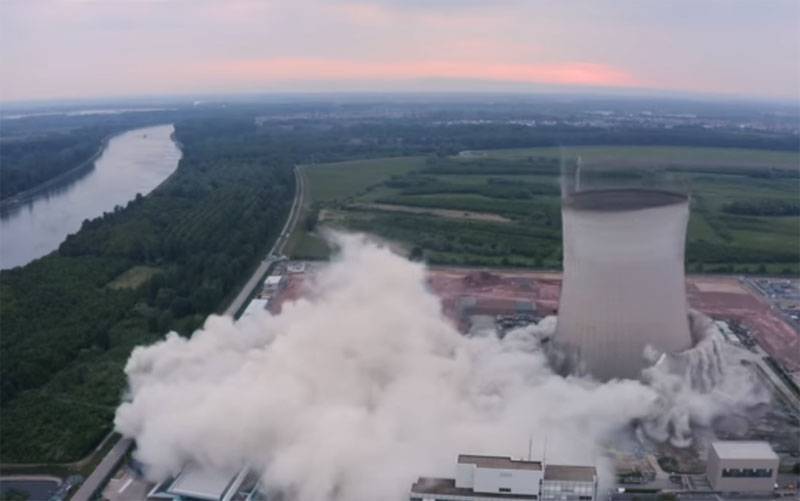 In Germany, they decided to stage a show as part of a program to phase out nuclear power plants. This is a program under which Germany is switching to the so-called "green" energy. Moreover, this transition is very strange, as many talk about it in Germany itself. The "restructuring" of the energy sector is so far only in the plans, as in the plans, and the gigantic funding required by the relevant EU structures, but nuclear plants are already being decommissioned.
One of these stations was a nuclear power plant in the city of Philippsburg (federal state of Baden-Württemberg).
To demonstrate how Germany is getting rid of its nuclear energy, drones were involved and numerous journalists were invited. Explosions were broadcast from unmanned aerial cameras on two cooling towers that were part of the infrastructure of the aforementioned nuclear power plant.
It is stated that controlled explosions were carried out, "meeting all safety standards."
The explosives were laid in the lower part of the cooling towers, and after the explosive devices were brought into action, these buildings settled under their own weight. The dust raised from the destroyed cooling towers still hung in the air.
Undermining the infrastructure of a previously stopped station:
The destruction of the infrastructure of the shut down nuclear power plant was shown by local television channels - to the stormy applause of those who consider themselves to be "green".
Twitter post of the German Minister of the Environment:
Two more relics of the nuclear era have disappeared. This is an additional sign that our nuclear plant abandonment program is progressing.
The program to abandon nuclear energy in Germany is associated with the accident at the Japanese Fukushima nuclear power plant. However, in Europe, a considerable number of experts believe that the main reason is the pressure on Berlin from Brussels and Washington. Washington continues to exert this pressure in order to eventually get a significant part of the European market for the sale of its expensive energy.