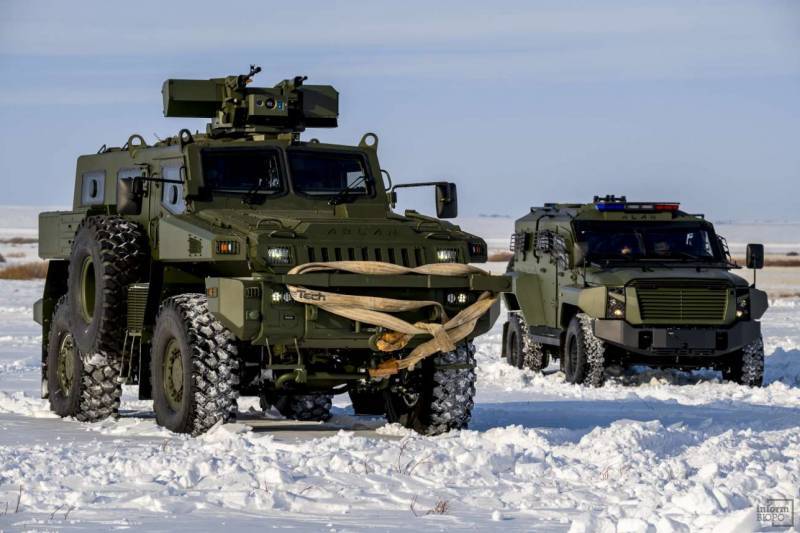 The Ministry of Defense of Kazakhstan has signed an additional agreement with Kazakhstan Paramount Engineering (CRE) for the supply of another batch of Arlan MRAP armored vehicles (4x4). This was reported by the press service of the company.
The cost of the agreement and the number of armored vehicles planned for delivery were not disclosed, however, it is known that the whole new batch should enter the troops within 2021.
The first batch of Arlan armored vehicles entered service with the Kazakhstan Army in August 2016. The armored vehicle is based on the design of the South African armored car MRAP Marauder Paramount Group with adaptation for operation in extreme temperatures of Kazakhstan. The installed air conditioner ensures comfortable work of the crew and the landing at temperatures from -50 ° C to + 50 ° C.
"Arlan" ("Wolf") is a multi-purpose armored car to solve various problems. It can be used to patrol the area, escort convoys, as well as for transportation and fire support of infantry units. As weapons, a remotely controlled combat module with various
weapons
.
The enclosure has a spaced reservation providing ballistic protection of the 3rd level of the STANAG 4569 standard. I.e. protects against 12,7 mm bullets without a hardened core. It is possible to install mounted armor. The bottom of the machine is V-shaped, capable of withstanding the detonation of an explosive device equivalent to 8 kg of TNT. The same amount of explosives can withstand the wheel.
Armored cars "Arlan" have a length of about 6,5 m with a body width of 2,66 m and a height (on the roof, excluding weapons) of 2,75 m. Curb weight is 13,5 tons, combat weight is 16 tons. The armored car develops speed up to 100 km / h and has a range of 700 km. All-wheel drive chassis overcomes various obstacles. The chassis provides cross-country travel and overcoming various obstacles, including ford up to 1,2 meters. Crew - 2 people + 8 people landing.