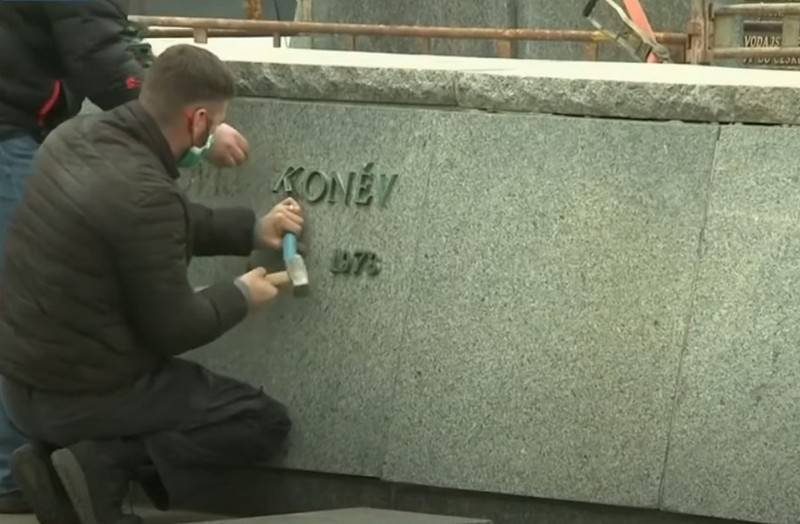 The monument to Marshal Konev in Prague should be restored, and Czech representatives should explain its demolition. This was stated by Foreign Minister Sergei Lavrov in an interview with RBC.
The minister called the demolition of the monument "unacceptable" and said that at the upcoming consultations the "Czech colleagues" will have to explain how they are going to rectify this situation. According to him, the preservation of the monument was ensured by the Czech state, and the decision to demolish it was made by "some elder." However, the obligation has not gone away and the monument must be restored.
I believe that this is some kind of childish explanation, because the obligation to ensure the preservation of this monument lay on the shoulders of the Czech state. Moreover, until recently, we knew and the Czech side confirmed this to us: the monument was in the register of the Czech Ministry of Defense. And suddenly, when it was demolished, they bashfully tell us: you know, this is not our property, this is the property of this elder
- said Lavrov.
The monument to Soviet Marshal Ivan Konev was demolished at the direction of the authorities of the Prague-6 district in early April this year. In Russia, the dismantling of the monument was condemned and opened a criminal case for defiling the symbols of Russia's military glory committed in public. When the Russian Ministry of Defense requested the Czech military department to hand over the monument, the Czech Ministry of Defense refused, explaining that the monument belongs to the Prague-6 district.