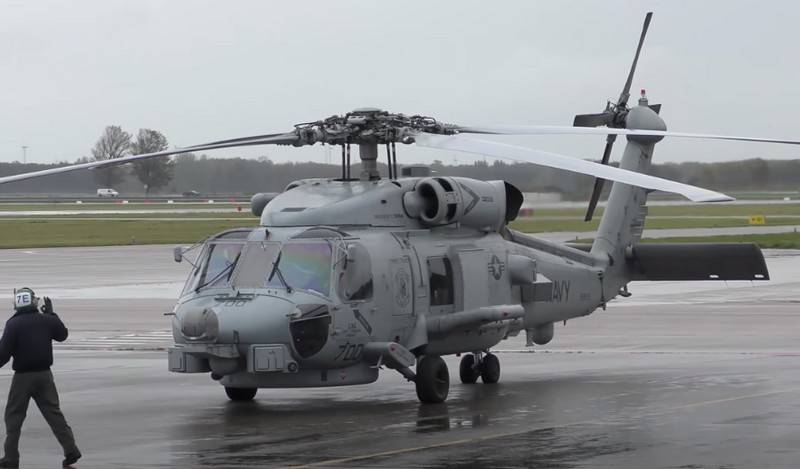 In the USA, the production of the MH-60R Seahawk marine helicopter for India begins. According to the Pentagon, a contract for the production and supply of 24 helicopters received the American corporation Lockheed Martin.
An additional agreement was signed with Lockheed Martin in the amount of $ 904,8 million to the previously concluded contract. It involves the supply of three MH-60R Seahawk helicopters in the interests of the US Navy and 21 MH-60R in the interests of the Government of India
- said in a statement.
It is assumed that the work under the supplementary agreement will be completed by September 2024. Helicopter purchases for India will be carried out through the FMS (Foreign Military Sales) US program of foreign deliveries of military products. The United States continues to promote military contracts with India, in fact threatening sanctions in the event of contracts with other countries. Typical purchase under pressure.
The future supply of India MH-60R Seahawk anti-submarine helicopters became known in April last year, when the State Department approved the request of the Indian
fleet
for the acquisition of rotorcraft. A request for 24 multi-purpose Sikorsky MH-60R helicopters, including a set of equipment and weapons, arrived in the United States in the fall of 2018. It is noteworthy that the "request" came to the State Department after a group of congressmen and US administration officials visited India and talked with the leadership of the Ministry of Defense.
In addition to the rotorcraft themselves, the delivery will also include: 30 multi-mode radars APS-153 (V), 60 T700-GE-401C engines, 24 airborne systems (ALFS), 1000 sonar buoys AN / SSQ-36/53/62; 10 AGM-114 Hellfire missiles; 38 APKWS missiles; 70 AN / AVS-9 night vision devices, as well as other weapons and equipment.
The Indian Ministry of Defense plans that the new Sikorsky MH-60R helicopters will replace the obsolete Sea King purchased from the United Kingdom back in the 80s in the Navy.
Helicopter Sikorsky MH-60R Seahawk - anti-submarine modification of the helicopter UH-60 Black Hawk.