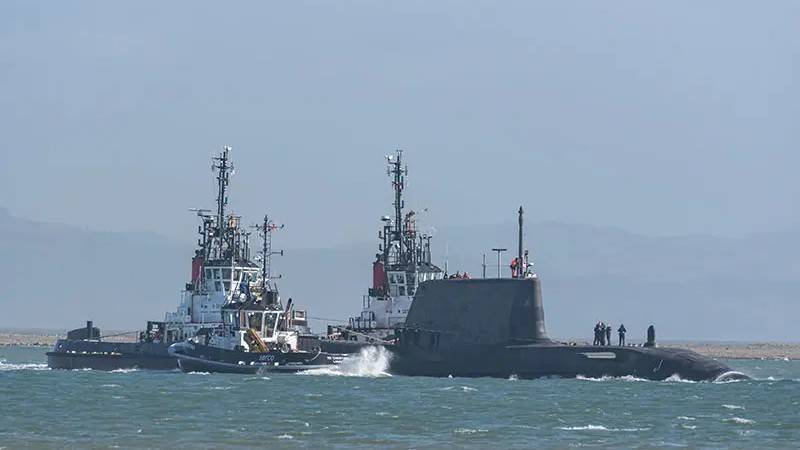 The Royal Navy of Great Britain has replenished with the fourth atomic multipurpose submarine Audacious of the Astyut project. The submarine was reported to the UK Department of Defense.
The fourth Astyut-class nuclear submarine was officially handed over to the British Navy, Defense Secretary Annabel Goldie said in response to a request from the British Parliament. As the minister explained, the transfer of the submarine took place on April 3 at the BAE Systems enterprise in Barrow-in-Furness without a ceremony canceled due to the coronavirus.
According to reports, the submarine is currently located at the Clyde Naval Base in Scotland, where it is preparing to conduct the next test phase. The fact that the Odesaiches left the BAE Systems shipyard in Barrow-in-Furness was reported at the beginning of April this year. It was clarified that this is the first exit of the submarine into the sea.
The submarine is the fourth in a series of seven submarines of the Astyut class intended for the Royal Navy of Britain. Laid in March 2009, the baptism ceremony took place on December 16, 2016, launching in May 2017. Broadcast
the fleet
expected in 2018.
In total, BAE Systems is to build 7 Astyut class nuclear submarines for the country's Navy. The lead submarine was handed over to the British Navy in November 2010. The second submarine of the series became part of the Navy on March 1, 2013. The third submarine of the series was transferred to the British Navy on December 10, 2015 and entered the combat fleet on March 18, 2016. Currently, at the different stages of completion there are three more nuclear submarines of this class.
In the British Navy, new submarines should replace the Trafalgar type submarines (three such nuclear submarines, put into operation from 1989 to 1991, remain in service).
Submarines of the Astyut class are designed both for operations in the fleet and in isolation from the main forces. Submarines can be used to carry out the tasks of combating enemy ships and submarines, attack ground targets, carry out the landing of groups of combat swimmers and gather intelligence information.
The displacement of the Astyut class submarine is 7400 tons, the hull length is 97 meters. Speed ​​under water - up to 29 knots. The working depth is 300 meters. Armament - six 533-mm torpedo tubes, as well as Tomahawk cruise missiles and Harpoon anti-ship missiles.