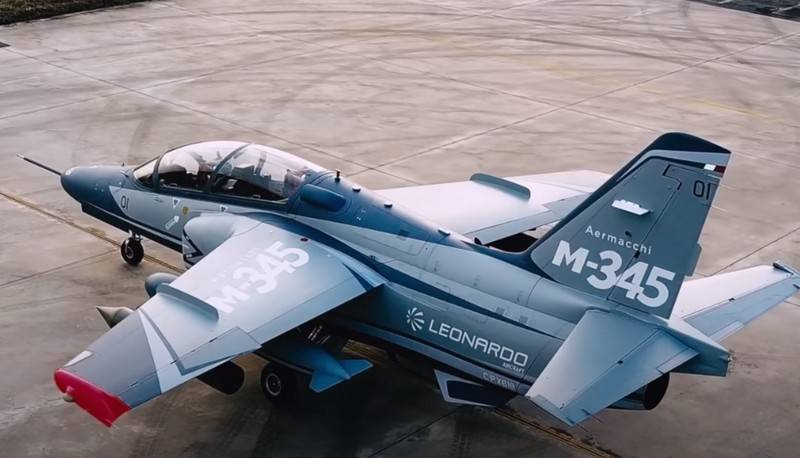 The Italian Air Force will soon receive a new pilot training aircraft. According to Flightglobal, the Italian concern Leonardo has completed the first stage of certification of the promising training aircraft M-345 NO.
The initial flight training aircraft M-345 NO was created on the basis of the M-311 aircraft, which they tried to promote starting in 2005, but all attempts ended in vain due to design flaws. In turn, the M-311 was a modified version of the SIAI-Marchetti S.211 training aircraft. The latter was produced from 1981 to 1994 (70 cars were produced) and delivered to the air forces of Singapore, the Philippines and Haiti. The prototype M-345 NO was presented to the public in 2013. The first flight took place on December 29, 2016.
The new aircraft has a maximum take-off mass of 4,1 tons, a Williams International FJ44-4M engine is installed, allowing to reach speeds of up to 795 km / h. The flight range is declared at 1778 kilometers. M-345 NO can carry a missile and bomb load of up to 1 ton at five suspension points.
The M-345 NET training aircraft version became widely known in 2017, when the Italian Ministry of Defense signed a contract with Leonardo to supply the Italian Air Force the first five new M-345 NO training aircraft. At present, 18 planes have already been ordered; further, the Italian military plans to bring the fleet of these planes to 45 units. It is assumed that in the future, the M-345 NO will replace the Aermacchi MB-339 training aircraft in the Italian Air Force and complement the fleet of existing M-346 Master training aircraft, which are used for advanced training of pilots. It is planned to adopt the M-345 NO before the end of 2020.