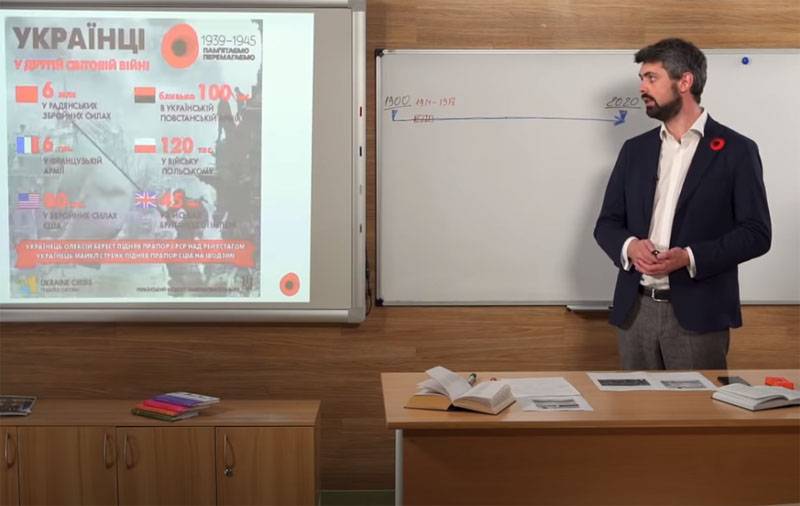 Anton Drobovich, who succeeded Vladimir Vyatrovich as director of the Ukrainian Institute of National Memory (UINP), as it turns out, continues the general line of interpretation
stories
led by his predecessor. On the eve of Drobovich decided to conduct an online lecture for high school students of Ukrainian schools. The lecture was devoted to the history of the Second World War, more precisely to how this history is ordered to interpret UINP today.
Drobovich the whole history of WWII fit in 40 minutes. For obvious reasons, it is impossible to talk about all the important dates and battles of that war in such a compressed format, and therefore the head of the Institute of National Memory went the simplest way for himself. Using slogans from the "aggression of Nazi Germany and the USSR" series, Drobovich ultimately came up with a statement of the following nature:
The USSR occupied half of Europe.
According to Drobovich, European politics by 1939 was "weak." At the same time, the head of the IAPP tried to emphasize for Ukrainian schoolchildren that "if it were not for Stalin's conspiracy with Hitler," then there would be no war. Moreover, it is added that the USSR (even the word "communism" is used) was almost an ally of Nazi Germany. Of course, Drobovich does not cite the fact that treaties with Hitler at the time of signing the Molotov-Ribbentrop Pact were already signed by the vast majority of European countries (including the Polish-German Hitler-Pilsudsky Pact). He does not say anything in his online lecture about how the communists from the USSR opposed the Nazis and, before the start of World War II, in Francoist Spain.
But Drobovich categorically declares:
The Soviet Union enters the war on the side of Nazi Germany.
The "honest" Drobovich does not say a word that if you interpret history like this, you must say that in 1938 Poland, Britain and France opposed Czechoslovakia "against Nazi Germany" (on the basis of the Munich agreement). No, such a reference for Drobovich, who is another puppet for rewriting history, was not provided.
At the same time, the head of the UINP states that it is unacceptable to use the term World War II, but you need to, you see, call the war "German-Soviet".
Mr. Drobovich speaks about the Holocaust casually. Apparently, this part of the history of World War II prevents the director of the Ukrainian Institute, as they say, from hanging all dogs in the Soviet Union.
And here is the lecturer himself with his presentation:
The fact remains: attempts to rewrite history continue. And Ukraine today in this regard acts as one of the training grounds for those who are going to belittle the role of the Soviet people in the victory over Nazi Germany.