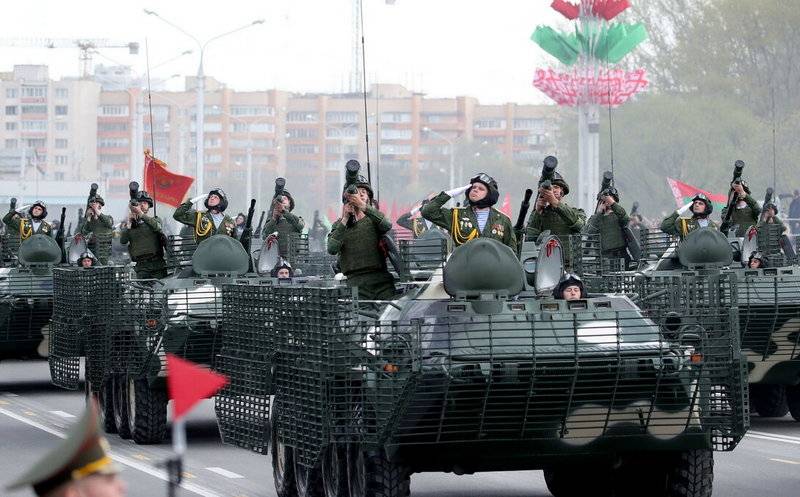 At a military parade in Minsk on May 9, 2020, dedicated to the 75th anniversary of the Great Victory, the Belarusian military demonstrated a modernized version of the BTR-70 armored personnel carrier - BTR-70MB1. An armored personnel carrier was adopted by the Belarusian army in 2017.
In 2017, the Ministry of Defense of Belarus announced the completion by the 140th Repair Plant of experimental design work on upgrading the BTR-70 to the BTR-70MB1 level by order of the military department, as well as completing state tests of the modernized armored personnel carrier. Subsequently, the Belarusian military announced plans to modernize the entire existing BTR-70 fleet to the level of BTR-70MB1.
It should be noted that during the modernization, Belarusian specialists managed to bring the BTR-70 to the level of the BTR-80, significantly improving its characteristics. The car's body was significantly improved, the airborne compartment increased by 14 cm, the side hatches were expanded, double-leaf doors were installed on both sides of the hull (the upper sash opens forward, the lower one leans back like on the BTR-80). In the landing compartment, new multi-seat seats are installed, like those in the BTR-80. Compared to the original BTR-70, the mass of the upgraded version became heavier by 1,5 tons and amounted to 13 tons. For disguise, the 902V Cloud-2 system of 6 grenade launchers was installed.
An 8-cylinder KamAZ diesel 7403.10 turbo-charged 260 hp, a new transmission with a modified transfer case and other control drive are installed on the upgraded armored personnel carrier. A water jet from the BTR-80 is installed as a mover for movement on water. The declared speed on the highway is up to 92 km / h, on the water - 9 km / h.
The armament of the armored personnel carrier has not changed, the turret is equipped with a 14,5-mm KPVT heavy machine gun and a 7,62 mm PKT machine gun. Communication is provided using the digital radio station R-181-50TU "Bustard" with protection from interference.
The BTR-70MB-1 armored personnel carriers shown at the parade have lattice screens installed in the factory and surrounding the vehicle's body on all sides. It is assumed that this protection significantly reduces the likelihood of damage to armored vehicles by the cumulative charges of anti-tank grenade launchers.