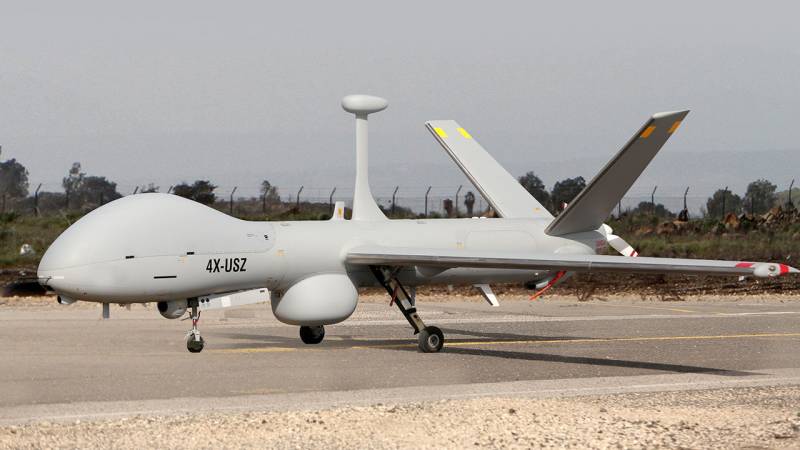 The marine version of the Hermes 900 UAV can be equipped with a multi-sensor kit, which includes such systems as, for example, the Leonardo Gabianno T-200 multi-mode surveillance radar
In recent years, the demand for marine drones in the world has been growing, as the needs of the fleets for long-range surveillance and reconnaissance are growing. Previously, aircraft-type platforms dominated the market, but now the market has become more diverse with the advent of new platforms and target loads. We will appreciate some of the latest developments.
Airborne marine surveillance, reconnaissance and information gathering, as well as patrol tasks, have traditionally been carried out either by specialized long-range multi-engine aircraft specially designed for extended flights over the sea, or commercial platforms adapted for such tasks. Such aircraft, as a rule, were used to monitor large sections of the sea surface, including monitoring shipping and other activities on the most important communication routes and in exclusive economic zones (EEZs).
However, the cost of acquiring and operating manned platforms is an overwhelming burden on many countries and the relevant air force and naval forces, and therefore various maritime safety structures may encounter problems in the systematic monitoring of sovereign waters due to lack of funds air patrols and a small number of sorties.
The need for an affordable alternative to manned marine reconnaissance
aviation
inevitably contributes to the growing interest of many countries in land and sea-based unmanned aerial systems (LHCs), especially those that have large EEZs and common guarded borders. At the same time, other countries want to have airborne sensory systems that can increase the situational awareness of deployed civil and military courts by providing the necessary information.
Modern LHCs, especially medium-altitude and high-altitude drones with long flight durations (MALE and HALE categories), have proven themselves as reconnaissance and strike platforms in support of ground operations, which have such characteristics as a long range, long mission duration and the ability to carry sensory target loads. Although these aircraft-type platforms should be launched and land, their inherent capabilities will nevertheless attract the maritime community, wishing to have the means to monitor large areas.
At the other end of the spectrum are smaller, vertical-take-off and landing UAVs, which have also gained widespread acceptance in recent years. Such full-time surveillance and reconnaissance equipment can be quickly launched and returned, collecting information upon request to ensure the operation of the ships.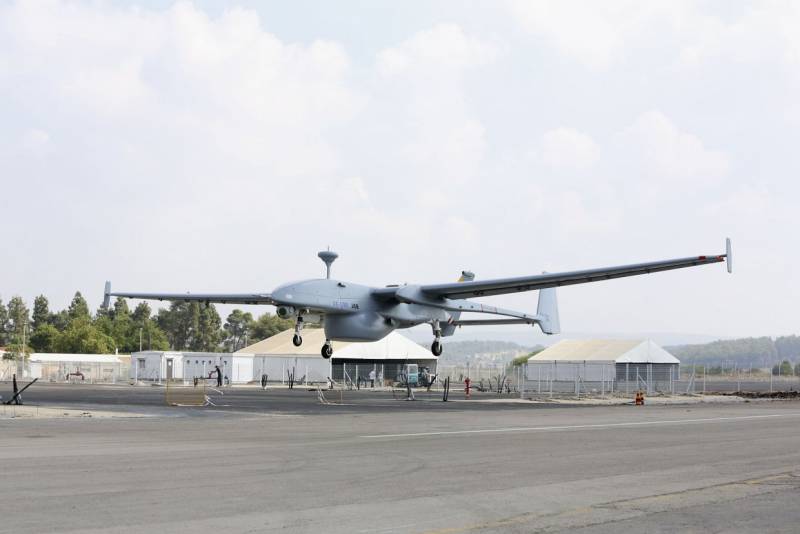 UAV IAI Heron 1 class MALE is operated in several fleetsperforming tasks of marine surveillance. The photo shows a drone with a characteristic ventral fairing, which houses the surveillance radar
MALE Class Platforms
As in the case of coastal piloted patrol aircraft, the ability to travel long distances and barrage for long periods of time is an important quality of the multi-purpose LHC of the MALE class adapted for such tasks. The developers also identified other desirable characteristics, including a large carrying capacity, which allows carrying simultaneously long-distance communication systems and on-board equipment of various types.
The Israeli company Elbit Systems promotes a specially configured for marine tasks version of its UAV Hermes 900 MALE, which is operated by at least eight operators. The aircraft, mainly involved in ground surveillance operations, is capable of accepting target loads of both its own design and third parties.
According to the company, the Hermes 900 with a maximum take-off weight of about 1180 kg and a wingspan of 15 meters can take up to 350 kg of target equipment, including 250 kg in an internal compartment 2,5 meters long. In the marine configuration, the aircraft can be equipped with a specialized marine surveillance radar, an automatic identification system and a stabilized optoelectronic / infrared sensor system and electronic warfare and reconnaissance equipment.
Elbit Systems noted that its universal ground monitoring station can offer the simultaneous control of two UAVs using two redundant data channels. The company claims that this positively affects the utilization of the system, saves human resources and operating costs. The drone also benefits from the integration of a satellite-based long-range overseas communication system and the integration of the Elbit System's proprietary marine automated control system.
Hadji Topolanski of Elbit Systems said:
"Although the Hermes 900 takes off and lands only on the ground, the control of the UAV itself and the operation of its sensors can be integrated into the ship's combat control system. This allows ships to receive real-time intelligence information from the UAV and use it at their discretion. "
Since April 2019, at the request of the European Maritime Safety Agency, Hermes 900 drones began to be used to patrol marine areas. Iceland was the first country to use this service. According to Elbit Systems, the Icelandic maritime authorities have designated the eastern Egilsstadir airport, from which it can cover more than half of the country's EEZ, as the location of the Hermes 900. This unit has also been modified to withstand the strong winds and ice conditions inherent in the North Atlantic.
"It is obvious that an aircraft-type marine UAV operating from a coastal base and controlled from a ground station should have different performance and target load than the land surveillance system. In particular, the need for reconnaissance of large areas determines the integration of a powerful multi-mode radar with image formation for the detection and classification of objects at long ranges and a long-range high-resolution OE / IR system for positive identification and image acquisition ",
- explained Topolanski.
"In addition, direct-visibility data channels and a satellite channel for over-the-horizon communications are being integrated into marine LHCs. The fact that sometimes a marine drone needs to be lowered for positive identification of objects using its own reconnaissance station and fly below the radio frequency horizon increases the importance of the wideband over-horizon channel. "
Meanwhile, Israel Aerospace Industries (IAI) has supplied naval versions of its Heron 1 MALE UAV to the Indian and Israeli fleets.
Developed by its Malat Division, the Heron 1 UAV has a take-off weight of 1100 kg and a payload of up to 250 kg. Its standard target load is the bow-mounted optoelectronic station Multi-mission Optronic Stabilised Payload from IAI Tamam, which includes a high-resolution camera, an infrared camera and a laser pointer / range finder.
According to the company, the aircraft is equipped with a Rotax 914 four-stroke engine with a volume of 1,211 cm3, rotating a two-blade pusher propeller with a variable pitch, which develops up to 100 hp maximum continuous power at heights up to 4500 meters. This allows you to barrage at a speed of 60-80 knots and achieve a maximum speed of 140 knots with a flight duration of up to 45 hours, depending on the wearable load. The direct data transmission channel in a mobile or stationary version provides control within a radius of about 250 km, although when installing a satellite communications kit, the range increases to 1000 km.
IAI engineers note that Heron 1 has two internal cargo compartments with a total volume of up to 800 liters - the bow and central compartments with a volume of 155 and 645 liters, respectively.
The distance from the lowest point of the fuselage to the ground is 60 cm, which makes it possible to equip the device with external target loads, while the on-board power generation of up to 10 kW gives the platform the potential for modernization, and also allows the installation of powerful systems, for example, IAI Elta EL marine surveillance radars / M-2022U or modular surveillance radar reconnaissance of ground moving targets EL / M-2055.
According to the Jane's C4ISR & Mission Systems - Air Handbook, the marine surveillance radar EL / M-2022 can track various targets at ranges of up to 200 nautical miles. When used in a radar mode with inverse aperture synthesis, the radar is able to capture suspicious objects and determine their type.
In addition to the standard intelligence station and marine radar, the marine Heron 1 can also carry electronic intelligence systems, for example, the IAI Elta ELK-7071 or ELK-7065 systems. A typical cycle of detection and identification of suspicious surface objects begins with the detection of a target, after which the radio intelligence systems are turned on to determine the direction and belonging of the object using an automatic identification system, then during the subsequent rendezvous a view reconnaissance station is used for visual inspection.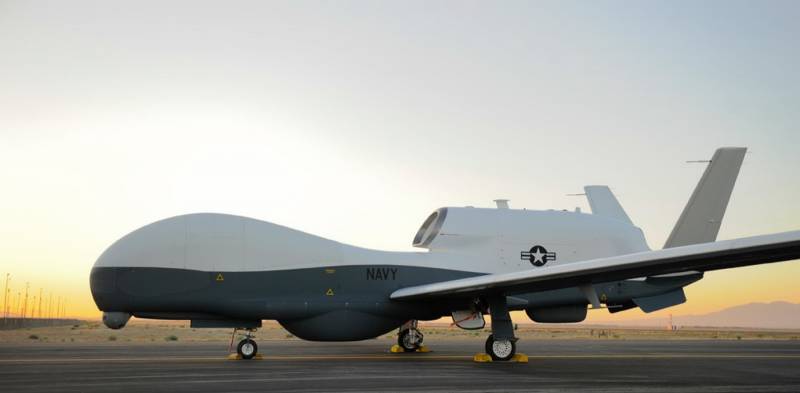 The Hale MQ-4C Triton UAV is a further development of the RQ-4 Global Hawk model and is optimized for long-term marine surveillance tasks.
HALE platforms
"The pinnacle of technical thought in the field of marine UAVs is the US Navy's MQ-4C Triton reconnaissance drone of the HALE category (high-altitude with long flight duration), which is scheduled to be ready for operation in April 2021, and full-scale production will begin two months later."
Northrop Grumman's MQ-4C Triton drone has a length of 14,5 meters and a wingspan of 39,9 meters, a claimed range of 2000 nautical miles and a flight duration of up to 24 hours. The UAV was developed on the basis of the US Air Force RQ-30 Global Hawk UAV Block 4 RCMN marine version of the program as part of the Broad Area Maritime Surveillance Demonstrator program to provide the fleet with the ability to continuously monitor marine areas.
While the basic design of the MQ-4C is very similar to the RQ-4B model, it still has significant modifications aimed at optimizing performance for long-term surface tasks. For example, the aircraft is distinguished by active control of the center of gravity of the fuel system, an improved antenna cowl of increased strength and improved aerodynamics, an anti-icing system of the air intake, as well as a reinforced wing structure with protection from air gusts, hail and birds, lightning protection and a reinforced fuselage to increase the internal target load . Together, these improvements allow the MQ-4C UAV to lower and rise if necessary, which is necessary to check ships and other objects at sea.
Under the fuselage, the main marine long-range search radar AN / ZPY-3 of band X with an active phased array is installed, which combines electronic scanning with mechanical rotation of 360 ° in azimuth. Northrop Grumman claims that the MQ-4C's flight duration and ZPY-3 sensor's coverage radius allow the MQ-4C to survey over 2,7 million sq. M. miles The radar is complemented by the Raytheon AN / DAS-3 MTS-B sensor station, which provides high-resolution day / night images and video with the ability to automatically track targets, as well as the Sierra Nevada Corporation's AN / ZLQ-1 electronic intelligence system.
Although the drone is still under development, the Australian government has pledged to buy two MQ-4C platforms for the country's air force on the Air 7000 Phase IB project. The first aircraft is expected to arrive at the Air Force in mid-2023. By the end of 2025, it is planned to purchase six platforms worth $ 5 billion, which should be placed at the Edinburgh air base in South Australia.
The U.S. government also approved the sale of four MQ-4C drones to Germany in April 2018 for $ 2,5 billion. Aircraft under the local designation Pegasus (Persistent German Airborne Surveillance System) must be modified in accordance with national requirements.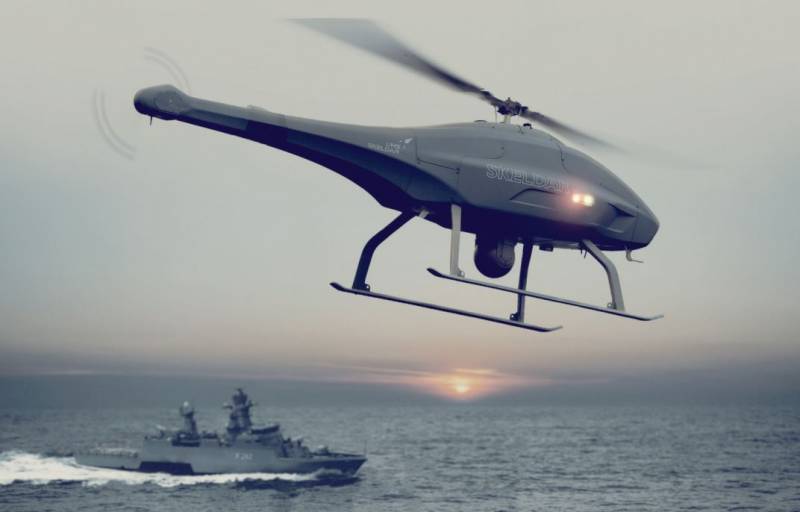 The Schiebel Camcopter S-100 performed navigational surveillance for five days on a Finnish border guard patrol ship Turva
Ship TANK
In recent years, ship or deck drones have attracted the close attention of the military. Of particular note are well-known systems, for example, the ScanEagle type aircraft developed by Boeing-lnsitu and the Northrop Grumman helicopter type Fire Scout deployed by the U.S. Navy. At the same time, the Boeing-lnsitu group also supplied the Integrator winged vehicle to the Marine Corps under the designation RQ-21A Blackjack.
Given the shortage of space on the decks of most modern ships, interest in the LHC with vertical take-off and landing, apparently, is only growing in the remaining fleets. For example, the Swiss company UMS Skeldar seeks to repeat the recent success with its latest rotary-wing TANK V-200B, which was purchased by the Canadian and German fleets.
The latest V-200 Block 20 platform with a take-off weight of 235 kg has a 4-meter fuselage, which is most likely made of carbon fiber, titanium and aluminum; it is equipped with a two-blade screw with a diameter of 4,6 meters, the ventral compartment and fixed gear double-gear chassis. The UMS Skeldar UAV has a top speed of 150 km / h and has a practical ceiling of 3000 meters.
Improvements to the engine and fuel consumption management system allowed to reduce weight by 10 kg compared to the previous V-200B model, while the flight duration was increased to 5,5 hours with a target load of 45 kg or with a greater load due to a decrease in the time spent in the air. Other improvements include a new data transmission channel, updating the device's electrical configuration, a system of eight cameras for visual detection and range determination, which can track targets up to 20 miles in each direction. It can also be equipped with phased array antennas that allow real-time image transmission to the operator.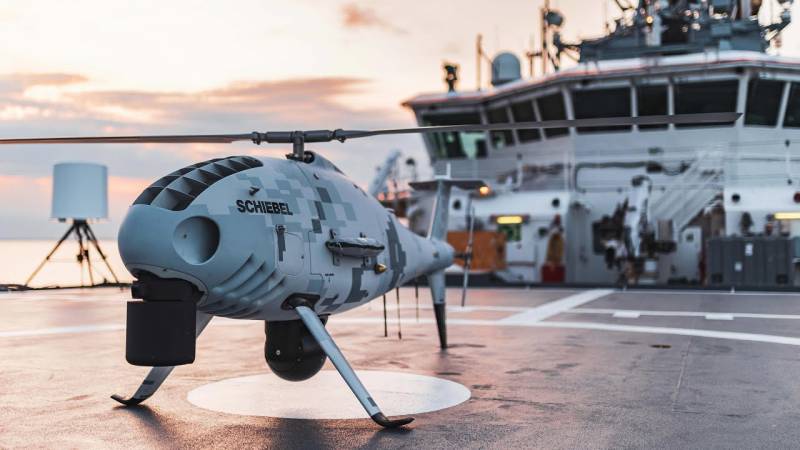 UMS Skeldar wants to repeat the success associated with the purchase of Canadian and German fleets with the latest version of its helicopter drone V-200
The V-200 model, as UMS Skeldar spokesman said, "includes the Hirth Engines heavy fuel engine, which can run on Jet A-1, JP-5 and JP-8 fuels, is one of the main advantages for the marine industry."
"The configuration of the two-stroke engine also provides a large overhaul life along with an additional guarantee of landing and take-off in the context of the ban on conventional fuels, all of which are very important for offshore operations."
According to him, the V-200 platform requires less logistical support and has functional flexibility comparable to other aircraft and helicopter types in the same weight category. "The V-200 UAV is compatible with the STANAG-4586 standard, which pre-qualifies the LHC for military use and integration with other systems," he added. "We also thought well about simple integration with various combat control systems, including the Saab 9LV naval combat system, which provides operational control and communications tools for offshore platforms of all sizes, from combat boats and patrol vessels to frigates and aircraft carriers."
Meanwhile, the Austrian company Schiebel has developed a LHC Camcopter S-100 helicopter type, which is equipped with a twin-blade propeller with a diameter of 3,4 meters and has a carrying fuselage streamlined carbon fiber size of 3,11 x 1,24 x 1,12 m (length, width, height, respectively).
A device with a maximum take-off mass of 200 kg can carry up to 50 kg of cargo along with 50 kg of fuel. The rotary engine allows you to fly at speeds up to 102 km / h with a practical ceiling of 5500 km. With a target load weight of 34 kg, the flight duration is 6 hours, but when an external fuel tank is installed, it increases to 10 hours.
According to Schiebel, a typical target load for marine surveillance includes the L3 Harris Wescam Optoelectronic Station, Overwatch Imaging PT-8 Oceanwatch for scanning large areas and detecting small objects, and an automatic recognition receiver.
"The S-100 platform is ideally suited for maritime conditions due to the minimum volume of logistics and its size," said a company representative. "Its compact size and light weight mean that it can be easily maneuvered, stored and maintained in ship hangars ... in a typical frigate hangar, you can place up to five S-100 drones along with a regular large manned helicopter." The platform was also integrated with ships of 35 different types, flying over 50000 flight hours.
The Camcopter S-100 helicopter was purchased under the Australian Navy Minor Project 1942 program, which is aimed at meeting the needs of the country's fleet in an intermediate naval LHC. Then, according to a separate program, a suitable UAV will be selected for integration with 12 coastal patrol ships, the first two of which are built at ASC shipyards. Then another type of UAV will be selected to equip nine Hunter project frigates, which will be built for the Australian Navy.
Schiebel announced in November 2015 the completion of a heavy fuel engine test for the Camcopter S-100. The refinement of the S-100 propulsion system based on a commercial rotary piston engine led to a reduction in mass due to the modernization of the exhaust system, a new engine control unit and new batteries. The engine allows the S-100 to use JP-5 fuel, which has a higher flash point than aviation gasoline.
The company is upgrading the S-100 platform primarily with an eye on the joint action (interaction) of inhabited and uninhabited platforms and delivery at the last site. In April 2018, it was announced that it collaborated with Airbus Helicopters as part of a joint demonstration with the participation of the H145 crew helicopter and the S-100 UAV. According to Schiebel, a ground-based drone control station was installed on board the H-145, allowing interaction level 5 to be achieved by transferring full drone control to the operator on board the helicopter, including launch and return.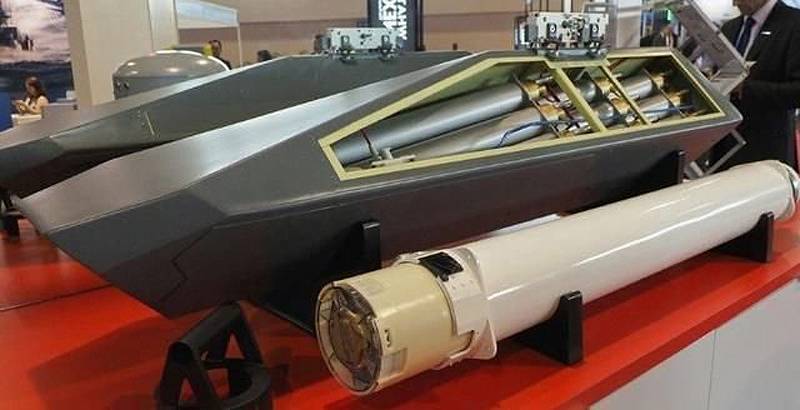 L1 Harris scale 3: 3 SDS concept with nine launch tubes in 3x3 configuration. An external container can adapt to specific platforms and tasks.
New target loads
New target loads for UAVs expand the range of tasks of marine UAVs and go beyond reconnaissance and surveillance operations. For example, L3 Harris is developing the Sonobuoy Dispenser System (SDS), a sonar buoy dispersion system, which is designed to quickly re-profile various types of aircraft to combat submarines.
SDS used the experience of creating SRL (Sonobuoy Rotary Launch) and SSL (Sonobuoy Single Launch) pneumatic systems for the Lockheed Martin P-8A Poseidon multipurpose anti-submarine and anti-ship patrol aircraft.
The SDS is based on the Modular Launch Tube (MLT), which the company describes as an "individual launch station for launching a single size A buoy from a standard LAU-126 / A launch container". The company also developed a tandem launch upgrade kit that allows the LAU-126 / A container of size A to receive buoys of two sizes F or G.
MLT is an external loading system with a bayonet-type lock for fastening a buoy with a dead weight of about 4,5 kg. It is equipped with a buoy presence sensor to ensure confident capture and launch; buoys are released under loading pressure in the system from 70 to 105 kg / cm2.
According to L3 Harris, an SDS system can consist of any number of MLT rails, a pneumatic starter on the ground, and an electronic control unit with a universal type-1/2 interface over the MIL-STD-1760 interface. All these components can be integrated into a special external container.
The company sees a growing interest in the world for UAVs for long-distance and long-term marine patrols as an affordable replacement for expensive patrol aviation, for example, R-8A aircraft. However, they note the potential limitations of the SDS concept, given that anti-submarine aircraft, such as the P-3 and P-8A, can carry 87 and 126 buoys, respectively.
"It is impossible to load the SDS system in flight, unlike a manned aircraft, so ideally we see the joint work of many SDS-equipped drones working in groups or flocks in order to create an acceptable solution from a sufficient number of sonar buoys."
Uttra Electronics is also developing its own concept of Sonobuoy Mission Pod (SMP), which it offers for unmanned and manned aircraft.
According to the company, SMP can be mounted on an external suspension point of the MIL-STD-2088 standard, which would allow remaking existing platforms for anti-submarine tasks. The SMP system can accommodate from 25 to 63 buoys of sizes G and F in order to match the carrying capacity of small and large platforms.
The system is designed to operate at altitudes of up to 10 km at flight speeds of up to 150 knots. It can reset buoys at intervals of 2,5 seconds and is compatible with several Ultra Electronic buoy models, including ALFEA (Active Low Frequency Electro-Acoustic) and HIDAR (High-Instantaneous-Dynamic-Range) and mini-HIDAR.
Although land-based LHCs are quite common these days, the use of such systems in the maritime sector is occurring today on a smaller scale. However, it seems that the situation is gradually changing, since fleets, coastguards and other maritime safety structures are becoming increasingly aware of how effective MALE and HALE drones can complement manned platforms in naval patrol and other operations or, if possible, be used as separate funds.
There is growing interest in regular air patrol capabilities for ships, but there are still a few problems that need to be addressed. For example, on smaller ships, there is not enough space on the deck, the use of such aircraft in conjunction with crew helicopters is usually limited to an "either-or" situation, when the launch and return process must be carefully timed and agreed so that the drones remain in the air no longer than necessary while waiting for the deck to clear. It is also difficult to return damaged platforms when the deck is occupied and cannot be released due to an emergency.