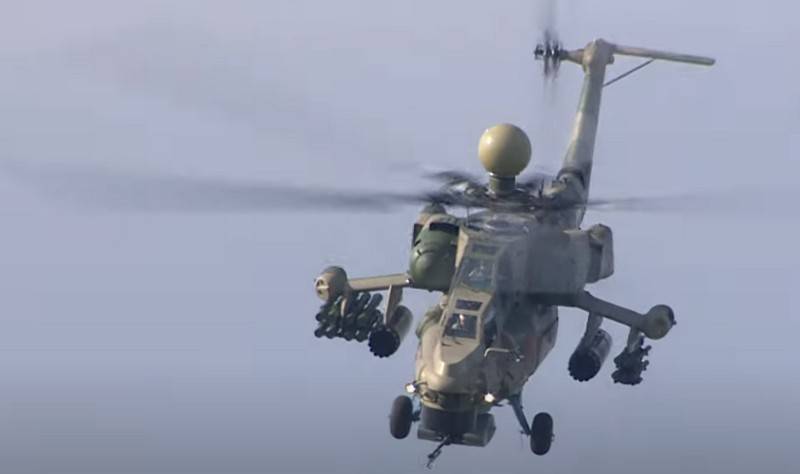 State tests of the latest Russian Mi-28NM Night Super Hunter helicopter will be completed before the end of this year, after which a decision will be made on putting the machine into service. This was reported by "Izvestia" with reference to a source in the military-industrial complex.
According to the source, by the end of 2020, the Mi-28NM helicopter will undergo final testing in the framework of joint state tests. According to the agreement, testing at a special training ground will take 110 flight days, during which all means of destruction of the helicopter must be checked, all flight performance specifications confirmed. Based on the results of state tests, a decision will be made on putting the helicopter into service, or on its completion and passing additional tests. Previously, the helicopter was tested in Syria.
Note that the contract for the supply of helicopters was signed in 2019 at the Army forum. In total, the Ministry of Defense will purchase 98 upgraded Mi-28NM helicopters until 2027, although initially it was a question of purchasing eight or sixteen Mi-28NM helicopters.
The Mi-28HM is a new generation high-performance all-weather attack helicopter designed to perform a wide range of tasks. The machine was created taking into account the combat experience of the use of a helicopter in Syria. The onboard radar equipment Mi-28HM includes an innovative helmet-mounted target designation and indication system. The machine is equipped with a new radar H025, allowing to conduct a circular review, as well as a new system of electronic warfare. Mi-28HM equipped with a second set of controls, which significantly increases the survivability of the machine.
The helicopter's armament is largely unified with the Kamov Ka-52M and it will include long-range Hermes-A missiles, anti-tank missiles, as well as the "Product 305" -
aviation
cruise missile with a range of up to 100 km.
The Mi-28NM is equipped with a Russian-made VK-2500P engine and new rotor blades, which increases the helicopter's cruising speed by 10–13%.
In the future, it is planned to modernize the entire existing fleet of Mi-28N helicopters to the level of Mi-28NM.