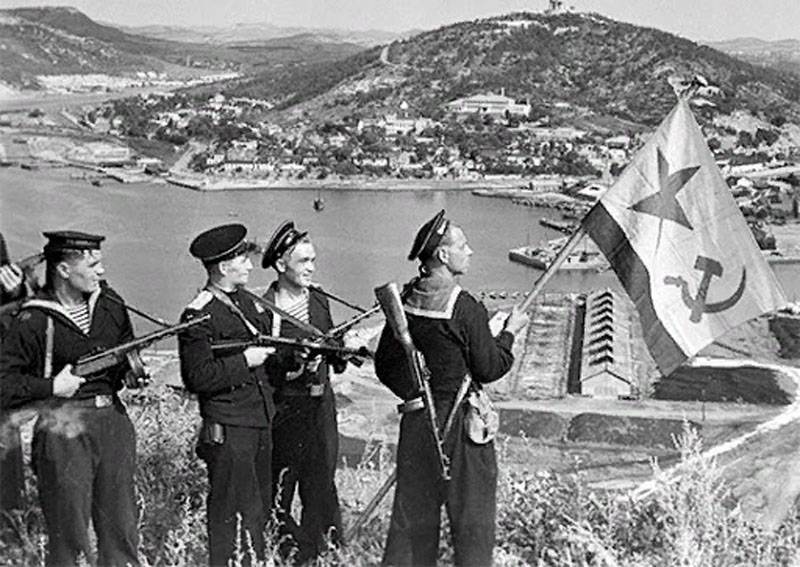 The British press published material by Rona Shennan, who is trying to explain to her readers why, after the fall of the Nazi regime in Germany, Japan continued to resist.
Shannan in the INews publication writes that the atomic bombings of Hiroshima and Nagasaki by the US Air Force on August 6 and 9, respectively, led to the surrender of Japan. At the same time, the British journalist reports that the role was played (quote) "and the attack of the Soviet army on the Japanese army."
Rona Shennan, even with some reproach to the USSR, states literally the following:
Although the Soviets were allied with Great Britain and the United States in the fight against Hitler, they did not actually wage war with Japan until the signing of the Potsdam Declaration.
А вот о том, вели ли США и Британия до открытия второго фронта в 1944 году военные действия против гитлеровской Германии, г-жа Шеннон читателям решила не рассказывать. Зачем же рассказывать, если в Белом доме именно США и Британию назвали "главными победителями нацизма"...
From INews Material:
In fact, the Soviet Union and Japan signed a neutrality pact in April 1941, which benefited both sides during the war.
But in Britain, where they like to recall the Molotov-Ribbentrop Pact, this time they don't mention a word, since they would have to tell their readers that Hitler didn't prevent such an attack on the Soviet Union, and therefore the USSR in the first years of the war and from Japan expected an attack.
From the article:
The Soviets violated their treaty with Japan and carried out a massive invasion of its territory, which destroyed a huge number of Japanese soldiers.
On "its territory"? .. And there is not a word that Japan occupied these territories. But the author writes:
Joseph Stalin, the leader of the Soviet Union, decided to do this because he promised the British and American authorities to join the war against Japan after the defeat of Nazi Germany. According to the American historian (of Japanese origin) Tsuyoshi Hasegawa, the attack of the Soviet Union destroyed Japan's hopes that they could put an end to the war with the help of Moscow.
The mentioned Hasegawa announces that Japan allegedly "counted" on the USSR in the hope that Moscow "will help end the war with its mediation between Japan and the United States."
Hasegawa:
The entry of the Soviet Union into the war played a much larger role than atomic bombs in prompting Japan to surrender, because it deprived the Japanese authorities of any hope that Japan could end the war through the mediation of Moscow.
As can be seen even from this material, the Western interpretations of the end of World War II, to put it mildly, are original. The message was: there were atomic bombs from the USA, but "destroyed a huge number of Japanese soldiers of the USSR." About the destroyed civilians - silence.
And Mr. Hasegawa for some reason does not say, but what prevented Japan from capitulating - "without the expected mediation mission" of the Soviet Union.