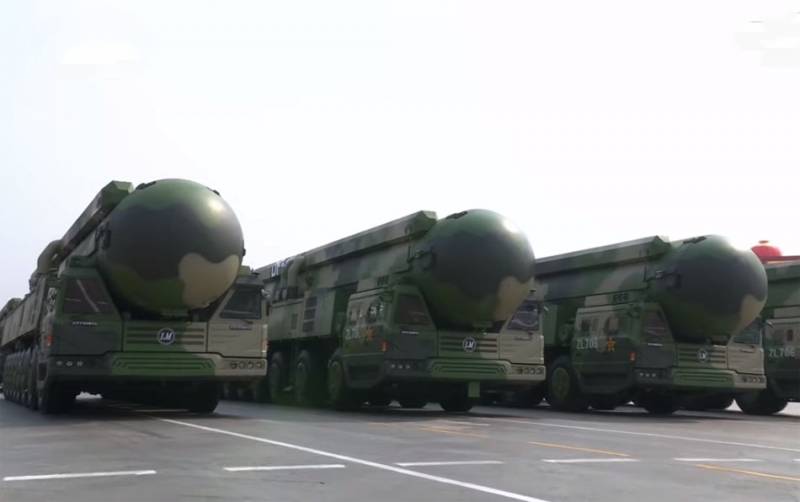 Global Times editor-in-chief Hu Xijin made a note on his Weibo page that is being actively discussed in China. The note indicates that China needs more than 1 thousand nuclear warheads (including 100 Dongfeng 41) in order to "stifle US strategic ambitions."
At the same time, China itself in the open access mode does not officially publish data on the number of its nuclear warheads. If you believe the data of the Stockholm International Peace Research Institute (SIPRI), then the PRC in 2019 had 290 nuclear warheads, which put it in 4th place in the world after the United States, the Russian Federation and France. In the same SIPRI report, it was indicated that the United States had the largest number of fully operational nuclear warheads - 1750. Another 4435 were in "storage and waiting for combat deployment".
In a large Chinese publication, Sina notes that SIPRI data is not always trustworthy. In particular, it is noted that today China is not able to verify the exact number of nuclear warheads present in the United States. At the same time, the same information resource writes that in China the number of nuclear warheads may not be 290, but at least twice as much.
From the material:
China has always stated that nuclear
weapon
for the state, it is a factor in deterring threats from outside. The country possesses, unlike the United States, exclusively strategic nuclear weapons. China does not produce tactical nuclear warheads.
Returning to the words of Hu Sijin from the Global Times, it is noted that to "suppress the strategic ambitions of the United States" is important not only the number of nuclear warheads, but also the logistics associated with them. It is about where it is more expedient to place them, which objects to aim at. It was noted that it is important to take into account the effectiveness of the use of nuclear bombs and missiles in terms of penetration through the missile defense system. Calculations are given on the number of likely victims in an attack on American cities.
In the Chinese media they write that such data and the calculations themselves look "inhumane", but it is added that "the United States allows itself the same."