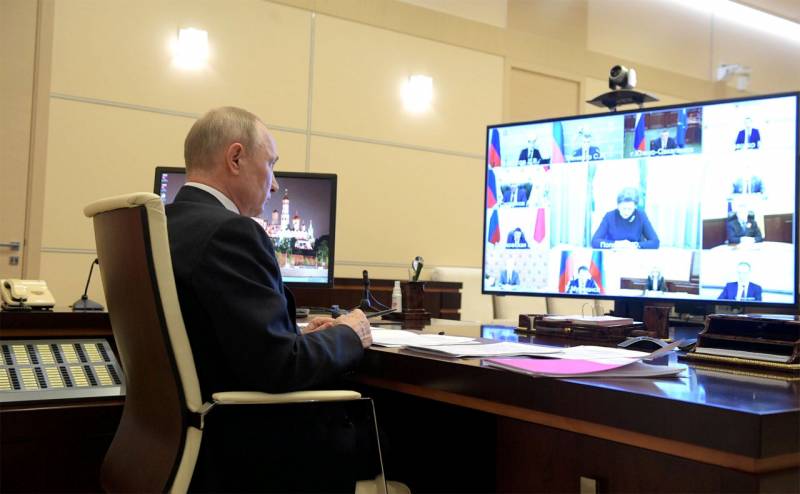 Today, Russian President Vladimir Putin again addressed the Russians. He informed the long-awaited
news
- from May 12, 2020, the country ends the holiday regime.
Non-working days are canceled
Vladimir Putin's appeal was made during a meeting that the head of state held with the cabinet of ministers and the operational headquarters to combat coronavirus in the Russian Federation. Announcing the end of the day off regime, the head of state noted that one should not expect a quick lifting of all restrictions. Remove restrictions mode carefully and in stages.
Despite the fact that the holiday regime will be completed, citizens will be required to adhere to general sanitary requirements until the end of the epidemic. This, apparently, is about the mask regime, which was introduced on May 12 in most regions of the country. When visiting public places, Russians need to wear medical masks.
Vladimir Putin said that any mass events are excluded in the country, and people over 65 years of age, as before, are required to comply with the regime of self-isolation and stay at home.
My relatives, I understand how difficult it is for everyone. But still need to be patient
- the head of state addressed Russian retirees.
Help for doctors, business and families with children
Putin also spoke about new measures of social support for the population. So, medical workers must receive a special surcharge for three months, starting from April 15. Doctors will receive an additive in the amount of 40 thousand rubles for a two-week shift, and if they work with patients with coronavirus, in the amount of 60 thousand rubles.
For nurses and teachers there is an additional payment of 25 thousand rubles, while working with patients - 35 thousand rubles. Younger employees and technical staff will receive 10 thousand rubles of surcharge, while working with coronavirus patients - 15 thousand rubles.
In addition, it was decided to provide additional assistance to families with children. All Russian families with children under three years of age will receive payments of 5 thousand rubles per month per child, regardless of family income. The minimum amount of childcare allowance is increased by 2 times - up to 6,5 thousand rubles. Such money can now count on mothers who did not work before, students, as well as those who worked informally. Thus, social support measures will affect 27 million Russian children. Families with children from 10 to 3 years old (for each child) will receive 15 thousand rubles each.
The head of state also announced the launch of a program to support employment. The state will provide business with preferential loans at the rate of "one employee - one minimum wage." The loan rate will be 2%, and everything that is higher will be covered by the state from its own funds. If the company manages to maintain employment at 90%, the state will cover the loan and interest. Enterprises operating in the most affected sectors of the economy will receive assistance in the form of write-off taxes, excluding VAT, for the entire second quarter of 2020.
As for the self-employed Russians, Vladimir Putin ordered that the tax paid in 2019 be returned to them in full. Also, all self-employed will receive "tax capital" in the amount of 1 minimum wage, which can be used to pay taxes.
Thus, the president announced a new set of measures aimed at helping citizens and business. However, the question of whether assistance in this amount is sufficient remains open. So, many enterprises of the most affected sectors will not be able to pay taxes, most likely not only in the second, but also in the third quarter of 2020. In the affected sectors of the economy, employment is unlikely to be maintained at 90%. Although it depends directly on employers.