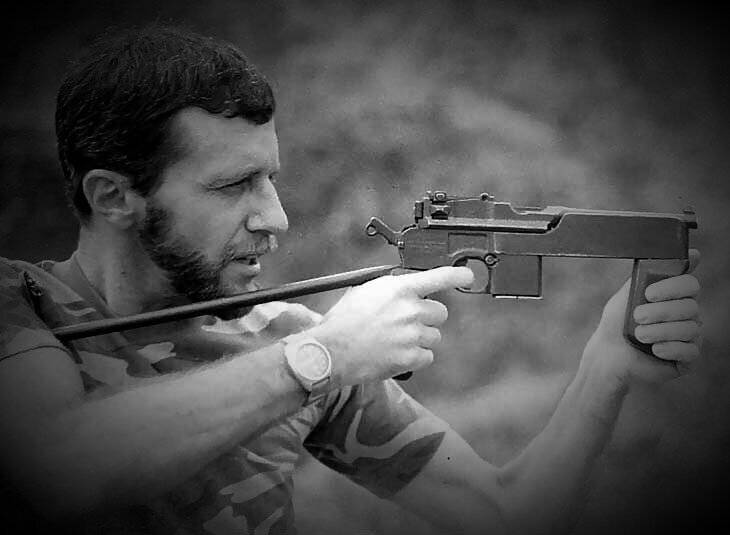 Shooter with a submachine gun PASAM
Turn around in the march!
Verbal is not a place for slander.
Hush, speakers!
Your
word,
Comrade Mauser.
V. Mayakovsky. Left march
Weapon and firms.
As soon as the K96 Mauser pistol appeared, and after it there were other self-loading pistols similar to it, it was noticed that all of them, with minimal reworking of the trigger, could become fully automatic, that is, shoot bursts. That's just the need for this at the beginning of the last century no one experienced. It was believed that a store with 6-7 rounds of ammunition is sufficient to solve all the problems that can stand in front of a shooter with a gun, and only ten are enough for the eyes! However, already in 1932, the Mauser Schnellfeuer Pistole Model 712 Mauser appeared, that is, the Mauser Automatic Pistol (7,63x25 Mauser), its automatic version with a magazine for 20 rounds. The rate of fire in automatic mode was very decent and amounted to about 850 rounds per minute, although some sources provide other data. In order to be able to hold it and direct it at the target, it was necessary to join a butt holster to it. And it is clear that 20 rounds at such a rate of fire were shot very quickly, but just as quickly it was possible to change the store on it! In 1938, its production was completed, but the company managed to produce 95000 pistols of this type, which were then in service in the Wehrmacht, and some were sold to China, which bought weapons around the world.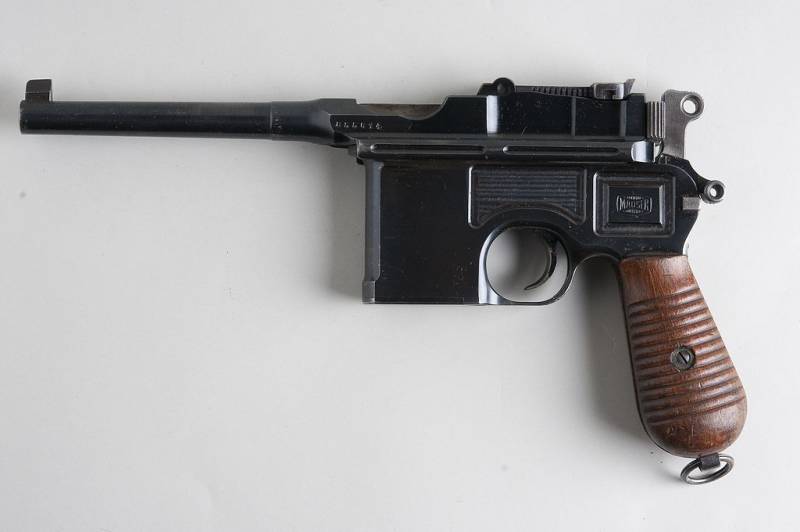 Classic Mauser C96 caliber 7,63 mm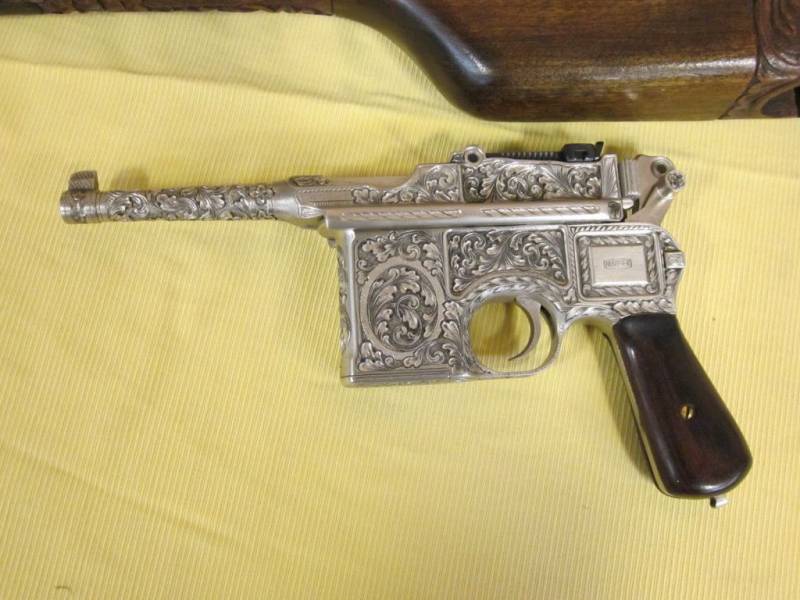 "Mauser Bolo", that is, the "Bolshevik", which had a shortened trunk. The USSR purchased such Mausers in large quantities in Germany in the 20s. Actually, it was our orders then that saved this enterprise from bankruptcy. In the photo is a gift sample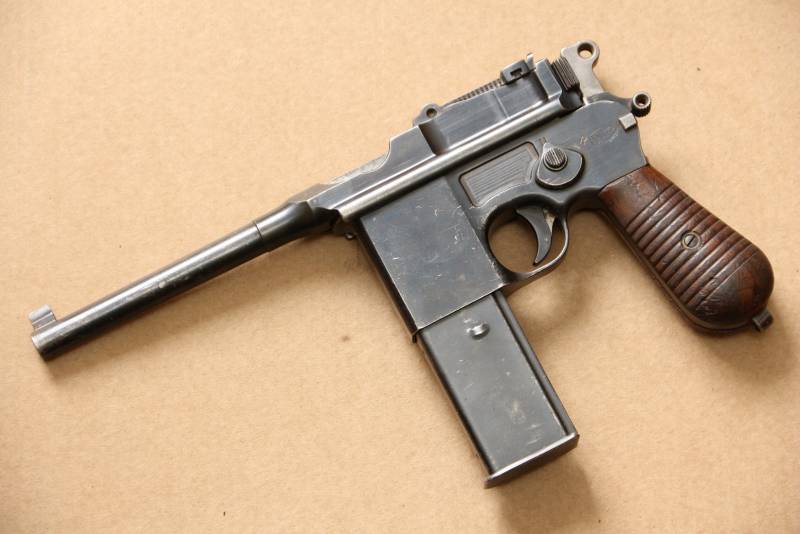 Mauser Model 712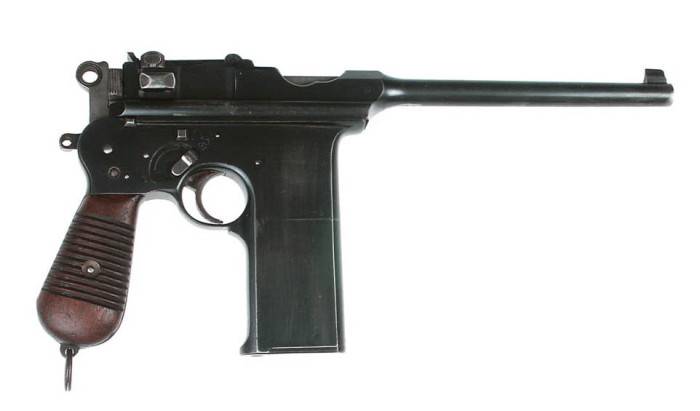 The Spanish Mauser Astra 902 had a fixed magazine with 20 rounds. Produced from 1928 to 1933 and delivered to China and the Wehrmacht
Well, some more of these Mausers were sold to Brazil. And there, about 300-400 Mausers, preserved from that time, were converted into a PASAM submachine gun in the 70s of the last century (which stands for "Pistola Automatica e Semi-Automatica Mauser", "automatic and semi-automatic Mauser pistol"). After that, the "novelty" entered service with the military police of Rio de Janeiro. After all, a weapon still doesn't throw it away! And besides, in its improved version, the Mauser really began to show better data than before.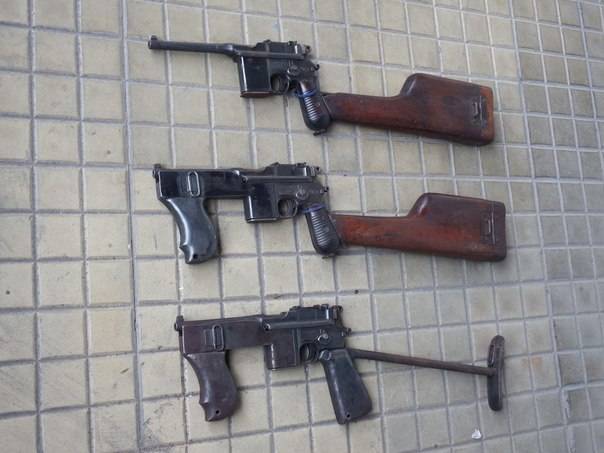 Genesis of the design: from Mauser to PASAM
The conversion itself was very simple. The pistol automatics remained unchanged, including the fire translator located on the left. But the movable barrel from below and from the sides now covered the metal casing, to which, near the very muzzle, a handle with cutouts for the fingers was attached. Later, the fire control handle was changed, and instead of a removable wooden holster, a fixed metal butt was installed on it. The sight was marked at a distance of 1000 m, although it is unlikely that any of the Brazilian shooters had ever fired at such a distance. True, PASAM served in the Brazilian police for not so long: only until the mid-eighties of the last century, but served, and only later were replaced by something more modern.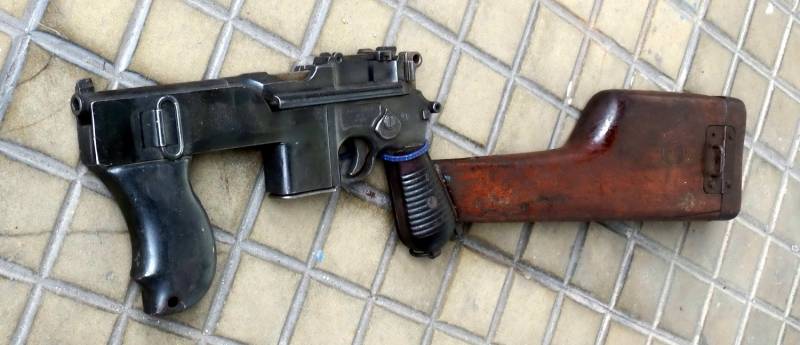 The initial version of PASAM looked like this ...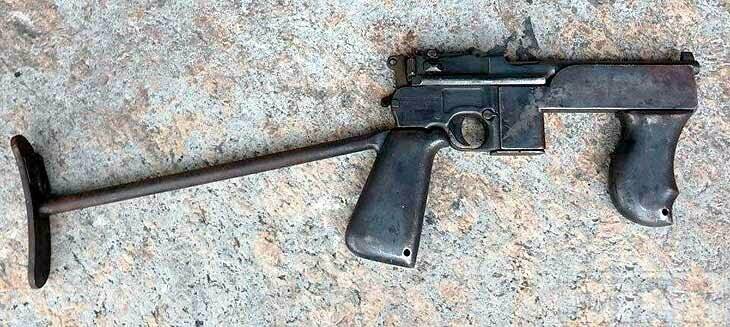 The final version was already more like the original design
That is, in principle, turning any automatic pistol into a submachine gun firing in bursts is not a problem. Such a gun could be created specifically. And our Soviet APS is the best confirmation of this. But a small-capacity store, as well as a number of other circumstances, put an end to his career. Although during the assault on Amin's palace, he proved to be a good weapon as a weapon. But, as they say, did not fit into the system.
But today, a lot of companies have appeared in the West that have managed to draw the right conclusion from all of the foregoing, namely: there is absolutely no need to produce a specially made submachine gun when you can release the conversion of a popular pistol that turns it into a ... submachine gun. At times cheaper and at the same time - at times more effective.
NORLITE eK, which was founded in 2018 in Nuremberg by Frank Satzinger, the former managing director of Oberland-Arms KG, is just one of these companies. The company's goal is to produce weapons primarily for sports shooting. "Of course, we attach great importance to the best materials, the highest quality of production, as well as the reliability and durability of our products," her head said in an interview with reporters.
The company launches the USK kit (kit) with various options and accessories, and the kit's modular design ensures that new components can also be easily installed on any original sample.
"We consciously do without fully equipped models to give our customers the opportunity to use any existing accessories: why buy what you already have! The price of our products is the result of a serious calculation. Therefore, we do not give discounts. "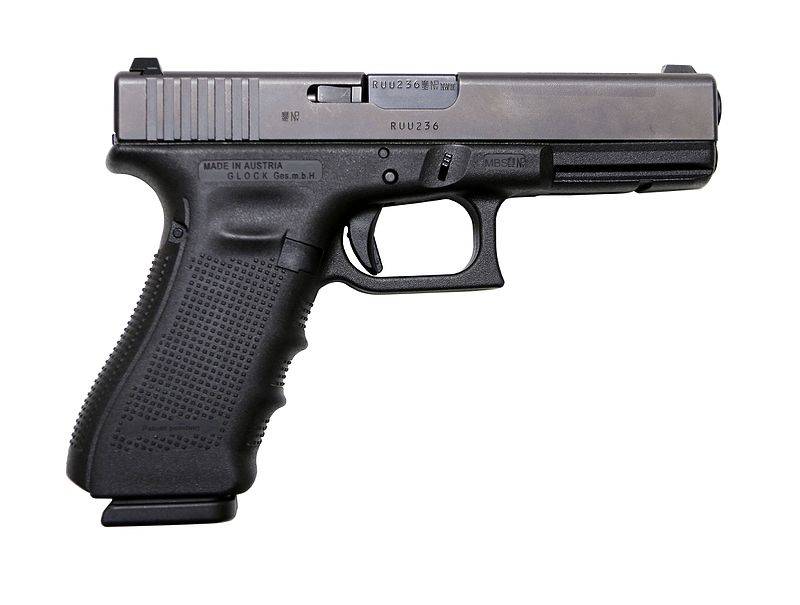 Glock 17 Pistol
Parts kits are designed to be used with frames from renowned pistols such as Glock. Put together, the Norlite USK-G kit and the Glock frame are, according to the terminology adopted abroad, already a carbine, again with a magazine either from a Glock pistol, or even with a special large-capacity magazine. Moreover, it's not difficult to add a butt from the popular AR-15 rifle to this set, which results in a completely new product.

Norlite USK-G Standard with rifle butt AR-15
The receiver (receiver) USK-G is made of aluminum with a protective lacquer coating applied over the anodized coating. On top of the receiver is a solid Picatinny rail. Two more slats are on the left and right. The shutter handle is on the left, while it is made folding. The ejection of cartridges is carried out to the right. The back of the receiver is threaded to install the AR-15 buffer tube, so any replaceable stock used in this type of rifle can be put on it. AR-15. I do not like? You can put another butt or just a "plug" with a sling for the belt. Everything is based on the market principle: "any whim for your money."
Norlite-USK-G-4 - compact top receiver
Norlite USK-G conversion kits are compatible with the following Glock Gen 3, Gen 4 or Gen 5 spray gun models: G17, G19, G45, G34, G22, G23, G24, G35, G31 and G32. These kits are available in the following configurations:
Standard: length - 465 mm (18,3 inches); barrel length - 294 mm (11,6 inches); weight - 2950 g.
Compact: length - 420 mm (16,5 inches); barrel length - 254 mm (10 inches); Weight - 2,780 g.
Compact-D: length - 420 mm (16,5 inches); barrel length - 228 mm (9 inches); Weight - 2,690 g.
Subcompact: length - 380 mm (15 inches); barrel length - 214 mm (8,4 inches); weight - 2650 g.
Dimensions do not include the length and weight of the butt and muzzle devices.

USK-G - Standard 2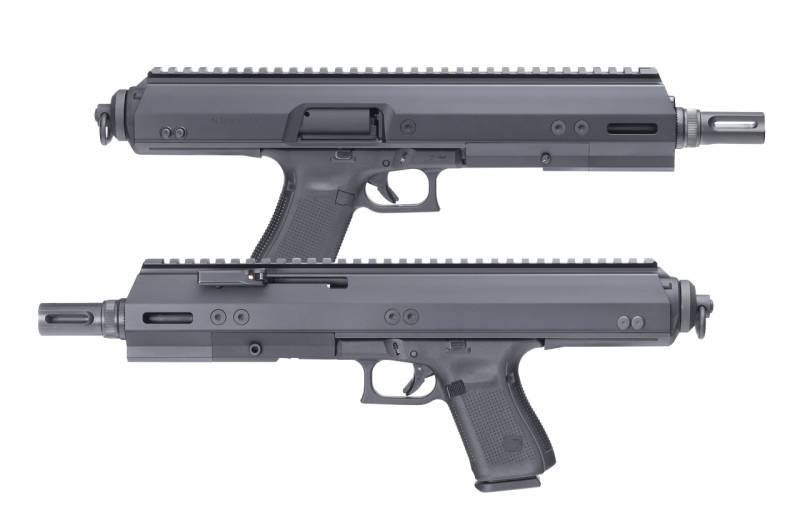 USK-G Sub-Compact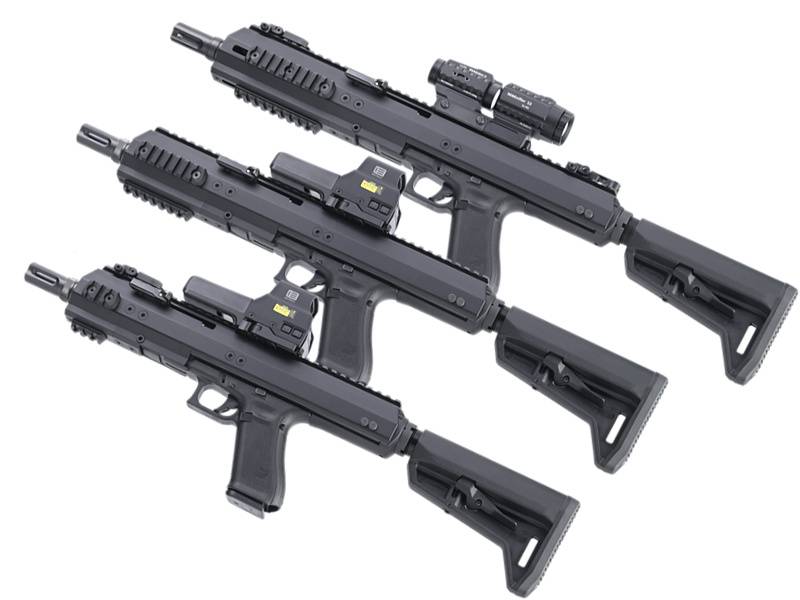 A line of three available sets
The combination of the Glock frame with the Norlite USK-G receiver does not require any modifications to the gun. To install it, you need to disassemble the Glock gun and connect its frame to the receiver from the USK-G kit. And that's all! Moreover, all the details are ideally suited to each other, so the whole procedure takes only one minute in time! The characteristic of the gun is fully preserved, but the accuracy of the shooting increases significantly. German law does not allow firing in bursts, but, in principle, alteration for firing automatic fire from such weapons can be carried out by replacing only one part in the trigger.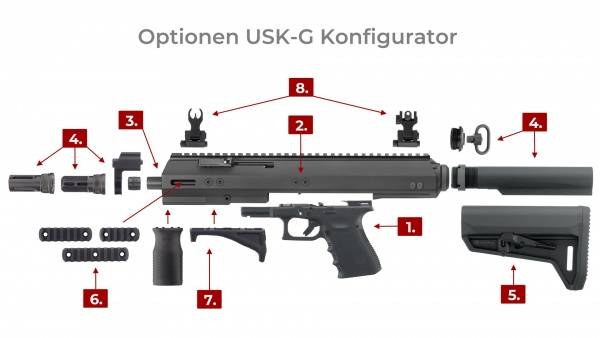 Glock pistol with Norlite USK-G kit. From the pistol remains the handle and trigger. This item (No. 1) is not included in the kit, just like the store. All other details presented in this photo are included in the "kit". Also included in the kit are two models of flame arrester-compensators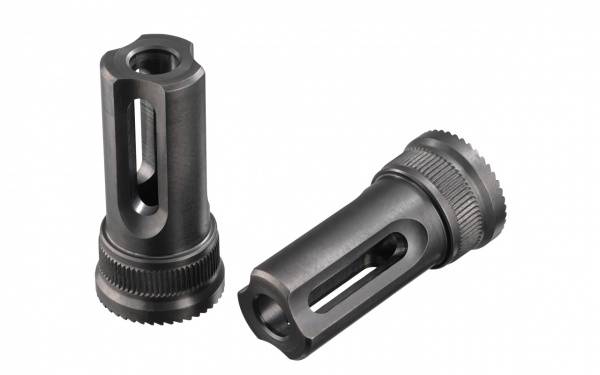 Model 1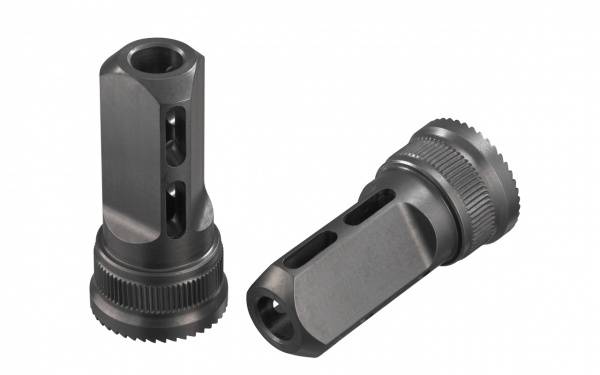 Model 2
If you wish, you can order not only any sight to your carbine - as you can see, there are several of them very different ...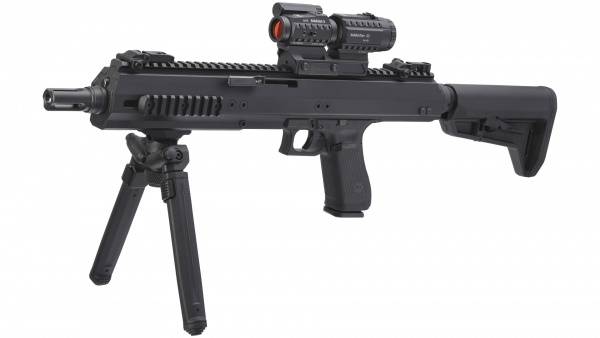 ... but even bipod!
The base price of the Norlite USK-G Conversion Kit ranges from € 1280 (approx. $ 1380) to € 1350 ($ 1460) depending on model and size. The company's website has an online configurator that allows you to select the caliber and model of your Glock pistol, and add features and accessories to the base kits. Interestingly, the USK-G kit itself is not considered a weapon and therefore can be easily stored in the buyer's apartment without any additional permission. Well, if you already have a Glock, then you can buy it completely without hindrance. It is also planned to create modifications of calibers .22l.r., .40S & W, .357 SIG, .45ACP and 10mm Auto.
So the market for new small arms in the West is constantly enriched today!