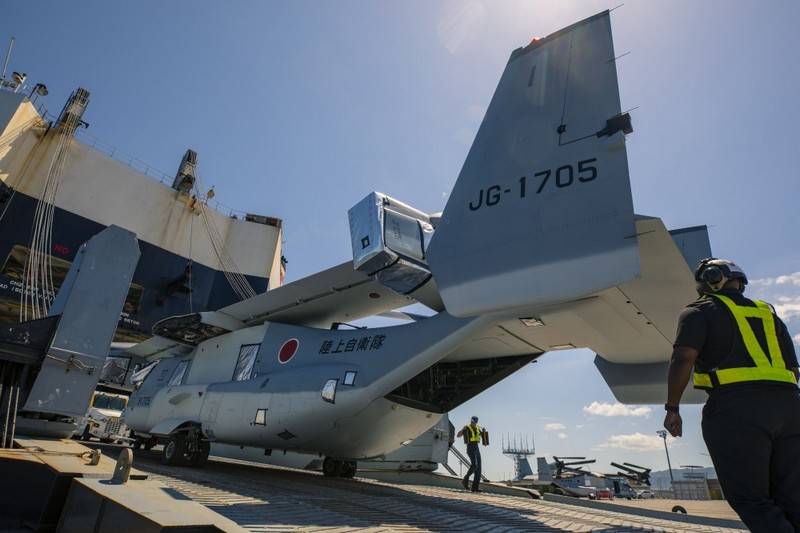 Japan began to receive American convertiplanes Bell Boeing V-22V Osprey. The first two military transport convertiplanes on May 8 arrived by sea at the Ivakuni naval base in Yamaguchi Prefecture.
The Japanese government announced plans for the purchase of American convertibles Bell Boeing V-22 Osprey for the Self-Defense Forces in 2014. In May 2015, the U.S. approved the sale of 17 convertible plans totaling $ 3 billion to Japan through its Intergovernmental Military Sales Foreign Military Sales (FMS). The tiltrotopes purchased by Japan, designated V-22B Block C, are export counterparts of the MV-22B airborne transport vehicles supplied by the US Marine Corps.
Japan allocated funds in 2015 for the purchase of the first five convertiplanes, in 2016 and 2017 - eight more.
Tests of the first built for the army
aviation
The Japanese land forces tiltrotor began in late summer 2017 at the Bell Helicopter Amarillo Assembly Center in Texas.
As part of the Japanese Army Aviation, the V-22B Osprey convertiplanes will be part of the new aviation unit planned to be based at the Saga Kyushu airfield. Convertibles are planned to be used primarily for interaction with the brigade deployed in Sasebo, the rapid deployment of amphibious forces (marine corps).
The tasks of the new unit include the protection of remote islands in the East China Sea, including the Senkaku Islands (the Chinese name Diaoyudao), which are the subject of a territorial dispute between Japan and China.