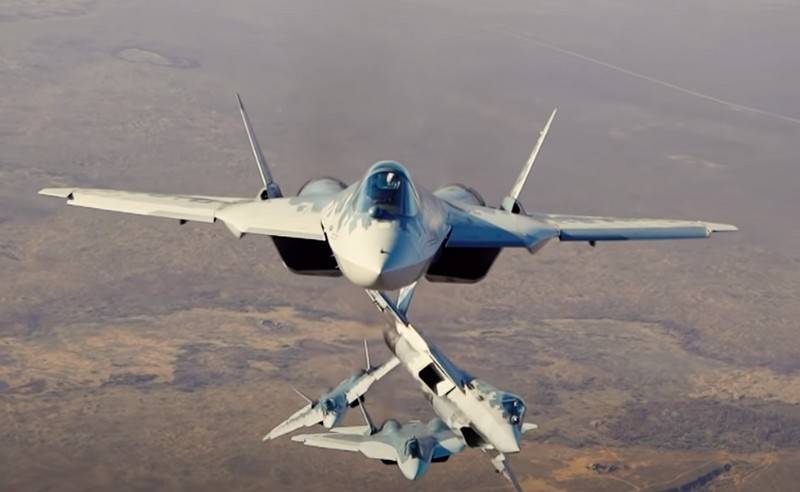 The state tests of the fifth-generation fighter Su-57 are ending, they went into the final phase. This was announced by Deputy Prime Minister Yuri Borisov in an interview with Interfax.
According to Borisov, the aircraft undergo "numerous stringent tests", in which more than 3,5 thousand flights have already been carried out, the fighter fully confirmed almost all the requirements of the tactical and technical specifications. Currently, work is underway to retrofit the aircraft with promising
aviation
means of long-range destruction and a new power plant.
The program of state tests of the promising aviation complex of front-line aviation Su-57, equipped with air-to-air and air-to-surface guided aviation weapons, has entered its final phase. (...) The plane will be able to use a large number of new weapons
- Said Deputy Prime Minister.
As previously reported, ten Su-57 fighters participate in the test program, they fly in Zhukovsky and in Akhtubinsk. Twice the Su-57 was sent to Syria, where it was tested in combat conditions.
With regard to serial deliveries of the Su-57, Borisov explained that the installation batch of fighters in the amount of 2 units will be delivered to the troops in 2020, in the future deliveries will increase.
In 2020, it is planned to deliver aircraft from the installation batch, in the future - to significantly increase volumes. The state contract for the supply of 76 aircraft to equip three aviation regiments of the Aerospace Forces is carried out in accordance with the delivery schedule
- he explained.
As previously reported, the first production fighters will go to the troops with the engine of the first stage, and it is planned to receive the Su-57 equipped with the engine of the second stage from 2025.