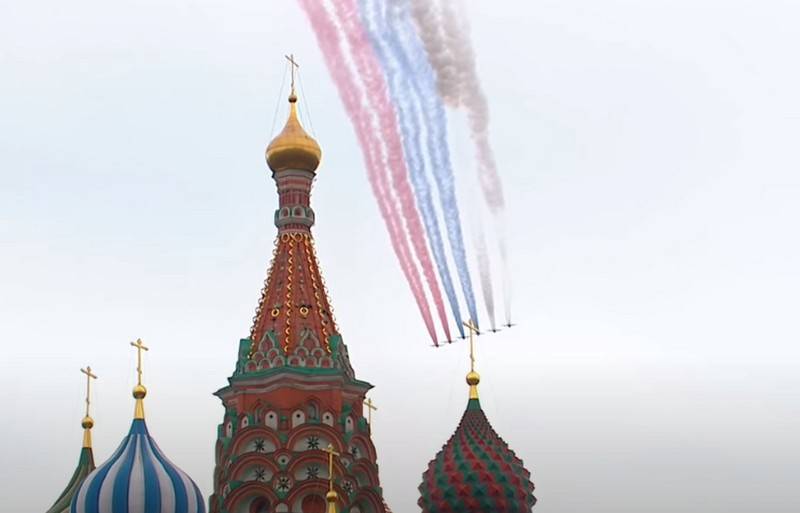 An air parade was held in Moscow dedicated to the 75th anniversary of the Victory in the Great Patriotic War. According to the Ministry of Defense, 75 helicopters and planes flew over the Red Square of the capital.
The parade was traditionally opened by the heaviest military transport helicopter Mi-26, flying with four Mi-8MTSh multi-purpose helicopters. Also over the Red Square were three five attack helicopters: Mi-35, Ka-52 and Mi-28N.
The aircraft system was headed by the AWACS A-50 aircraft, followed by the troika of three Il-76MD military transport aircraft. Far
Aviation
presented Tu-95MS turboprop bombers, Tu-22M3 strategic bombers and Tu-160 White Swan missile carriers, one of which imitated air refueling from the Il-78 tanker.
Following the heavy vehicles, the parade was continued by MiG-29SMT fighters, Su-24M front-line bombers and MiG-31K interceptors with dagger hypersonic missile systems. Immediately after the MiGs, four of the fifth-generation Su-57 fighters appeared in the air.
In addition, Su-34 front-line bombers, Su-35 and Su-30SM fighters took part in the parade. In the sky over the capital flew aerobatic teams "Russian Knights" and "Swifts". And the air part of the parade was closed by six Su-25 attack aircraft, which traditionally painted the sky of the capital in the colors of the Russian flag.