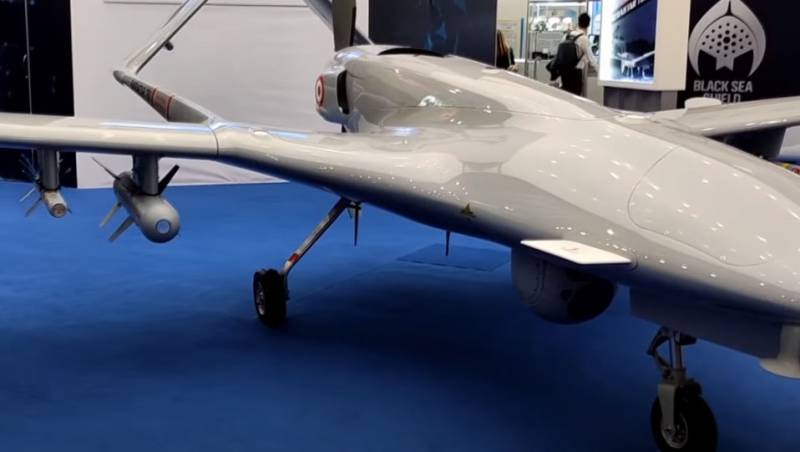 The Turkish media published material that reports on the significant progress of Turkish production in the field of military drones. The development of the operational-tactical mid-altitude UAV program is noted, among which Bayraktar holds a special place. The Turkish armed forces are actively using these drones in the Syrian Arab Republic (in the province of Idlib), as well as in Libya, where they strike at the positions of the Libyan National Army Khalifa Haftar.
The Turkish TRT information service regarding the development of military drones programs cites excerpts from the Danish press, which states that Turkey, having bought drones from Israel at one time, decided to eventually abandon mass import and develop its own production of such aircraft.
In TRT Material:
Turkey climbed to third place in the world in military unmanned aerial vehicles.
It is noted that there has been a "breakthrough" in fact over the past few years.
From the material:
If earlier Turkey was positioned as an importer of UAVs, now it is already widely exporting its
aviation
unmanned vehicles.
An example is the export of Turkish-made UAVs to Ukraine, Qatar and Tunisia.
From the article:
In Europe, Turkey is called a UAV superpower throughout the Middle East.
And again, the Danish publication is cited as an example.
An agreement to acquire Turkish "Bayraktarov" was signed while in office as President of Ukraine Petro Poroshenko. The total value of the contract, which was reported in the press, is $ 69 million.
Some characteristics of Bayraktar TB2
Wingspan: 12 m, maximum take-off weight - 650 kg, load capacity (non-upgraded version) - up to 60 kg. The autonomy of the flight is 24 hours, the range is about 180 km, the maximum speed is about 225 km / h. Ceiling - 8,2 km. As weapons can use UMTAS missiles.