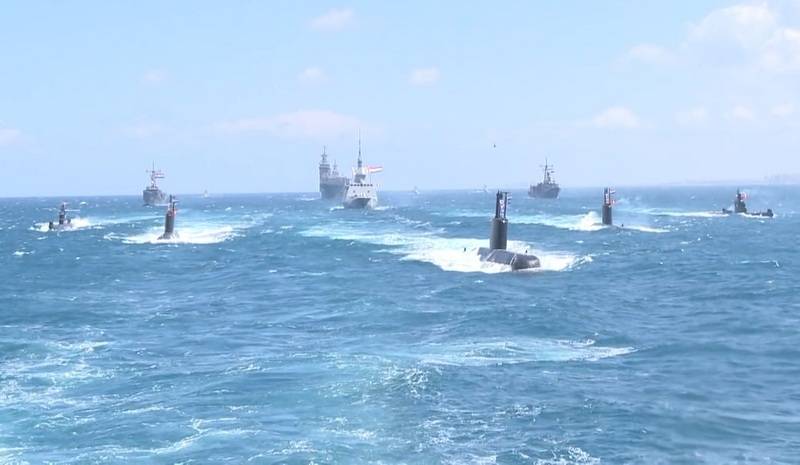 The third diesel-electric submarine of the German project 209 / 1400mod - S 43 from the Egyptian Navy arrived on May 5 in Alexandria, making the transition from German Kiel. It is reported by the Ministry of Defense of Egypt.
D43 submarine S867 under the tail number "209" of project 1400 / 9mod was transferred to the Egyptian Navy on April 14 this year at a shipyard in German Kiel, after which on April XNUMX it entered an independent transfer to Alexandria. The meeting of the submarine was marked by a naval parade in which almost all the main forces of the Egyptian took part
fleet
.
According to reports, the command of the Navy, on the approach to Alexandria, arranged a solemn meeting for the submarine, in which all the active submarines of the Egyptian Navy took part (two 209 / 1400Mod German-built projects and two Chinese-built 033 projects), both Mistral universal landing ships, FFG frigate 1001 Tahya Misr French-built type FREMM, frigates F 911 Taba and F 916 Alexandria (from the U.S. Navy type Oliver H. Perry) and all four small missile corvettes built by the US Ambassador Mk IV (type S. Ezzat). Six helicopters — three Boeing AH-64D Apache and three Ka-52s — were on the flight deck of each of the two Egyptian UDCs.
As previously reported, the entire Egyptian fleet ordered four submarines of project 209 / 1400Mod. In view of the S43 that arrived in Alexandria, three submarines are already in Egypt, the latter is under construction in German Kiel.
TTX: Submarine length - 62 m, width - 6,2 m, displacement - approx. 1400/1600 tons, underwater speed - 21,5 knots. in the surface - 11 knots, cruising range - 11 thousand miles, crew - 30 people.
In service: anti-ship missiles UGM-84 "Harpoon" and torpedoes DM2A4 (eight 533-mm torpedo tubes).
It is assumed that submarines will provide security and border protection in the Mediterranean and Red Sea, as well as the Suez Canal.