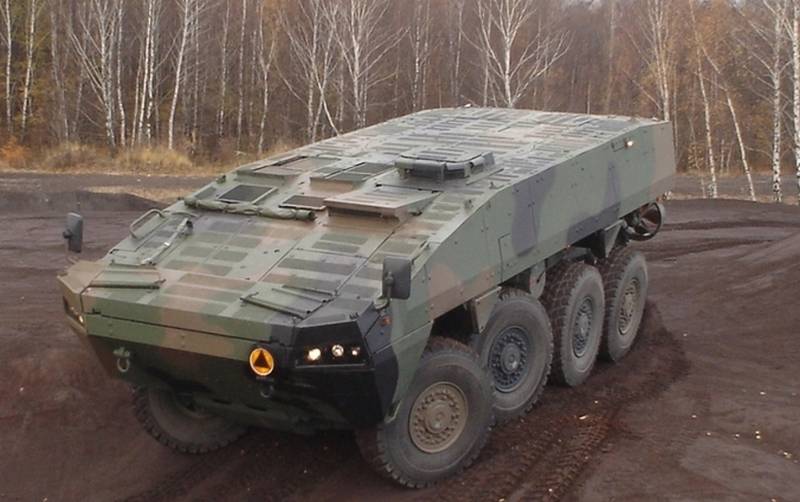 The calculations of anti-tank systems (ATGMs) from the Polish army will receive their own means of transportation. According to the portal janes.com, the Ministry of Defense of Poland decided to purchase wheeled armored personnel carriers Rosomak-S (Wolverine).
Polish Minister of National Defense Mariusz Blaszczak announced plans to purchase 60 wheeled Rosomak-S armored personnel carriers in an unarmed version specifically for the transport of ATGM calculations. It is planned that a contract for the supply of vehicles with Rosomak SA (a subsidiary of Polska Grupa Zbrojeniowa) will be signed before the end of this year. Armored personnel carriers planned for delivery will be specially modified to fulfill the tasks of transporting ATGMs. Each vehicle must accommodate two ATGM crews, two Spike LR launchers and eight missiles in the airborne compartment.
Delivery dates of armored vehicles are not reported.
The wheeled armored personnel carrier Rosomak-S (Wolverine) is the Polish version of the AMV vehicle created by the Finnish company Patria Vehicles Oy. Patria won the tender, which ended in December in 2002. In 2003, an agreement was signed on the supply of nearly 1 thousand military vehicles, the assembly of which is carried out at Polish enterprises. On the basis of the Finnish Patria AMV in Poland, a whole family of armored vehicles for various purposes has been created. The name "Wolverine" was chosen as a result of a competition announced in the magazine "New Military Equipment" (Nowa Technika Wojskowa).